[Kimono Style] London Loves Kimono!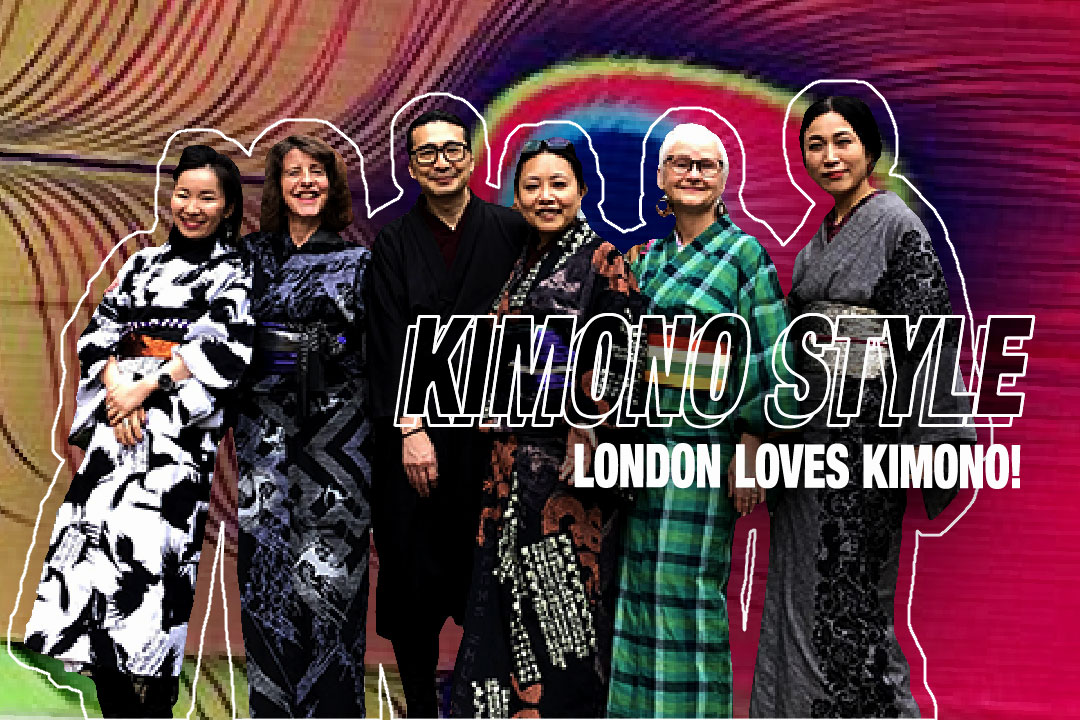 At the end of February, the biggest kimono exhibition to be held outside Japan opened at the Victoria and Albert Museum in London. Kimono: From Kyoto to Catwalk was almost three years in the making and it was a bold and exciting approach to showing kimono.
The aim of the show was to explore the kimono as an item of fashion. (RELATED ARTICLE: London's Victoria and Albert Museum Presents 'Kimono: Kyoto to Catwalk' Exhibition in 2020)
In the first section of the exhibition, which was the Edo period, the way that people in different classes dressed was shown. It also showed how kimono designs were spread through the populace using pattern books and ukiyo-e prints.
The second section featured kimono made with silk woven in Lyon, France, for suits. Alongside, there were kimono and kimono dressing gowns made for the western market, dresses by European designers who were inspired by the straight lines and large sleeves of the kimono, and kimono that were inspired by new and modern designs from art nouveau and art deco in Europe.
The complexity of the textile trade meant that this was in no way a case of simple "cultural appropriation." A Japan with agency sought new markets for its kimono, just as surely as western women wanted kimono to give themselves a sophisticated and bohemian air. Fabrics, techniques, and inspiration were all moving around between makers and marketers from Japan and also China, Thailand, Indonesia, India, the Netherlands, Spain, Portugal, and the United Kingdom.
In the third section, the kimono of living national treasures, such as Moriguchi Kunihiko and Shimura Fukumi, are shown alongside the work of contemporary fashion brands, such as Rumi Rock, Iroca, Jotaro Saitoh, Yoshiki Kimono and Modern Antenna. Fashion inspired by the kimono, such as works by Galliano for Dior, Yohji Yamamoto, and Issey Miyake, were also there.
The costumes for Kurosawa samurai films, Memoirs of A Geisha and Star Wars, stood next to a large video screen with Lady Snowblood, visual kei bands in kimono, and actor Toshiro Mifune in samurai style. There were photographs of Bjork and Bowie in their kimono-inspired wear, as well as garments worn by Madonna and Freddie Mercury.
This show pays homage to the kimono, as one realizes just what a huge influence it has been on our fashion and culture.
Side Events Inspired by the Exhibition
Rumi Rock, Modern Antenna, Iroca, and Tamao Shigemune flew to London, not only to see their own works on display at the Victoria and Albert Museum, but to show their work in London, however they could.
The first event that happened was the "Kimono Bash in RCA, London," which was organized in conjunction with the Royal College of Art. Preparations had been hampered by time zones, missed Skype meetings, and a teachers' strike that kept Dr. Sarah Cheang off the university campus. But somehow we pulled off an exciting interactive event.
It was attended by not far off a hundred people. We had four spaces, one where students and members of the public worked with designers to tailor-make obi to coordinate with their kimono, a photobooth, a trying on corner, and kimono in conversation where researchers from different fields discussed their work with the kimono and answered questions from an enthusiastic audience.
Sway Gallery in the East End is a commercial gallery devoted to showcasing Japanese arts and crafts. Here people could visit the gallery and see the work of the modern kimono designers. They could also try on kimono by the designers. Many people just walked in off the street to find out what was going on, and they were amazed by the originality of the kimono designs.
The show forced one to rethink any notions of the kimono being only traditional. It was a fashion exhibition and people of all ages were able to engage with it. Visitors had many questions about the designs and fabrics and how to wear the kimono. People who tried it on commented that it felt good, comfortable, and not too tight.
Japan House Events
Japan House is the official government-sponsored outlet for Japanese arts and crafts. It stands in South Kensington, and the modern interior is a masterpiece of Japanese sleek design. A circular glass elevator goes up and down the center, and it is wrapped by a circular staircase.
The first floor sells stylish Japanese goods, including books and sake. The basement holds two large exhibition and workshop or lecture spaces. Upstairs is a restaurant and bar, where Japanese-style afternoon tea can be enjoyed with wagashi sweets.
Although this was just before London was about to go into lockdown and was beginning to panic about the spread of COVID-19, there was a full house to hear Rumi Shibazaki talk about her brand, Rumi Rock, and Okubo Naoko teaching about the history of yukata.
The day event also featured Kaneko Kazuaki demonstrating the art of chusen zome. The demonstrations showed how dyes are poured onto a stencilled cloth to produce the yukata design. Again, we had great audience participation, and many people came wearing kimono.
Workshop at the Victoria and Albert
The final event was by Rumi Shibasaki and Kaneko Kazuaki at the Victoria and Albert Museum. It was a sellout workshop where the participants learned about the meaning of family crests, or kamon. Then they designed their own, stencil cut them, and finally dyed them on bags and hand towels from Rumi Rock. The variety of designs that were produced was really amazing, and everyone had a great time at the workshop.
London is a city of music, arts, and culture. I had always thought that if kimono went to London, Londoners would like it because of its chic style and wonderful textiles.
In reality, Londoners lapped it up. Londoners loved kimono!
Author: Sheila Cliffe