Letter to Megumi: Alone, I Ask Myself Over and Over 'Why Can't I Save My Daughter?'
"Megumi, I want to take your place if it means you could come back to Japan."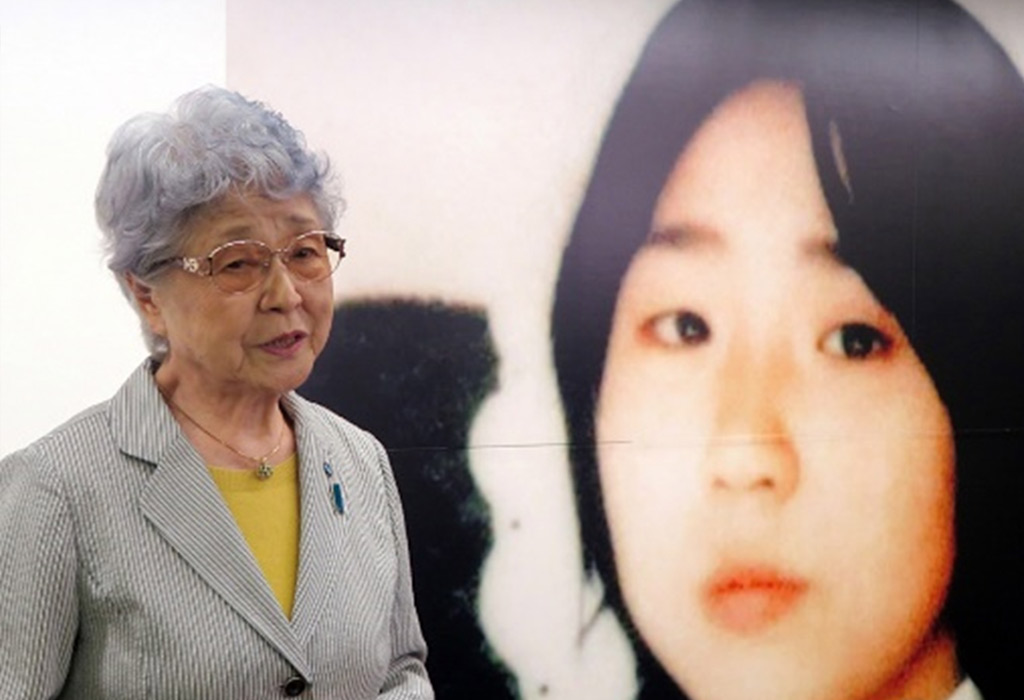 ~~


Sakie Yokota has spent the last several years writing letters to her daughter, Megumi Yokota, who was abducted by North Korean agents on her way home from school more than 40 years ago, when she was 13.
North Korea has admitted her abduction, but has not allowed her to return home or contact her family. Megumi's father Shigeru passed away in June 2020, after giving his all to the struggle to gain his daughter's return. With the other families, Sakie says she will continue to do whatever she can to help bring home the children. This is her latest letter to her daughter.
Read earlier letters to Megumi, here.


My Dear Megumi,
Another year has passed, and a new year has arrived without being able to rescue you.
Since your father was called to heaven last year, time has gone by so quickly. I became 85 years old on February fourth. Now the coronavirus pandemic is spreading throughout the world and there is no clear vision for how to resolve the abduction issue. I feel frustrated and angry, but I will continue to persevere, praying and believing that all the abduction victims will one day return to their home country.
Christmas and New Year's Eve have come and gone again. Our home was always so lively when you were here! Each New Year felt refreshing.
Now, as I spend more time alone, I find myself looking back on my life and gazing at the movements of the world, pondering the same thing over and over again. "Why were Megumi and the others taken away?" "Why can't I save my daughter after all this time?"
The questions repeat in my mind forever, unable to find their answers.
Since the end of last year, my only contact with other people is by phone and email. I couldn't send any New Year's greeting cards since your father passed away. Time has just slipped through my fingers.
Japan has been facing a very cold winter. But the conditions you and the other abductees face in North Korea are so much harsher. It breaks my heart to even imagine.
The rescue movement has made great strides, supported by the determination of the victims' families and the Japanese people, and the many others around the world who continue to pray for resolution. But there is no resolution until every single abduction victim is brought back home.
Time does not discriminate; we all age and grow weak. Time is running out quickly as we wait for the day of our reunion with you and the others.


Spare No Effort to Bring the Victims Home
I would like to say to the Japanese government, and to the politicians and bureaucrats, that the power to save the victims lies with you, the government.
Precious time is passing by even as I write. I beg you to spare no effort, to raise the issue in crucial discussions such as the Diet sessions, and resolve the abduction issue once and for all as if your own lives depend on it.
This is what will bring peace to the world. This is my daily prayer, and it never leaves my heart.
Last year felt more hopeless and futile than ever before. Kayoko Arimoto passed away in February at the age of 94, and Tamotsu Chimura passed away in July at the age of 93.
Birthdays don't bring me joy because they remind me of my advancing years. It's impossible for me to travel around Japan to give speeches. I feel frail in every part of my body. I struggle to speak and I become out of breath when speaking continuously.
Every morning, I look at your father's photo and say, "Good morning. Let's do our best today." Sometimes, I report to him the events of the day. When I see that smile of his, it's as if he's still with me, but only away on business.
In Japan, the Diet has started a new ordinary session. I have no way of understanding the complexity of international relations or the political situation, but my desire has always been for the politicians to care about the country and find a way to definitively resolve the abductions issue.
Politicians must face duties and expectations of immeasurable magnitude. Whether it is finding solutions to the abductions issue or overcoming the pandemic, it's all about how to protect and nurture life.
Our family is determined as ever, but so much time has passed. It has been 40 years since you were ruthlessly taken away from us. North Korea apologized 20 years ago now, in 2002, and five abductees, Kaoru Hasuike and his wife Yukiko, Yasushi Chimura and his wife Fukie, and Hitomi Soga returned to Japan. There are so many young people who were not even born at the time. I fear that the abductions are starting to fade away from people's memory.
Last year, Prime Minister Shinzo Abe, who raised the abductions as the most important issue of his government, resigned and Yoshihide Suga became prime minister. Meanwhile, U.S. President [Joe] Biden succeeded Mr. [Donald] Trump, who had cared about the victims and their families. We continue to see a ray of hope, but no clear signs of progress.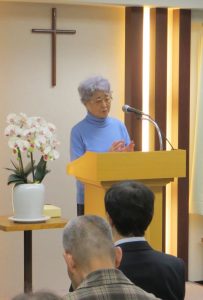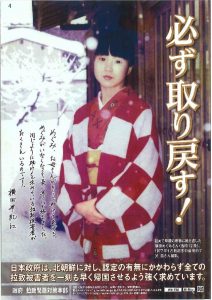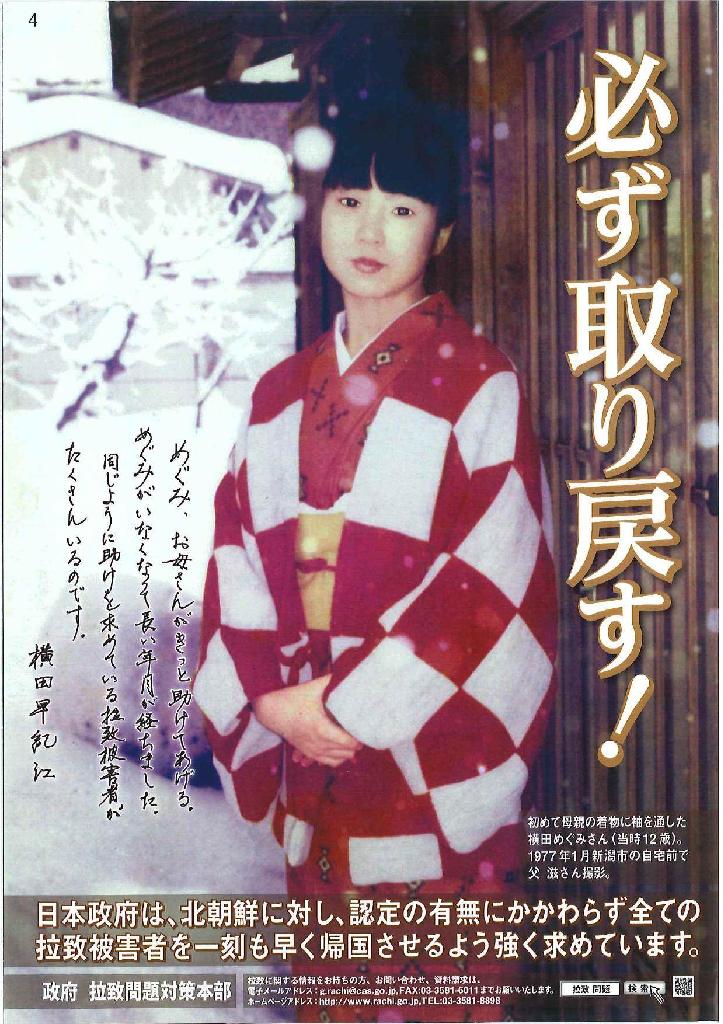 We Can Only Look Forward to Reunion
Our Christian friends have been holding prayer meetings since 2000, and the 200th meeting was held last November. It makes me painfully aware of how long you have not been with us. But this isn't the time to dwell on the past.
I want to take your place if it means you could come back to Japan. Every family member of the victims feels the same. Abduction is the separation and confinement of a person's life away from family and home.
Failing to solve this issue would be our national shame. What should Japan be doing at this very moment? I would like all Japanese people to raise their voices as if this personally matters to them.
North Korea must stop using the lives of the victims as pawns in political and diplomatic transactions. I pray that North Korea's Supreme Leader would understand that resolving the abduction issue will directly lead to a happier world.
I think it's a miracle that I still have peace despite my extraordinary life. I know that this is only possible because of the support and grace I have received from others. The uncertainty of the future leaves me feeling futile, but I will continue to fight with all I have.
Megumi dear, I have become much weaker, but I will never give up. So please don't give up either. Take care of your health for the day of our reunion. I am waiting for your return, along with your brothers Takuya, Tetsuya, and the memories of your father.


(Read the Letter to Megumi in Japanese at this link.)


Learn more about the issue here, and from the following reports:
Author: Sakie Yokota