[Mythbusters] The Ghosn Show: Commentators See Through 'One-Man Study in Executive Entitlement'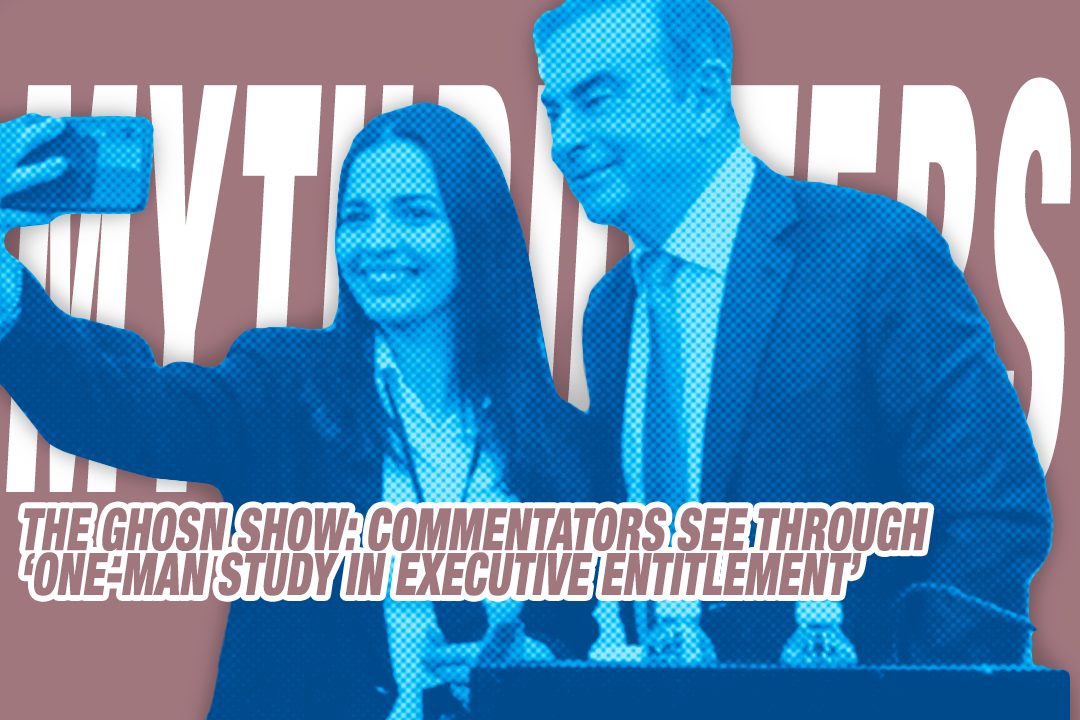 (Last of two parts)
Part 1: [Mythbusters] The Ghosn Show: Less Than A Full Court Presser
An indication that Ghosn has been less than fully successful in presenting himself as a corporate saint and victim of Japanese "medieval justice" is an increase in the number of articles citing — and, in some cases, ridiculing — his Davos Man lifestyle.
Business Insider published a lavishly illustrated guide under a heading describing Ghosn as "holed up in a blush-colored mansion in one of Beirut's most expensive districts."
Presumably, this expensive district is well-removed from that part of Beirut where anti-government protesters are being targeted with rubber bullets and sprayed with tear gas by government security forces. If it is not, Ghosn may soon be wishing that he was back in Tokyo.
Jalopnik, an auto industry newsletter, questioned the characterization of his mansion as "pink" under the title, "Carlos Ghosn's 'Pink' Mansion Is Not Pink Enough." The author noted that "pink mansions" conjure images of a play set for young girls.
The sharpest commentary on this point came from Matt Levine, writing for Bloomberg. In his opinion piece, Levine imagines Ghosn walking around in his Beirut mansion, bought and refurbished with Nissan money, while thinking, "The nerve of them to accuse me of taking anything from Nissan that isn't mine."
Continuing, Levine writes: "Ghosn isn't staying in Nissan's mansion now because Nissan's board gives him carte blanche; he's staying in the mansion now because he likes mansions and doesn't like to be told no. That's presumably why he decided not to wait around for his trial, too.
Then, he concludes, "I hope Ghosn will climb into the audio equipment case to demonstrate to reporters how he escaped, and then the power will cut off momentarily, and when it comes back on the box will be empty and Ghosn will be gone."
This type of cynical and satirical writing was essentially impossible to find in English before Ghosn jumped bail.
Carlos Ghosn Has A God Complex
Bob Lutz, former General Motors vice chairman and long time Ghosn acquaintance, went even further than Matt Levine, describing Ghosn's apparent sense of entitlement during an interview on CNBC. He described Ghosn as suffering from a "god complex" and "CEO disease."
According to Lutz, "That type of personality does tend to pretty easily slip over the line and do things that the rest of us would not do, because they think they're so important and so well-connected, and of such vast importance to the economy that no one would ever call them on it."
He also described Ghosn as "someone who takes himself too seriously."
This is also implicit in reports that Ghosn sought to interest one or more Hollywood producers in making a film based on his case.
Wealth Counts
Similarly, prior to his flight and presser, Ghosn was treated as sui generis. If any comparisons were made, those were between Ghosn and Michael Woodford, another foreigner allegedly hounded out of Japan.
Some comparisons were also made between Ghosn and Japanese who are seen by foreign pundits as having escaped arrest, let alone trial, for far more serious offenses. One is Hiroto Saikawa (former Nissan president and CEO). Another example is the Tepco (Tokyo Electric Powers) officials charged with making decisions that led to the triple meltdown at Fukushima. A third is the executives of Takata, the manufacturer of airbags that have caused numerous injuries and fatalities through premature inflation. All three are typically cited in this whataboutism defense of Ghosn.
This line of argumentation has been used by both foreign and Japanese writers.
Following Ghosn's flight and presser, articles began to appear, such as one in Forbes, entitled: "Crimes Without Punishment: How The Wealthy Before Carlos Ghosn Often Escaped The Law." These articles often compare Ghosn to various corporate crooks who had taken flight rather than face trial. Although not explicitly stated, they imply that, by jumping bail, Ghosn had placed himself in the category of know-business criminals.
An article in the UK Independent under the title "Fugitive Nissan boss Carlos Ghosn is a one-man study in executive entitlement" is a good example of Ghosn's flight and presser having a negative impact. The article describes his presser as "a show put on by a man who'd read his own hagiographies and bought into their depiction of him as a corporate superstar." Noting his extravagances, the article goes to say "[he] had the gall to characterise himself as a humble 'servant' of Japan."
Conclusion
An editorial in the Mainichi newspaper observed: "Problems with the Japanese criminal justice system, such as closed-door interrogations and long-term detentions, have long been pointed out. But these problems should be discussed separately from Ghosn's escape."
Quite so. Just because his accommodation at the Tokyo Detention House was not up to the five-star hotel standards Ghosn is accustomed to does not, in and of itself, mean that he must be declared innocent of all charges brought against him in Japan (and the United States).
As for Ghosn's repeated claims that he is the victim of a conspiracy involving Nissan and the Japanese government, this argument was succinctly demolished by the title of an article by Josh Barro in New York Magazine: "Just Because They're Out to Get You Doesn't Mean You're Not a Criminal."
As Barrow observers: "If you alienate people, they may try to figure out if you committed crimes. If they figure out that you did commit crimes, 'but the crimes aren't really why they were out to get me' is not a great defense …. [W]hen things were going well for Nissan — when he was the savior of one of Japan's great manufacturing firms — everyone was willing to look the other way."
Serious business commentary has asserted that, in recent years, Ghosn's pursuit of volume led to low profitability in North America and alienated Nissan's most important asset — its dealers. Ghosn himself has said he should have retired earlier.
In short, there is much more to this story than xenophobic Nissan management trying to prevent a merger with Renault. Even if the preponderance of English language coverage takes Ghosn as seriously as he takes himself and parrots his claims about Japan and Nissan, it is heartening that there appears to be a growing number of commentators who can see through his self-serving narrative.
Author: Dr. Earl H. Kinmonth