Carlos Ghosn: Media Manipulation Skills on Full Display as Fugitive Resurfaces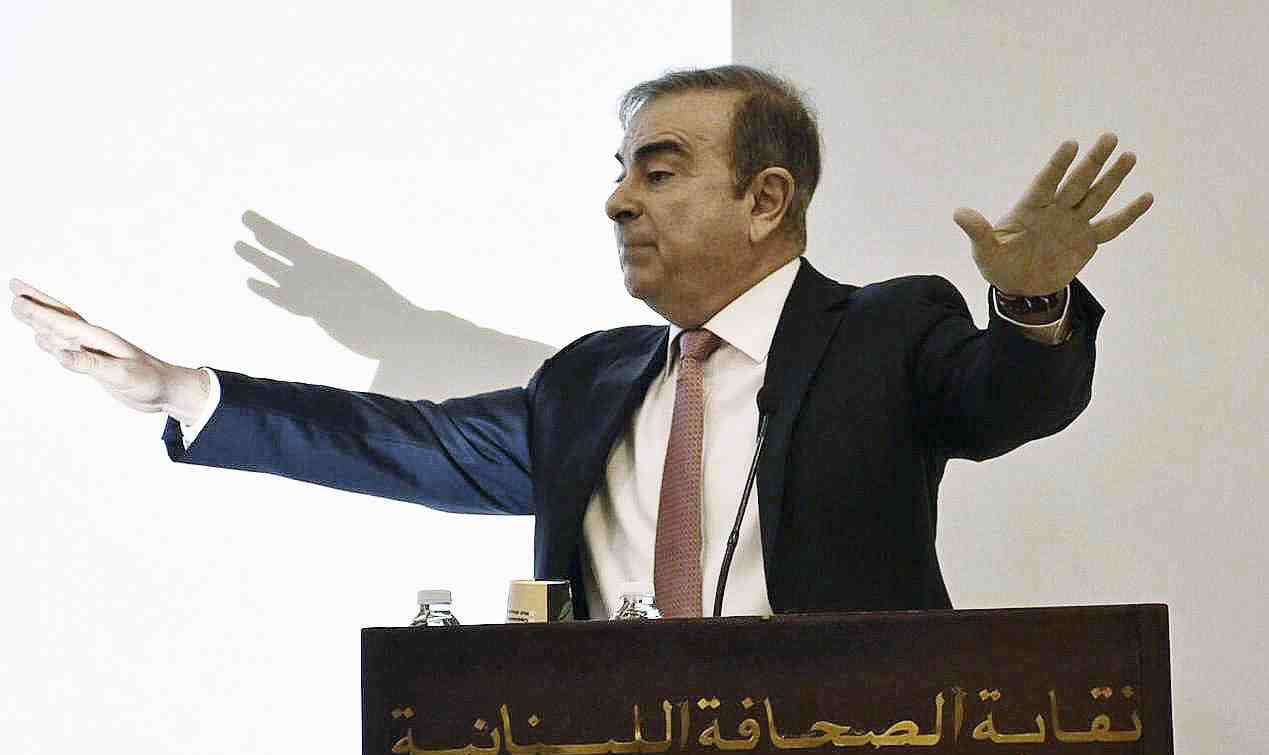 The former Nissan chairman Carlos Ghosn knew full well that he would have the undivided attention of the world's media when he appeared at a press conference in Lebanon on Wednesday, January 8.
At times, the sound of camera shutters and questions from the reporters almost drowned out his words. But he kept on talking for more than an hour, with one dominant theme.
In his mind, he is an innocent man. In fact be believes he is the victim of a plot involving politicians in Japan's government and leading business figures, pointing fingers at specific people — especially within Nissan.
The journalists at the press conference took note of the names he mentioned and shared them with their readers and Twitter followers. The allegations quickly spread online, especially on sites where conspiracy theories thrive.
Ghosn said: "I've been in a kind of nightmare for 13 months. I didn't escape because I was guilty. I escaped because I had zero chance of a fair trial."
Unsolved Mystery
But something vital was missing. There was no explanation of how Mr. Ghosn exited Japan at the end of December 2019. "I am not here to talk about how I managed to leave," he said. By leaving, he breached a bail arrangement which allowed him to live fairly freely in Tokyo while he awaited trial.
I am not surprised he left out that part of the story. Once he chooses to put an end to the mystery by revealing all the details of his exit scheme, the media's interest will wane, and they will be less keen to repeat the claims that Mr. Ghosn has been mistreated.
He also told the press that he thinks many people in Japan still see him as "a respected businessman." But the mood is changing, and his adversaries are also actively using the press to make their case.
Japan Hits Back
A former president of Nissan, Hiroto Saikawa, made his response on the morning after the press even in Lebanon. Saikawa is one of the individuals Carlos Ghosn claims has been conspiring against him.
"I have no idea on what he is basing his claims of a coup d'état. Business and fraud are two very different things," insisted Mr. Saikawa:
He continued: "If he wanted to talk to this level, it could have taken place in Japan. I have lost interest in the matter. I don't know if he escaped because he was afraid of being convicted, but I just have a strong feeling I was betrayed again."
Mr. Ghosn's rather chaotic press event in Lebanon was followed by a much calmer presentation to the press, held after midnight at the Ministry of Justice in Tokyo.
Justice Minister Masako Mori said that Mr. Ghosn "has been propagating false information, both within Japan and internationally, on Japan's legal system and its practice."
"It is absolutely intolerable," she said.
In an unusually fast response, Mori released two statements on the Justice Ministry website following the press conference, countering several points raised by Ghosn.
Among the allegations she tackled was what Ghosn and many foreign media had described as the very high 99% conviction rate for prosecutions in Japan. She explained:
There is an established practice in the Japanese prosecutors' offices only to indict a suspect when there is a high likelihood of the court's conviction, based on sufficient evidence, so as to avoid causing an innocent person to suffer from the burden of bearing judicial expenses. The judges will make a decision from a neutral and fair position. Therefore, it is wrong to argue that a person cannot obtain a fair judgment because of the high conviction rate in Japan.
Minister Mori also offered a counterargument to Mr. Ghosn's complaint that he was forbidden from seeing his spouse, explaining that this condition is normally allowed— "Unless there is a flight risk or a danger of evidence being concealed or destroyed."
The Ministry of Justice also took the unusual step of releasing its statement in French, in recognition of the keen interest among Francophone media.
In effect, the two sides are engaged in an information war. But what the media is not currently doing with any degree of skill or consistency is sifting through the criticisms that Mr. Ghosn is making of the Japanese legal system to see if they hold up to scrutiny.
Mr. Ghosn was first arrested in Tokyo more than a year ago. Among other charges, prosecutors allege that he understated his income by millions of dollars, and that he duped Nissan into paying money into his own personal investments.
Nissan believes it was the victim of fraud, undertaken on an audacious scale by a trusted leader. The company has cooperated with the prosecutors in gathering evidence ahead of a complex trial, which was to be conducted quite openly, in the glare of the media.
Rather than working with his skilled legal team in Japan, Mr. Ghosn has decided to become a fugitive and — as he told the press conference in Lebanon — is "fighting to clear his name."
Playing the Press
In my view, the media should be wary of his continued manipulation. He has already strung reporters along with stories which were deliberately designed to distract from the serious charges against him. Even some of the world's most respected institutions have run fake "news" about the case, such as the silly claim that a band helped him get out of Tokyo by hiding him in a musical instrument case.
Other journalists have been sucked into email exchanges with anonymous sources, which are clearly trying to spin the headlines.
It's telling that, according to Kyodo News, there were almost no Japanese journalists among the nearly 100 reporters present at the press conference in Lebanon. Most were from French media, or were journalists with a personal connection to Carlos Ghosn himself.
Mr. Ghosn also took a swipe at the Japanese media, complaining that they have portrayed him as a "cold, greedy dictator."
Outside Assistance
One question which the media should legitimately ask is who is helping Mr. Ghosn to stay on the run? The head of his legal team in Tokyo, Junichiro Hironaka, told Japanese TV that his client's flight "came out of the blue" and that "he must have had a large organization to pull this off."
I noticed there were security guards and aides who appeared alongside Mr. Ghosn at the press conference, so it seems there are people who are helping him. But how much is he paying them? After all, his riches are depleting rapidly. If Mr. Ghosn does not appear in court, the Japanese authorities plan to confiscate all of the ¥1.5 billion JPY (about $14 million USD) he posted as bail.
No Hiding Place
Now that he has broken cover, there is little chance of Mr. Ghosn remaining hidden from public view for very much longer.
Many people in Lebanon have good reason to want to keep track of his movements. Lebanon is a joint signatory with Japan of an international accord against corruption. In fact, as Mr. Ghosn was speaking to reporters, Lebanon's public prosecutor general summoned him for questioning.
Mr. Ghosn said that he felt life in Tokyo was "a nightmare" and claimed that he was being "held hostage" there — even though he was able to walk freely to a French bakery to buy fresh bread each morning.
He may soon find that life in Beirut could be even less comfortable than the privileged existence he was enjoying in Japan — especially if the press turn against him or his Lebanese hosts lose patience.
Author: Duncan Bartlett
Duncan Bartlett is the editor of Asian Affairs magazine and the manager of the news portal Japan Story. He is a former BBC correspondent in Tokyo and a regular contributor to JAPAN Forward.