The Ghosn Shock: Sayonara to Mr. Davos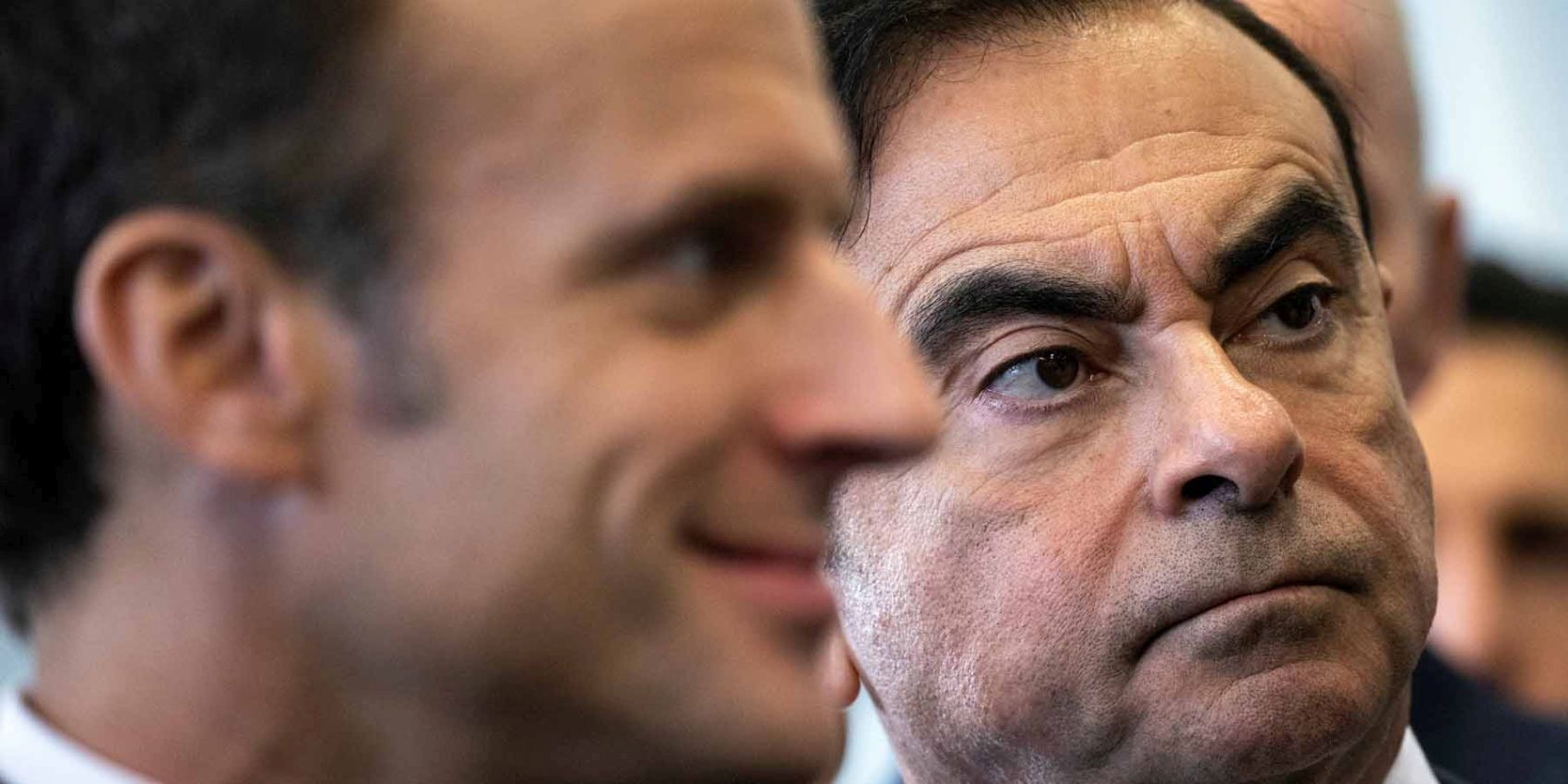 The coup d'etat was executed with a stealth and ruthlessness that would have had a CIA operative in 1970s Latin America purring with admiration.
Carlos Ghosn, the globally-renowned boss of Nissan Motor and Groupe Renault, was arrested as soon as the Gulfstream private jet that whisked him around the world taxied to a halt at Haneda Airport. He then disappeared into the recesses of the Japanese justice system, and little has been heard from him since.
The global shockwaves were palpable — not because a celebrated businessman has been accused of financial improprieties (sadly, that is far from unusual these days), but because his wealth and status failed to insulate him.
In most Western countries the rich have instant access to top-level legal talent, image polishers, doctors willing to diagnose mental health issues, the best protection that money can buy. If the worst happens and you are found guilty of an offense, then there are "country club" jails for white collar criminals.
Japan is more egalitarian than that. When the powerful fall, they can fall very hard indeed.
In 1989, Hiromasa Ezoe, the founder and then-boss of the Recruit group, was arrested for violation of the Securities and Exchange Law. In his book Where is the Justice (English edition Kodansha International, 2010), he described the treatment he received in the weeks before being charged, which included being made to kneel and bow, a cavity search with a glass rod, and having questions bellowed into his ears at point blank range.
Such things happen in the West too of course, but never to members of the elite. Political insiders are hardly immune either. Dietman Muneo Suzuki of the ruling Liberal Democratic Party was held in pre-trial detention for 437 days before being granted bail and eventually found guilty.
Saving Nissan
Ghosn's fall from grace is all the more shocking because his reputation was built on real achievements. When Renault came to the rescue in 1998, Nissan was a dead man walking and the Japanese banking system much too fragile to offer any support.
Nissan would not be here today without Ghosn — or, to be more precise, without the restructuring plan that he implemented, which was devised by Louis Schweitzer, Renault boss at the time and grandnephew of the great doctor, Albert Schweitzer.
Nissan had always lacked the brand value and reputation for innovative engineering of rivals Toyota, Honda, and Mazda. But subsequently Ghosn played a weak hand well, building a significant presence in the Chinese market and devising an EV strategy, centered on the Nissan Leaf, that is cheap and effective for both producer and consumer.
Co-operative planning with Renault is now delivering results. The two companies produce three million vehicles with over 70% of components shared. Indeed, such is the degree of integration that unwinding the relationship might be like a mini-Brexit in terms of cost and complexity.
Corporate Scandals: A Long History
Japan has a history of corporate scandals. Just in recent years, companies — such as Toshiba, Olympus, and airbag manufacturer Takata — have suffered significant fall-out after the uncovering of acts of negligence or accounting fraud.
Several other companies, Nissan included, have been found to have skimped product testing. Tearful executives apologizing at press conferences, police investigators raiding corporate headquarters and carting away boxes of documents — these have become familiar images.
CEO Pay Gap and Deferred Compensation
The trap sprung on Carlos Ghosn was qualitatively different. Not because he was a foreigner but because the allegations against him are qualitatively different too.
The golden rule of the traditional Japanese scandal is that nobody must benefit personally. Cover-ups of financial losses or regulation-bending on the factory floor are done in order to protect the corporate entity as a whole, not for individual gain. The accusation being levelled against Ghosn is that he extracted significantly more than his officially disclosed remuneration, which was already sky-high by Japanese standards, though merely middle-of-the-pack for American and European auto company bosses.
Is this evidence of a peculiarly Japanese tribal ethic? Perhaps not. In the wake of the global financial crisis, the issue of inequality in general and CEO pay in particular have become hot topics in many Western countries. Improper though legal behavior is increasingly unacceptable.
In the United Kingdom, the CEO of builder Persimmon — who won a jackpot of £110 million, thanks to a poorly-designed incentive scheme — was accused of "corporate looting" and forced to resign. Meanwhile, billionaire retailer Sir Philip Green, known for his sharp financial maneuvering, has become a hate figure for the press and politicians. The world may be turning Japanese in more ways than one.
Even in the United States, which is traditionally relaxed about huge wealth differentials, there is concern about enormous payouts. It is hard to believe that today GE's Jack Welch could score a retirement package worth over USD400 million, including lifetime provision of a Manhattan apartment, tickets to Wimbledon, etc., especially since GE's share price has tanked to a 30-year low.
Growing Global Problem With 'Heads I Win, Tails You Lose'
Entrepreneurs and innovators, on the other hand, still command widespread respect. Few begrudge Bill Gates or Jeff Bezos their enormous wealth, and Elon Musk can get away with smoking marijuana during a TV interview and making unfounded claims about taking his company private.
The difference is that many corporate leaders, even a "rock-star CEO" like Jack Welch, take the helm for a relatively short time, making it hard to judge the long-term effect of decisions taken.
Crucially, they lack what Nicholas Nassim Taleb calls "skin in the game." Generous grants of share options give them the chance to reap huge gains. But unlike entrepreneur-owners, they do not bear the corresponding losses if things go wrong.
This "heads I win, tails you lose" formula is bound to breed resentment and belief that at the highest levels the game is fixed.
Nationalism Provokes Rethinking of Davos' Globalism
Much remains mysterious about the lead-up to Ghosn's crime-lord style arrest at Haneda Airport, but it is clear that he made many enemies. His underlings at Nissan felt little loyalty to their iconic boss, while his bitter feud with French President Emmanuel Macron dates back to Macron's stint as Minister of Economic Affairs in the Hollande administration.
For different reasons, both sides would have disliked Ghosn's plan for a full merger of Renault and Nissan. Macron, because he does not want any dilution of the French government's shareholding. Nissan managers, because they dream of "re-Japanizing" the company as an independent entity.
It is revealing that so far there has been little effort by the French government to defend Ghosn, while the Renault unions have denounced his "indecency." If you are nicknamed "Le Cost Killer," it is not wise to comport yourself like Marie Antoinette, as Ghosn did quite literally in his 2016 wedding party at the Palace of Versailles.
"If Davos Were a Person, It Would Be Carlos Ghosn" was how Bloomberg Businessweek headed a sympathetic profile in 2017. Ghosn was indeed a regular at the annual conference of the World Economic Forum in Davos. Born in Brazil to Lebanese parents, educated in Paris, with three different passports and multiple residences in the world's major cities, he is an apt symbol of globalization.
In many parts of the world today the political and economic side effects of globalization are now being critically re-examined. Unfortunately for Carlos Ghosn, he could become a symbol of that process too.
Author: Peter Tasker