Op-Ed | Approaching 5G: Tech Ties Cement Japan-U.S. Bonds
Shared Fundamental Values
Every spring, cherry blossom trees dotting the streets of downtown Nashville, Tennessee, begin to bloom, a reminder of the enduring friendship between Japan and the United States. Our transpacific bond runs deep. The United States and Japan share a robust economic relationship of mutual investment responsible for hundreds of thousands of jobs in both countries and supports our mutual prosperity.
Underlying our deep economic ties are our shared fundamental values. Free and fair elections, an independent media, and market-based economies epitomize the ideals that American and Japanese citizens universally embrace.
Protecting Individual Freedoms in the 5G World
As carriers around the world deploy 5G networks, it bears remembering that freedom and technology can be mutually supportive. Greater connectivity supports the free flow of ideas across borders and continents, and empowers individual speech.
We view freedom of expression as a universal human right that should flourish alongside technological advancements. It is a right, however, that is increasingly at risk in parts of the Indo-Pacific region.
Japan stands as one of the region's shining examples of a country where citizens can freely express their views. In China, by contrast, the regime closely monitors individuals for signs of dissent or criticism.
As global leaders in technological development, the United States and Japan remain strongly committed to protecting human rights and fundamental freedoms, including privacy.
Leading International Efforts for Secure 5G Networks
The advent of 5G wireless technology has the potential to transform the way we communicate and live our lives, while bolstering innovation and economic growth. There are opportunities for our two nations to build a lasting partnership out of the shared need for a secure supply chain as we transition to the 5G era.
We share the same security interests in protecting our communications networks from potential disruption, manipulation, or espionage at the hands of foreign governments and malicious actors. Japan has issued policy guidance that effectively prohibits government contracts from utilizing communications equipment that poses a national security risk.
The United States has taken the step to ban technology from Huawei and other Chinese companies from government systems. In addition, a recent Presidential Executive Order authorized the Secretary of Commerce to prohibit the sale of technology to untrusted technology vendors that could be subject to control by a foreign government, or the use of technology from such vendors.
We applaud plans by Japanese wireless carriers to build secure 5G networks using trusted technology vendors. Both Japan and the United States are helping lead international efforts to ensure open, transparent, interoperable, and secure 5G networks to power economic growth and protect national security.
Commitment to Economic Fairness
This approach is also part of our shared commitment to protecting our citizens and companies from unfair and harmful Chinese economic practices that run counter to international norms and damage the economies of both of our nations.
Japan has joined with the United States and the EU to call out these unfair practices. Until China puts an end to its market-distorting activities, we will never be able to enjoy a truly cooperative relationship.
Clear alignment between the United States and Japan will provide the certainty and scale that market-driven technology companies need to deepen and accelerate their capital investment in this critical arena.
Let us use our unique U.S.-Japan relationship to set a standard that protects our citizens, our companies, and our markets.
Click here to read more about the U.S. Ambassador to Japan William Hagerty.
Authors: U.S. Senator Marsha Blackburn and U.S. Ambassador to Japan William Hagerty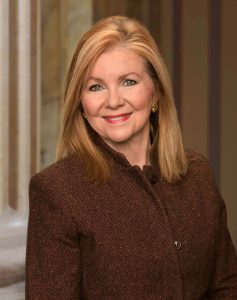 U.S. Senator Marsha Blackburn
was sworn into the Senate in January 2019 and is currently serving her first term representing the state of Tennessee.
Before her election to the Senate, Marsha represented Tennessee's 7th Congressional District from 2002-2018. Marsha began her career in the business world with a focus on marketing strategies. She entered public service in 1995 when she was named executive director of the Tennessee Film, Entertainment and Music Commission. In 1998, she was elected to the Tennessee State Senate, where she served until elected to the U.S. Congress in 2002. Marsha and her husband Chuck live in Williamson County, Tennessee.
They have two children and two grandsons. Originally from Laurel, Mississippi, Marsha is a graduate of Mississippi State University.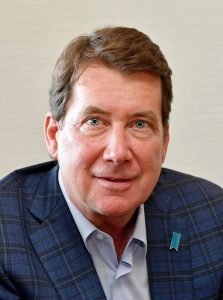 Ambassador William F. Hagerty
was nominated by President Donald Trump on March 27, 2017, and sworn in as the 30th Ambassador Extraordinary and Plenipotentiary to Japan on July 27, 2017.
Prior to his nomination, he served as director of presidential appointments for the 2016 Trump Presidential Transition Team while on a leave of absence from Hagerty Peterson & Company, a private equity investment firm of which he was a founder and managing director. His career includes three years in Tokyo, Japan, with the Boston Consulting Group. Earlier, he served on President George H.W. Bush's staff with a portfolio that included international trade.
He is a phi Beta Kappa graduate (B.A.) of Vanderbilt University and received his J.D. from Vanderbilt University Law School. He is married to Chrissy Hagerty and they have four children.