[Speaking Out] Japan Times' Latest Revision of Comfort Women Description A Matter of Concern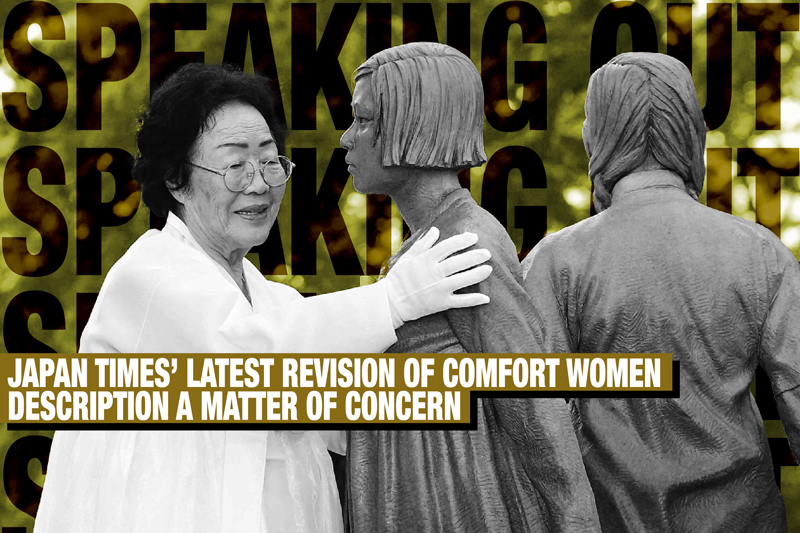 The Japan Times, an English language daily in Japan, announced in a half-page statement on March 20 that it would revise its description of prewar and wartime "comfort women" again, after a revision in November 2018.
We are concerned that this latest decision to revise the description — again — represents a retreat from the historical fact that the recruitment of comfort women was not forced. In effect, it may mean a return to anti-Japanese terminology of the paper's past.
Retaining 'Wartime Laborers'
The newspaper decided to describe "comfort women" as "women who were forced or coerced into Japan's wartime brothel system" or "women who suffered under Japan's military brothel system." The two descriptions, if combined, become one step closer to the old description of comfort women as "women who were forced to provide sex to Japanese soldiers."
No objective documents exist to support the allegation that authorities carried out coercive recruitment of comfort women. The coercive recruitment description was also rejected by former Seoul University professor Lee Yong Hoon, who authored the book, Anti-Japan Tribalism: The Root of the Japan-South Korea Crisis (Bungeishunju, 2019). The book became a bestseller in Japan as well as in South Korea on its publication in both countries in 2019.
Meanwhile, the Japan Times announcement also confirmed the publisher's decision to retain the shift it made in 2018, from "forced laborers" to "wartime laborers," saying it was appropriate to do so. The term is used to describe so-called "requisitioned" laborers from the Korean Peninsula in the wartime past. (RELATED ARTICLE: Koreans in Wartime Japan: Don't Confuse Illegal Immigrants with Recruited Workers)
Executive Editor's Resignation
An even greater matter of concern is the resignation of Takeharu Tsutsumi as president and Hiroyasu Mizuno as executive editor of the Japan Times. The announcement was released on March 25.
Mr. Mizuno, in particular, had tackled the reform of the Japan Times, which had been left-leaning in its stories, including the revision of the comfort women description. He had been in the position since 2017, when he was invited to serve as executive director after Minako Suematsu became chairperson, following the newspaper's sluggish performance prompted its sale to online media company News2u.
Over the past one year and a half years, Mr. Mizuno had checked almost all Japan Times stories to correct any bias of the newspaper that had once been branded as the "anti-Japan Times." His editorial policy faced strong resistance internally. Editorial meetings in 2019 were turbulent, according to Reuters, which reported that president Tsutsumi resigned to take responsibility for the paper's deteriorating performance. (You can read related Reuters reports here and here ー Editors)
Japan Times chairperson and publisher Minako Kambara Suematsu is slated to take up the presidency in April 2020 to reconstruct the newspaper. Most of about 130 employees are long-term Japan Times staffers. Leftist foreigners and Japanese reporters could regain their editorial influence.
The Japan Times, with a circulation at about 40,000 copies daily, is smaller than Japanese language newspapers, but it has greater overseas influence. Behind the dominant news coverage of the coronavirus pandemic, the newspaper could grow as an anti-Japan media and collaborate with Western liberals and leftists, depending on future developments.
(A version of this article was first published by the Japan Institute for National Fundamentals, Speaking Out #666 (Special), on April 1, 2020.)
Author: Hironobu Ishikawa
Hironobu Ishikawa is a director and Planning Committee member of the Japan Institute for National Fundamentals and a former Washington D.C. correspondent and international news editor of The Yomiuri Shimbun newspaper.