Suga Administration Should Continue Abe's Infrastructure Exports Strategy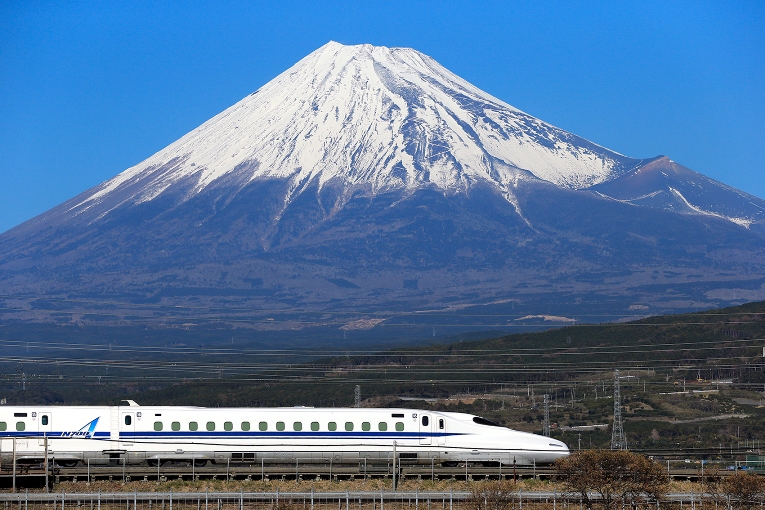 Japan's accelerated strategy for infrastructure exports has garnered new attention since Shinzo Abe announced his decision to resign as prime minister.
Mr. Abe had crafted his diplomacy with a bird's eye view of the globe. While China was pushing its "One Belt One Road" (OBOR, sometimes called "Belt and Road") initiative of infrastructure development toward foreign countries by the power of money and debt, PM Abe had marketed Japan's high-quality infrastructure projects to other countries with proactive promotions by top government officials, including himself.
Several railroad infrastructure and similar projects initiated under the longtime administration are now underway. For these and other such projects, in particular, continuity will be needed from the Suga administration.
"I cannot clearly say how overseas infrastructure expansion plans [by the new prime minister] will proceed," one official involved told JAPAN Forward and The Sankei Shimbun just before Yoshihide Suga assumed office.
Mr. Suga, who was elected as the new president of the Liberal Democratic Party (LDP), has said he will continue to follow the Abe administration's policies in this area, however.
RELATED: Continuity and Balance: Meet Japanese Prime Minister Yoshihide Suga's Cabinet
At the same time, the new prime minister's capacity in diplomacy is still unknown compared to his predecessor Shinzo Abe, who built strong relationships with heads of major countries, such as the United States.
RELATED: Suga, Trump Hold First Talks, Agree to Strengthen U.S.-Japan Alliance
Coronavirus Setback
Kazuyoshi Akaba, Minister for Land, Infrastructure, Transport and Tourism (MLIT), recalled saying, "I had high expectations [from partner countries] for the future expansion of cooperation."
Mr. Akaba visited Indonesia, Myanmar, and Singapore in December 2019 for his first foreign business trip after becoming minister in order to affirm cooperation with officials of those countries on railway, port development, and other projects.
His visits were met with enthusiasm, and Japan's infrastructure exports proceeded with confidence under the Abe administration.
MLIT ministers, state ministers, and parliamentary vice ministers promoted a total of 35 infrastructure projects in 26 countries in 2019. Thereafter, sales promotions by top officials stagnated due to global entry restrictions to contain the coronavirus pandemic.
Japan's opportunities for communication and official exchanges with foreign countries dramatically increased after the transfer of authority from the former Democratic Party of Japan (DPJ) administration in 2012.
One official involved in the infrastructure export program estimated that there would be little change as the new Suga administration takes over, compared to the time power transferred from the former DPJ to LDP.
"It will be important to learn from past projects and to reflect upon strategies that will lead to success and the consummation of new contracts" during this difficult time when the interchange with foreign countries has been interrupted by the coronavirus, the official said.
Railway infrastructure exports are major national projects which have broad impacts on the enterprises involved in the improvement, repair, and maintenance of infrastructure in the recipient country. Among the projects underway, Japan's high-quality railway projects are receiving particular attention.
In 2018, Japanese companies won a contract for the improvement and repair of the Manila Metro Rail Transit system Line 3 (MRT), which runs along the longest highway in Metropolitan Manila in the Philippines.
Manila MRT completed the line and became fully operational in 2000. Japanese companies held the maintenance contracts for it for the following 12 years.
The maintenance contracts were taken over from Japanese companies by local and South Korean companies in 2012. However, troubles such as halted train operations occurred frequently, and the Philippine's Department of Transportation, which operates the MRT, requested the Japanese side to come back and take over maintenance of the line again. The current contract will mature in July 2022.
High Demand in Foreign Markets
Japan's biggest rivals in the expansion of railroad infrastructure abroad are Chinese and European companies.
According to Japan's 2020 action plan for infrastructure-related exports released by the MLIT in July, China's two biggest train manufacturers, which "have expanded their power with a huge domestic market," merged in 2015, and China Railway Rolling Stock Corporation Limited (CRRC) came into existence as the world's largest company in the industry.
The action plan also mentions the merger of European companies Alstom and Bombardier Transportation, which is targeted for completion in June 2021.
The action plan points out, "Looking ahead to population decline [in Japan], a massive increase in [domestic] demand is not anticipated." Moreover, demand by passengers has been stagnant due to the coronavirus.
In terms of foreign markets, the coronavirus damage cannot be overlooked. Nevertheless, there seems to be an annual demand in the global market of as much as ¥24 trillion JPY ($220 billion USD) per year. The Japanese government is likely pinning its hope on this market.
Promoting the Shinkansen
China, which has the world's largest train manufacturer, announced its plan to extend the domestic high-speed railway to a total length of 70,000 kilometers by 2035. The Japanese official who spoke to JAPAN Forward and The Sankei Shimbun is paying attention. He observed: "China has already expanded into foreign regions. After domestic demand hits a peak, they will go further abroad."
China has enhanced its railway export projects since announcing the OBOR initiative. They won Indonesia's high-speed railway project in 2015. However, the Indonesian national government has come under pressure to rethink the project — which will connect Jakarta and Bandung — as it finds itself facing a completion schedule that has been deferred several times.
The Indonesian government expressed its hope for assistance from the Japanese side in May. As of this time, it is unknown whether the Japanese government will participate or not, because there has been no direct request from the Indonesian government.
Originally, Japan promoted its Shinkansen technology for the Indonesian high-speed railway project. However, China later came in promoting its own plan that imposed no immediate financial burden on Indonesia, and it eventually won the contract.
This story is instructive on the importance of convincing the importing country of the benefits of Japan's superior technology when they consider the operational and financial impacts of a project over the long term.
A high-speed railroad project in the American state of Texas will introduce Japan's Shinkansen system in a project estimated to cost ¥2.9 billion JPY ($27.5 million USD). In this case, additional financial assistance by the Japanese government was approved for Texas Central, which will carry out the project.
The Japanese government cites the Shinkansen project, which will connect the state's two largest cities, Dallas and Houston, in 90 minutes, as the "symbolic project for Japan-U.S. infrastructure cooperation."
There can be no relaxation of efforts on major exports or the building of relationships for co-prosperity with key countries. Even though the world continues to suffer under the shadow of the coronavirus, the new Suga administration will be put to the test to keep Japan's infrastructure exports moving forward.
RELATED ARTICLES:
Author: Mizuki Okada