EDITORIAL | Lessons from Hagibis: Japan Has to Be Made More Resilient in the Face of Disasters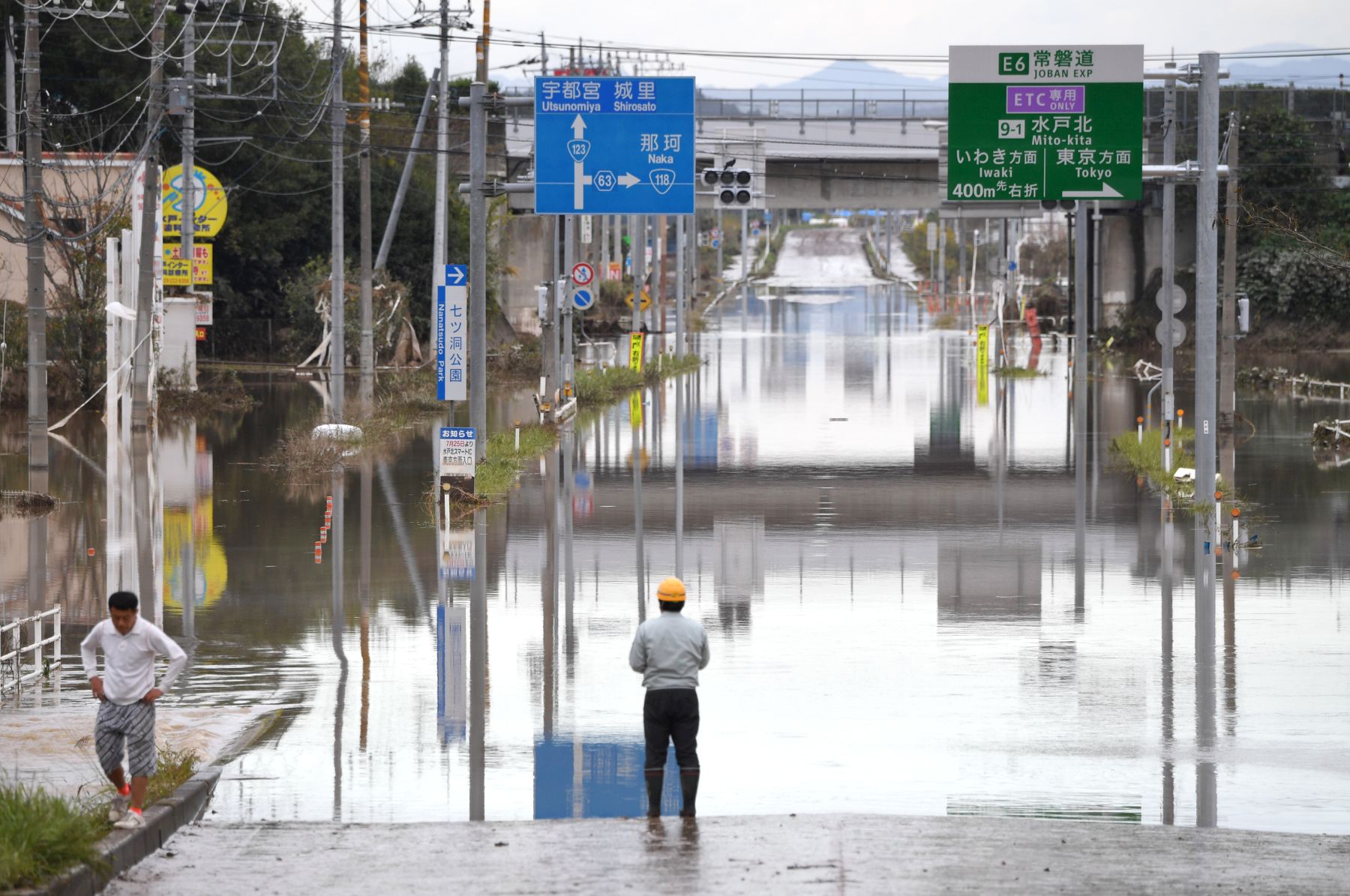 Typhoon Hagibis, a large-scale, powerful storm, pounded extensive areas of the Japanese archipelago with powerful winds and record-breaking torrential rains for two full days starting October 11.
Extensive flooding ensued along many rivers, including the Class A Chikuma River in Nagano Prefecture and Tamagawa which flows through trendy Tokyo area neighborhoods, leaving an enormous number of homes and roads submerged in muddy streams.
Scores have been reported injured, missing, or dead in the wake of the devastating winds and rainfall. Residents in some of the affected areas are still stranded due to the floods. The first priority must be to undertake every possible effort to save lives and rescue victims, and to begin recovery work in the calamity-ridden communities.
The broad swath of devastation this time came amidst unfinished recovery operations to address the damage caused by Faxai, Japan's 15th typhoon of the season, which brought about widespread damage to Chiba Prefecture and other parts of the Kanto region in September.
Having seen disasters due to heavy rains and violent winds almost every year recently, Japan is facing anew the dreadful fury and rage of nature. There can be no doubt that typhoons striking Japan have been growing larger in scale and more ferocious year after year, with increasing human loss and property damage. And this trend seems likely to continue.
If Japan is to effectively cope in the future, the central government as well as local governments must take stronger measures to ramp up Japan's national resilience against massive natural disasters. This includes river management.
Businesses and schools must put plans in place for strong typhoons and other disasters. At the same time, families need to realistically assess the geographical risks and other features of their homes and agree on measures to take to protect lives when disasters occur.
Japan's meteorological agency promptly assessed Typhoon Hagibis as it approached, and called a news conference on October 9 to issue its "maximum-level warning" for floods and landslides. The weather agency further issued special warnings to local municipalities for heavy rainfall over wide swaths of the region as the typhoon threatened to make landfall.
The agency's advisory — the highest possible on a one-to-five scale of warnings for the intensity of rains and floods — was meant to urge the public to evacuate immediately. Many local governments hastened their response, as officials busily addressed the tasks to set up shelters. Although municipal preparations are not yet sufficient, clearly the lessons of past disasters have been gradually put to use.
Railway networks and other public transportation operators on Thursday, October 10, announced cancellation of operations on during the October 12-13 storm peak with extraordinary speed, thus minimizing transportation-related confusion. Fortunately, the service cancellations were over a weekend, when the number of students and other commuters was fewer than weekdays.
To prevent public transport facilities from being crowded on weekdays as threatening storms approach, businesses and schools are urged to voluntarily draw up their own plans for measures, such as when to close and temporarily cancel classes, instead of counting on transport operators alone. This is necessary to help protect students, customers, and employees. Our times demand that safety be treated as the most urgent priority.
Various events scheduled for the weekend were also cancelled early. Among them, three matches of the ongoing Rugby World Cup were called off. One of the games was between Namibia and Canada, slated for the Kamaishi Unosumai Memorial Stadium in the town of Kamaishi, Iwate Prefecture.
The town was heavily damaged in the 2011 Great East Japan Earthquake, and many citizens and volunteers had extended a helping hand in preparing for the big moment of Saturday's scheduled Rugby World Cup match. The stadium was constructed as part of the dream of the city's recovery from the gigantic earthquake and tsunami.
While cancellation of the match was unavoidable, we hope the Rugby world will find alternatives to respond and celebrate the good wishes of Kamaishi.
(Click here to read the editorial in its original Japanese.)
Author: Editorial Board, The Sankei Shimbun