Is Tawang, Home of Tibetan Buddhism's 2nd Largest Monastery, China's Next Territorial Target in India?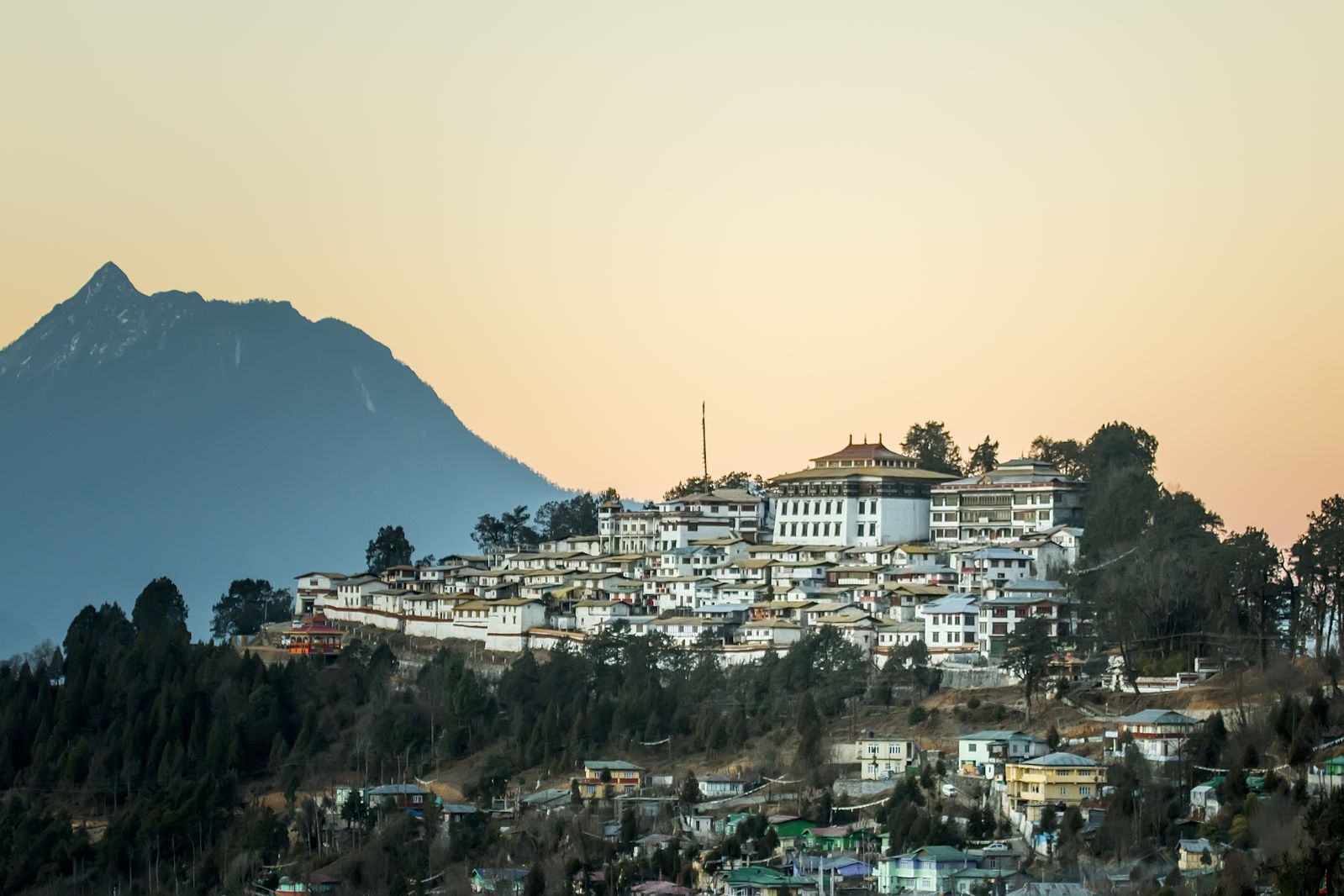 Tibetan Buddhism's Tawang Monastery in India (Author Vikramjit Kakati, C C License, Wikimedia Commons)
China's People's Liberation Army (PLA) has refused to de-escalate the military situation in India's eastern Ladakh. Simultaneously, it has dishonored its commitment for disengagement on multiple chafing points in the region.
The 'newly-created version' of the Line of Actual Control (LAC) running between India and China in the eastern Ladakh sector indicates that Beijing has managed to force down on India an involuntarily change of status quo along the lines of Depsang, Galwan, Hot Springs, Gogra, and Pangong Tso.
India needs to be extremely wary of these fresh claims and claim-lines, which are just the beginning of linkages to China's historical thinking and strategy. Recall when Chairman Mao Zedong professed the 'Five Fingers' strategy following Tibet's annexation, stating "Tibet is the palm, which we must occupy, then, we will go after the five fingers." The first among these fingers is Ladakh, followed by Nepal, Bhutan, Sikkim and Arunachal Pradesh.
China's Aggressive Himalayan Expansionism
That China is storming towards the five fingers could not be any more evident. In Nepal, the nexus between China and Nepal's pro-China communist government is ostensibly displayed.
Mounting Chinese troops around the Lipulekh Pass, located at the India-Tibet-Nepal tri-junction, echo Beijing's intent of a broader belligerent strategy against India. Further, the sudden and precipitous new claim made by China in Bhutan's eastern sector, which borders India's state of Arunachal Pradesh that is claimed by China as 'southern Tibet' is distressing.
Be it the 2017 Doklam standoff, or the 2020 military faceoff that witnessed violent clashes in eastern Ladakh, the writing on the wall is clear – Xi Jinping has galvanized the Chinese army along the entire Himalayan border with India, leaving India with scant options, militarily.
The Hobson's choice dilemma that India faces in the present and potential future territorial scenarios are either to accept the altered territorial status quo or resort to limited/full-scale military conflict with China.
The former perfectly suits Beijing's Sun Tzu-ian agenda, which advocates displaying '… the supreme art of war by subduing the enemy without fighting'.
Geopolitical Significance of Tawang
This brings attention to the Tawang area. Located south of the McMahon Line in Arunachal Pradesh, it is the most vital strategic district of the Indian state of Arunachal Pradesh.
In Tibetan terminology, Monyul is known as the land of Mon, the lower land. Being among the smallest districts of Arunachal Pradesh, the Tawang region serves as the spiritual and temporal powerhouse of Monyul.
In 1680, the 5th Dalai Lama assigned Lama Lodoe Gyaltso to build a Geluk monastery in Monyul. Later, Gyaltso took the initiative of building the Tawang Monastery, the largest monastery in Monyul, that became a religious epicenter for Tibetans, directly governed by Lhasa.
Tawang, historically, was part of Tibet as the most important frontier administrative unit of the government of Tibet before signing the Simla Convention in 1914. This convention demarcated the boundary between Tibet and the eastern Himalayan region of British India, finally drawing the McMahon Line as the border between Tibet and British India.
It was here at the Simla Convention that the independent and sovereign state of Tibet legally ceded the Tawang region to British India. The region was later incorporated into what was formerly known as the North East Frontier Agency, including present-day Arunachal Pradesh and some parts of Assam.
Notably, every single Chinese document objecting to the Simla Convention confines and centers its objections to the border between Inner and Outer Tibet and on China's relations with Tibet. Not once was the Indo-Tibetan boundary [the McMahon Line] mentioned. This was true of Chinese objections before the convention that was concluded on April 27, 1914, and also to those that were made thereafter.
Tawang's Geographic and Spiritual Landscape
Given the political and spiritual significance of the Tawang Monastery, seizing control of Tawang remains an unfinished agenda of China's Tibet annexation.
The Indian Army defends Tawang by means of a Brigade, forming part of the 5 Mountain Division located at Tenga, and two more Divisions at Rangia and Dinjan. All these formations are part of IV Corps located at Tezpur in Assam.
The axis of maintenance to Tawang runs through Tezpur to Bhalukpong over a hilly and rugged mountainous terrain. Then it extends further towards Tenga, Bomdila, Baisakhi, Sela Pass, ultimately leading into the Tawang valley. India should proactively pursue developing an alternative axis via the Eagle's Nest.
The Tawang sector has no lateral lines of connectivity towards the east with the rest of Arunachal Pradesh. This area falls under the Indian Army's 2 Division located in Dinjan and remains grossly underdeveloped vis-à-vis infrastructure. The road communication links remain extremely limited. The thick forest foliage limits daytime visibility to not more than 5-10 meters in this region.
China's Newest Territorial Claims and and Military Maneuvers
Further to the east are the Walong Valley and forward areas of Dichu. China has built black-topped hard-surfaced roads and a large military garrison build-up opposite Dichu, which provides it with the capability to mount a large military offensive in this particular sector.
The west of Tawang borders Bhutan. India could consider sending reinforcements through an alternative axis that runs through Bhutan via Rong-Mela.
For India, perhaps the biggest challenge in Tawang would be dispatching reinforcements at short notice in response to a potential large-scale border offensive initiated by China. This prospective Indian move could be checkmated by China in wake of its sudden new claim in Bhutan's eastern sector.
Since June 2020, China has begun claiming the Sakteng Wildlife Sanctuary situated in Bhutan as a 'disputed territory'. This implies that a potential future occupation scenario of this sanctuary by China will enable it to deny the western flank of Tawang completely, much to the military and strategic disadvantage of India.
Assessing China's 'Five Fingers' Offensive
The momentum with which Beijing has operationalized its 'Five Fingers' strategy in the Himalayan border states, makes it highly plausible for China to turn Tawang and larger parts of Arunachal Pradesh into the next conflict zone, with the aim to seize Tawang, particularly the Tawang Monastery.
According to sources who asked to remain anonymous, the Indian Army has worked on alternatives to induct the III Corps headquartered in Dimapur, a city in India's north-eastern state of Nagaland that borders Myanmar. These alternatives would strengthen its position in the rest of Arunachal Pradesh, particularly the Walong sector.
This Corps is involved in countering insurgency in India's Northeast. It needs to be borne in mind that, for such a force to switch over from an insurgency combat role to full-fledged conventional operations, will present its own set of distinct challenges. Moreover, the raising of another mountain strike corps by the Indian Army, too, lies in an unending state of limbo.
China's long-conceived and deftly executed territorial offensive that has altered the status quo in eastern Ladakh by means of stealth and deceit should serve as a lesson for India. It is time that New Delhi launches an internal inquest regarding its borders in a more proactive and integrated manner to deny any such future deceptions to Beijing.
Author: Dr. Monika Chansoria
Dr. Monika Chansoria is a senior fellow at The Japan Institute of International Affairs in Tokyo and the author of five books on Asian security. The views expressed here are those of the author and do not necessarily reflect the policy or position of The Japan Institute of International Affairs or any other organization with which the author is affiliated.