New Delhi and Tokyo Face a New Equation in Sri Lanka
The election of Gotabaya Rajapaksa as the new president of Sri Lanka provides New Delhi with both an opportunity and a challenge.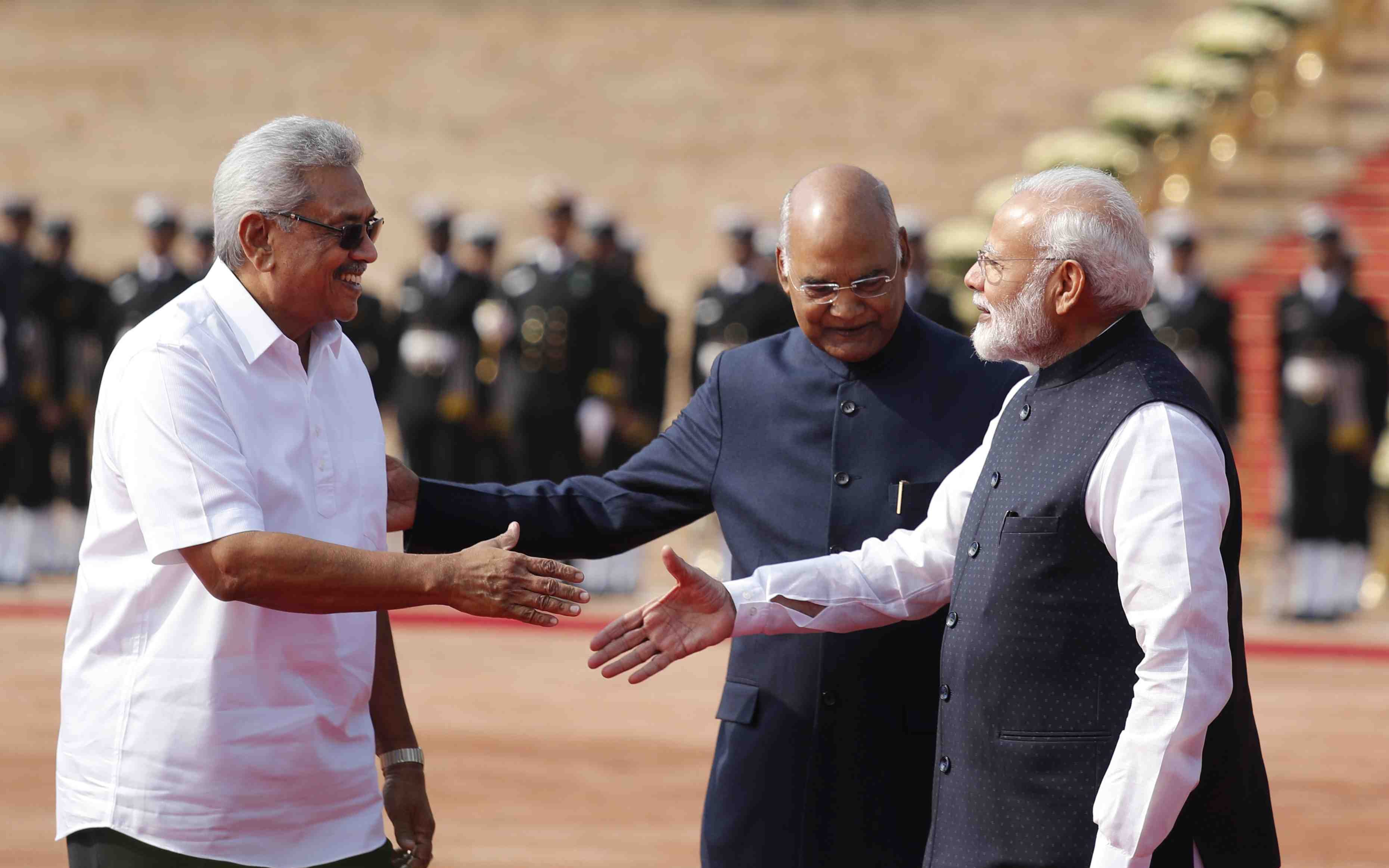 The election of Gotabaya Rajapaksa as the new president of Sri Lanka provides New Delhi with both an opportunity and a challenge.
On the one hand, it provides New Delhi with the opportunity to recalibrate its ties with the island state. On the other, it could well turn out to be a foreign policy challenge since it was under the Rajapaksas that Sri Lankan foreign policy started veering towards Beijing.
Gotabaya Rajapaksa's brother, Mahinda Rajapaksa, served as the president of Sri Lanka between 2005 and 2015. During this time, Gotabaya himself served as the secretary to the Ministry of Defense and Urban Development.
Sri Lanka, especially under the Rajapaksas, enthusiastically participated in the China-led Belt and Road Initiative (BRI), and, in spite of being saddled with debt, it has not looked back. The Hambantota port in Sri Lanka has been leased out to China for a period of 99 years.
However, under the previous dispensation (following the 2015 presidential elections, with Maithripala Sirisena as president), New Delhi clawed back into the game. Even so, it was the Easter Bombings in Sri Lanka in 2018 that changed the equation.
Sri Lanka realized that it is fighting bigger enemies, and collaboration with India will be important in the long run in the fight against terrorism. The Indian Prime Minister had visited Sri Lanka after these deadly attacks in a show of solidarity with the island nation.
Can India and Japan Join Hands in Sri Lanka?
India has much to gain by joining hands with countries like Japan in Sri Lanka.
Already, it has been announced that India and Japan will be jointly holding a stake in the East Container Terminal at the Colombo Port, while the Sri Lanka Ports Authority (SLPA) will retain 100% control of the terminal.
This represents a different model of investment in Sri Lanka from the Chinese one in Hambantota. New Delhi will have to be careful in ensuring that China does not get a bigger presence in Sri Lanka, however, as it will be very detrimental to its national interest.
For Japan, too, Sri Lanka is very important, especially in light of its Free and Open Indo-Pacific vision.
Japan has a presence in Djibouti, and Sri Lanka's location is of critical importance in keeping the sea lanes of communication in the region open. In August 2018, Japan handed over two Fast Patrol Vessels to the Sri Lankan Coast Guard. In addition, under the Knowledge Co-Creation program of the Japan International Cooperation Agency, Sri Lankan coast guard officers have been trained in Japan in specialties like "maritime oil spill incident management, maritime law enforcement, search & rescue, disaster prevention and environment protection etc."
Appreciating the Further Opportunities in Sri Lanka
Tokyo and New Delhi may also be joining hands in the development of the Trincomalee Port in eastern Sri Lanka. Both countries have a great stake in ensuring that Sri Lanka does not become another cog-in-the-wheel as the Chinese BRI juggernaut rolls on in South Asia.
Already, through the China-Pakistan Economic Corridor, China has obtained unfettered access into South Asia. Of late, China has developed strong links with Nepal, something which is surely not music to New Delhi's ears.
Very early on in his term, Prime Minister Narendra Modi, during a visit to Seychelles, Mauritius, and Sri Lanka, sketched out India's vision for the Indo-Pacific by outlining the concept of Security and Growth for All in the Region).
This time, New Delhi has been quick off the blocks. Soon after Gotabaya Rajapaksa's electoral victory, Prime Minister Modi tweeted:
Congratulations @GotabayaR on your victory in the Presidential elections. I look forward to working closely with you for deepening the close and fraternal ties between our two countries and citizens, and for peace, prosperity as well as security in our region.
After Gotabaya Rajapaksa's election, New Delhi was quick to send External Affairs Minister Dr. S. Jaishankar to Sri Lanka. The new president paid an official visit to India recently, the first foreign visit of his term, during which New Delhi announced a $400 million USD line of credit for developmental projects in Sri Lanka and a $50 million USD fund to fight terrorism.
Sri Lanka is very important for India and this quick move by New Delhi needs to be seen in the overall context. What is heartening is that New Delhi seems to have learned some lessons from its experience during the time Gotabaya's Rajapaksa's brother, Mahinda Rajapaksa, was at the helm.
It seems that now both India and Sri Lanka understand the importance of engaging each other, though New Delhi would be naïve to consider that Sri Lanka will give up its close ties with China under Gotabaya Rajapaksa.
Author: Dr. Rupakjyoti Borah
Dr. Rupakjyoti Borah is a senior research fellow with the Japan Forum for Strategic Studies in Tokyo. His latest books include The Elephant and the Samurai: Why Japan Can Trust India and Act-East via the Northeast. The views expressed here are personal. E-mail: rupakj@gmail.com; Twitter: @rupakj.