[Asia's Next Page] What the Xi Jinping Historic Third Term Means for Japan
The Xi Jinping dictatorship has become absolute. What does that mean to Japan, and how will it affect Tokyo's economic and security policy choices?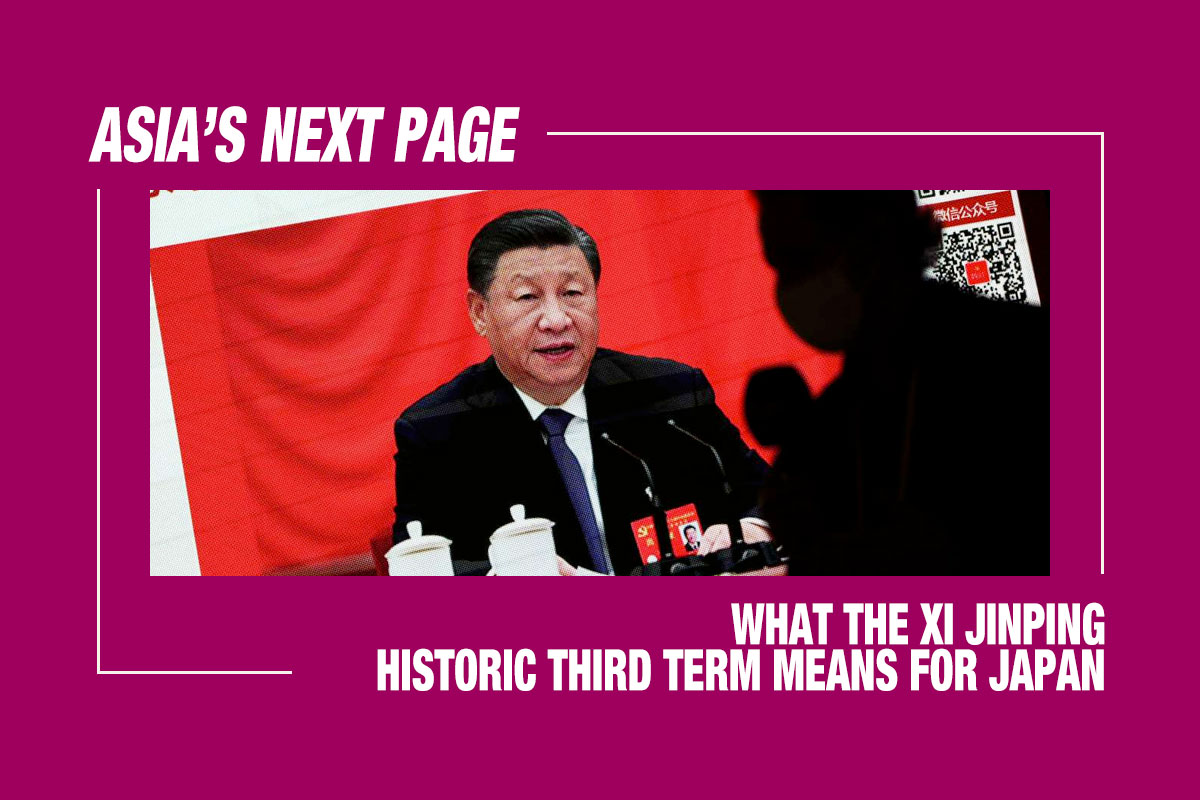 Coverage of the 20th National Congress of the Chinese Communist Party (CCP) that took place from October 16-22, 2022 in Beijing has turned the focus onto the absolute authority of Xi Jinping as president of the Chinese Communist Party.
As Xi Jinping begins a historic third term in office, Tokyo's strategic calculus anticipates stronger Chinese foreign policy actions, especially given signals that he intends to run for a fourth or fifth term. Xi's "personally vetting" and hand-selecting members of the Politburo Standing Committee reinforces this prospect, as does his declining to select a successor once more.
After the October National Congress, the Standing Committee is now made up of six committed "yes men."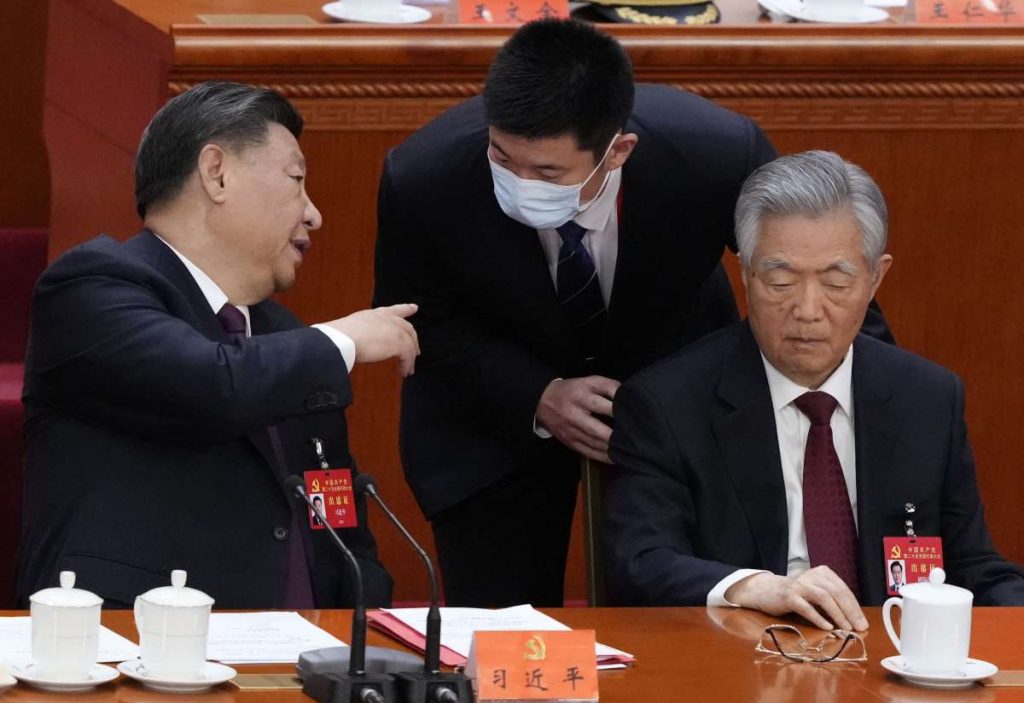 Identifying Early Trends
After what appeared to be a potential contradiction or conflict with Xi, his predecessor Hu Jintao was (controversially) removed from the Congress. This signaled the end of any potential power struggle and the impossibility of any challenges.
Xi's dictatorship has become absolute. He no longer has anything (or anyone) preventing him from using force with respect to protecting China's sovereignty as he defines it. And as a result, Japan must be prepared to respond.
This is igniting already well-known arguments within Japan regarding challenging China "head-on." Furthermore, it is anticipated that the United States and China would continue to clash under Xi's third term, which will surely draw Tokyo further into the conflict between the two countries.
Concurrently, because single-man rule has so many drawbacks, the media has also suggested that the complexity of the situation could be a contributing factor in the CCP's future political decline. As a result, the personality regime that Xi is cultivating may actually cause Chinese politics to become significantly more unstable over time, which would also have a significant impact on Japan.
Impact of Zero-Covid and Other Economic Policies
One area of debate is the economic impact of the continuation of policies such as Zero-Covid, which are harming the Chinese economy.
Xi has made it clear that he is continuing to promote China's unique state-led market economy. Meanwhile, there is a clear shift away from the view that ultimate CCP legitimacy comes from economic growth and prosperity.
Beijing is moving towards making it harder for Japanese foreign companies to work with China, and there is a higher risk of Japanese technology leaks.
At the 20th Congress, Xi promised to 'build China's self-reliance and strength in science and technology', which will likely mean a continuation of previous efforts to reduce reliance on Japanese and Western technologies.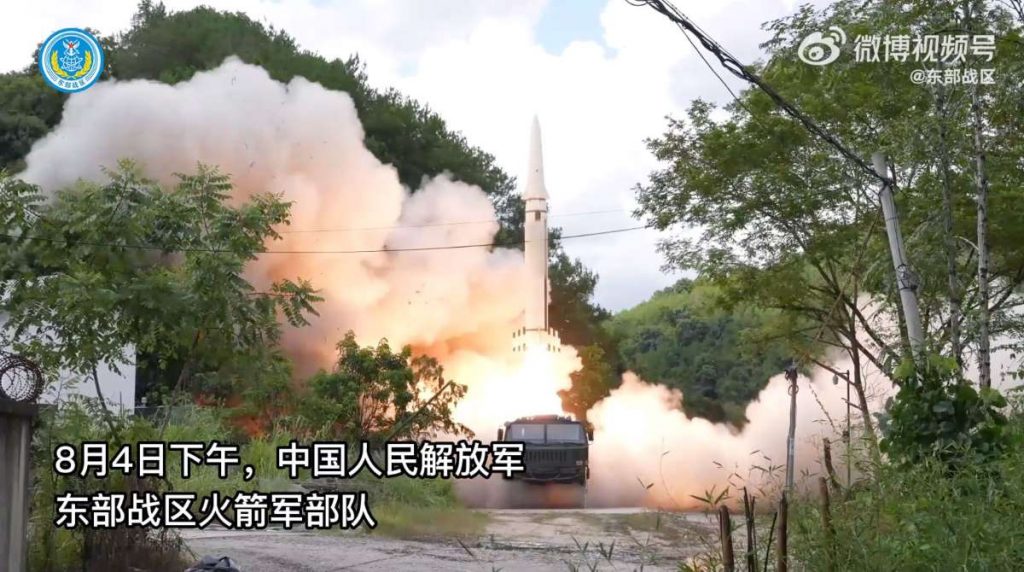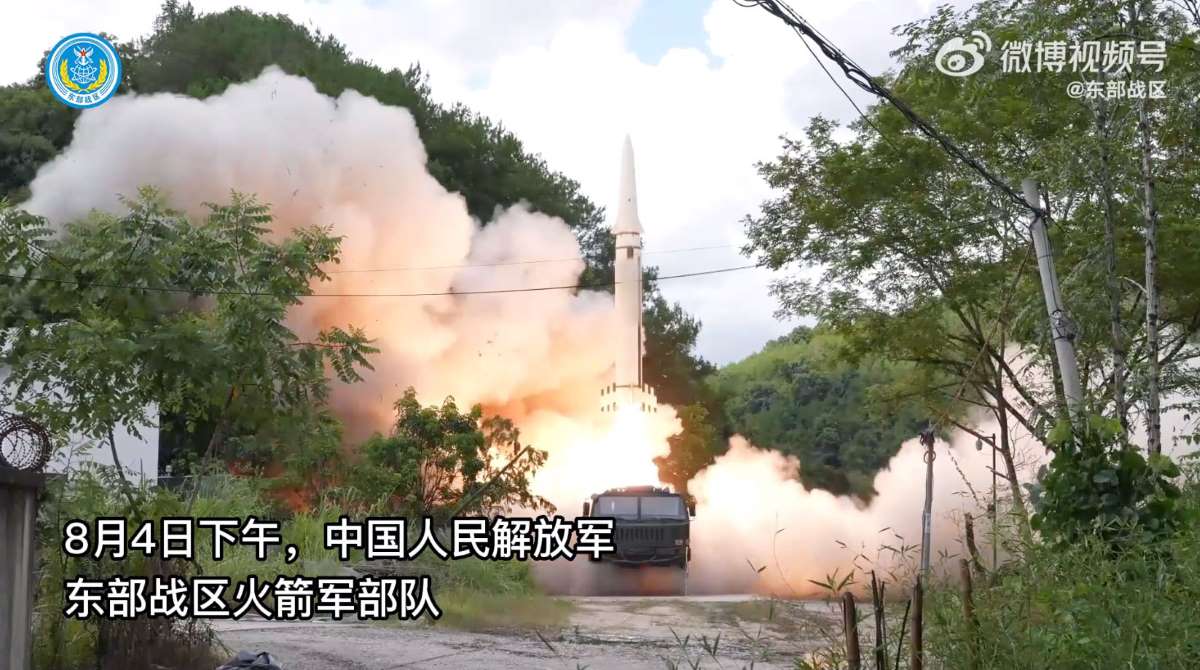 Framing Japan in the The Taiwan Contingency
The biggest debate in Japan, though, undoubtedly relates to Taiwan. In contrast to past years, Xi detailed his view of global affairs at the Congress, painting a much grimmer picture of impending "dangerous storms." And he pointed out China's vulnerability in an increasingly precarious environment.
In his work report, Xi specified that the "world has entered a period of turbulence and transformation." He went on to state that China has now found itself in a period where "strategic opportunity and risks and challenges co-exist." In this backdrop, Xi presented himself as the "navigator" of these perils who will successfully guide China through them.
Notably, Xi emphasized that China will not renounce the use of force to achieve reunification with Taiwan, stressing that it continues to be an essential or "core" national interest and top priority for his presidency.
Furthermore, he expressly issued a warning against "interference by external forces," portraying Taiwan as a solely Chinese matter. He asserted that Beijing will not condone 'interference' over the issue from the US and its allies like Japan, or other regional powers like South Korea and Australia.
In Tokyo, concerns over the promotion of Foreign Minister Wang Yi — who has vocally condemned Japan's policy towards Taiwan — to the Politburo have been circulating. Japan must not disregard these concerns and instead remain on guard.
It is possible that comparable strategies, such as hybrid warfare, may be deployed over Japan's Senkaku Islands dispute with China. This would be in line with certain interpretations of Xi's hardline and evolving policies towards achieving reunification with Taiwan.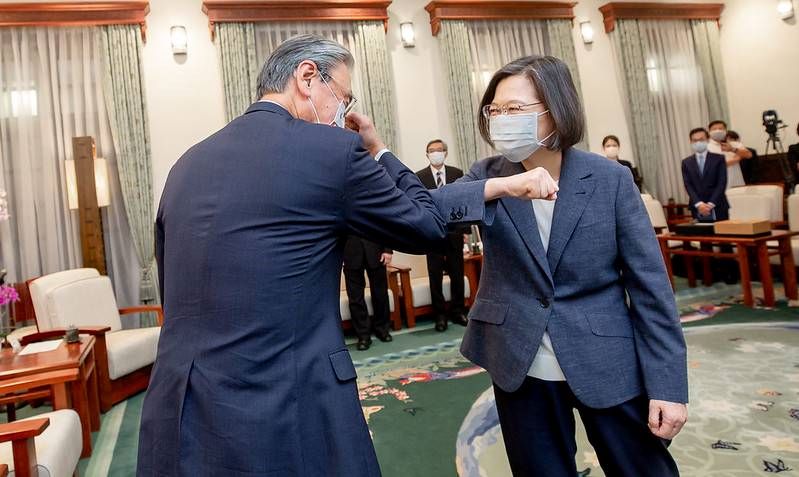 Predicting the Near Future
Sino-Japanese relations post-CCP Congress will continue to be largely influenced by the situation in Taiwan. On October 27, 2022, shortly after the Congress concluded, China warned Japan not to mention Taiwan in its soon to be released National Security Strategy. It stated once again that Tokyo should "refrain from interfering in China's internal affairs."
Sources suggest that the Japanese document is poised to express that "no unilateral change of the status quo by force will be tolerated" over Taiwan. In that light, China's Global Times opinion article subtly warning Japan to "avoid blindly targeting China" is another telling development. Beijing claims that Tokyo is exaggerating the military threat of China based on an "ulterior motive."
Furthermore, it is clear that China's expanding military might and assertive actions in the Indo-Pacific are influencing Japanese foreign policy. One example can be found in the new Australia-Japan Security Pact signed concurrently with the CCP Congress. Strategic partners Japan and Australia implicitly aimed the new agreement towards focusing on the alarming actions of China in the region and tackling contingencies that may affect their own national security.
Meanwhile, both are monitoring Xi's new third term.
Both Australia and Japan are concerned over their reliance on United States security in the Indo-Pacific. And through collaboration they aim to contribute more to regional security.
Unsurprisingly, the pact has been ill received by Beijing, with the Chinese Foreign Ministry responding that the agreement "could provoke bloc confrontation or stoke a new Cold War."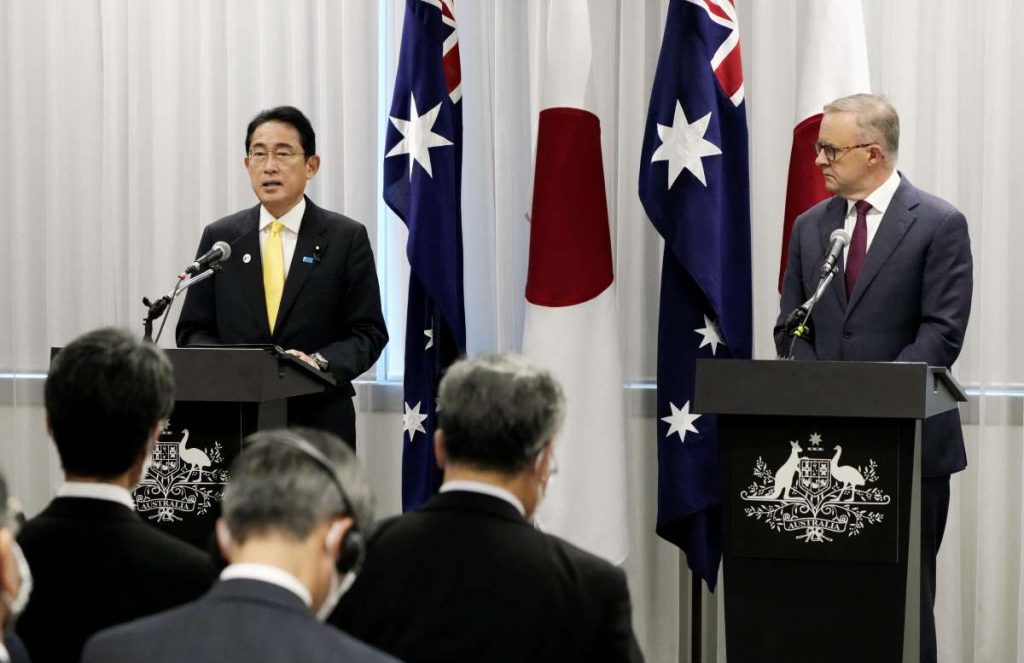 Confronting the Current Security Environment
The Australia-Japan Security Pact can be seen as a continuation of former Prime Minister Shinzo Abe's approach to diplomacy. Moreover, it is in line with Tokyo's recent efforts to confront the current security environment. Japan is endeavoring to increase its own capabilities and configuring deals with like-minded regional powers.
The question of whether Prime Minister Fumio Kishida should continue with Abe-like policies and a more aggressive stance toward China, or whether following a different balance and more conciliatory strategy would be preferable, is still puzzling Tokyo.
Prioritizing National Security
It is also obvious that the character of Sino-US relations will continue to influence the direction of Sino-Japanese relations. As allies, Washington and Tokyo have decided to work closely together to address "challenges" with regards to China, primarily to protect the free and open Indo-Pacific (FOIP).
It is impossible to see their competition de-escalating. This, of course, means Japan will need to decide where it stands between them, given that the United States claims China to be the greatest danger to US hegemony in its new National Security Strategy.
Having said that, despite a significant worsening in relations over Taiwan in recent months, there may be room for improvement. Beijing "stands ready to work with the United States... on the basis of mutual respect, peaceful coexistence, and win-win cooperation," according to Xi's recent statement. Additionally, President Biden has reportedly shown interest in meeting with Xi off-site at the G20 summit scheduled for November 2022.
Many stress that Japan cannot afford to implement decoupling policies against China that the US may be able to. They add that estrangement from Beijing could thwart hopes of seeking to resolve tensions over Taiwan and the Senkaku Islands through dialogue. In this light, Tokyo's China balancing scale requires recalibration.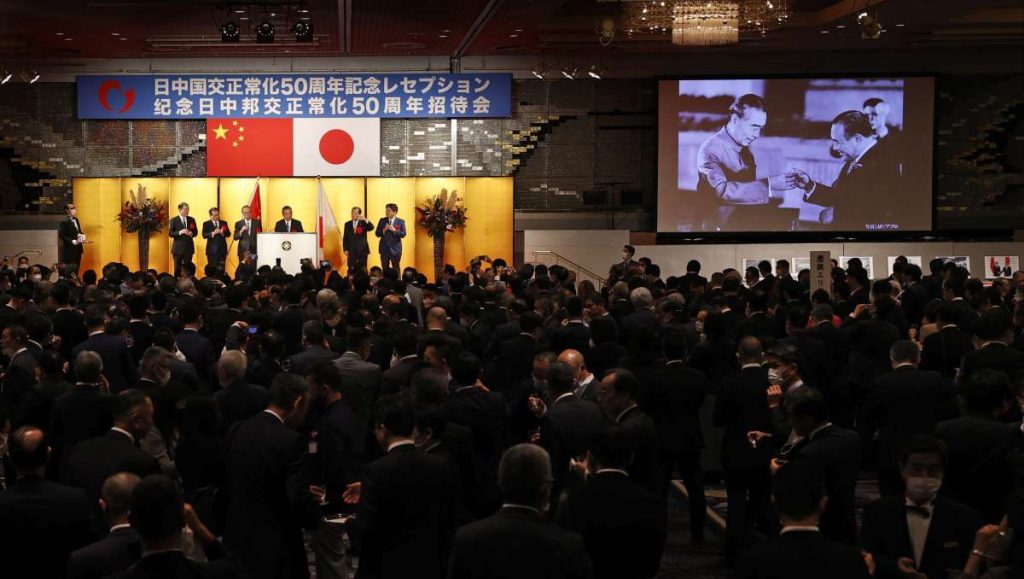 Prospect for Improving Relations
Mutual ambitions to improve relations have been articulated by both the Chinese and Japanese. These were particularly evident through their recent interactions over the anniversary of the normalization of diplomatic ties celebrated at the end of September 2022. At that time, both heads of state exchanged messages of congratulations.
Global Times reported on the sincerity with which overcoming issues and improving ties is supposedly being viewed in light of the anniversary. But, it warned, Japan must fight external forces, referring to the United States, to bring the relationship forward.
Despite such outlooks, Beijing has simultaneously demonstrated a lack of seriousness or understanding towards Japan's national interests, which undermines these efforts. Three Chinese vessels were reported entering Japanese waters near the Senkaku Islands just a day before the anniversary of Japan-China ties.
In such a situation, it is clear to Tokyo that continuity in the form of assertive action both territorially and regionally can be expected as Xi commences yet another term. Japan's strategy towards China for its own national defense must address this rather unchanged but further strengthened Beijing narrative.


RELATED:
Author: Jagannath Panda
Find Dr Panda's column [Asia's Next Page] on JAPAN Forward.