EDITORIAL | Japan Out of Step with the West on Beijing's Human Rights Abuses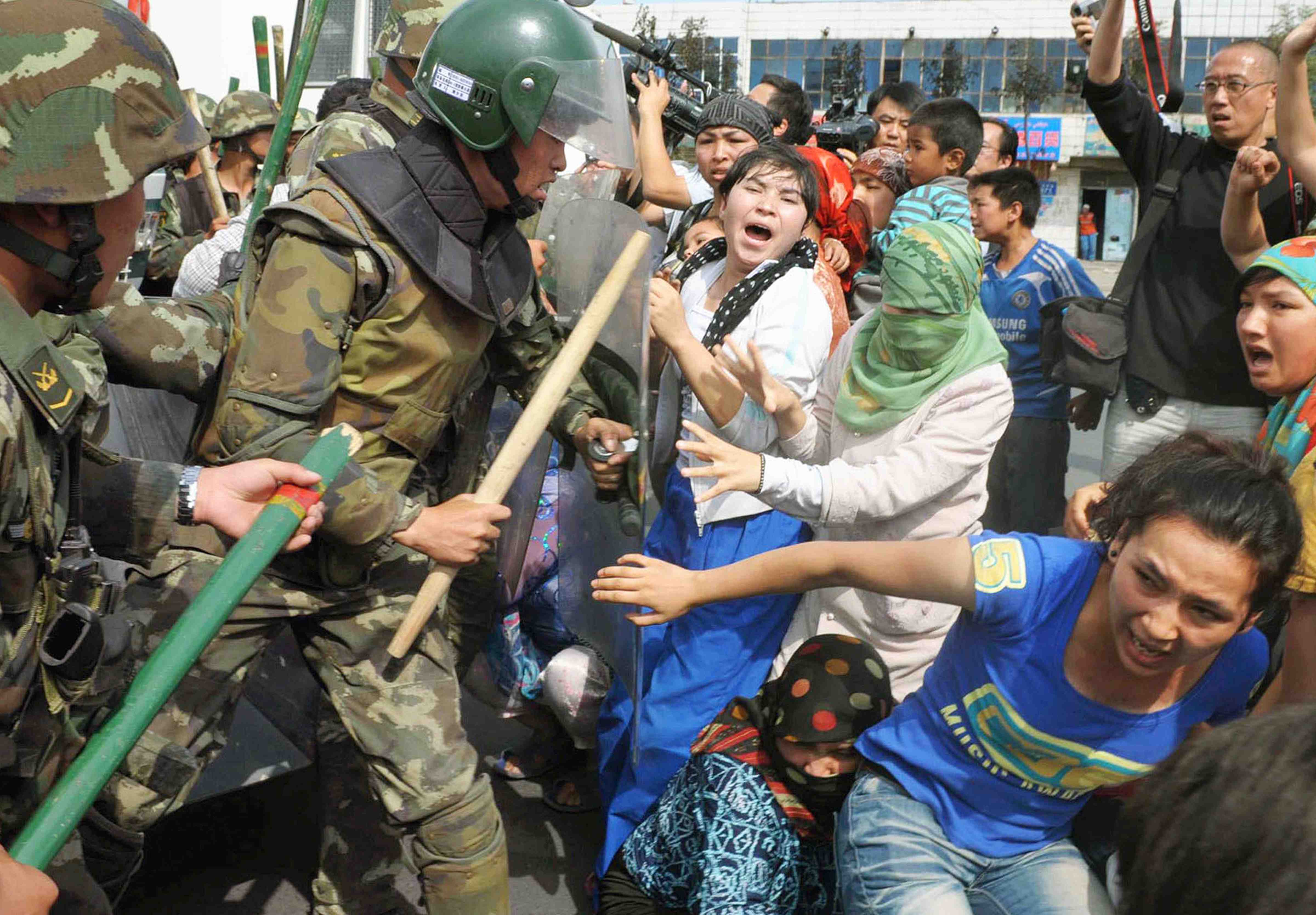 The Japanese government has to speak out on human rights in China.
The publication of internal Chinese government documents on the ongoing suppression of the Uyghur people in Xinjiang Province has triggered a global storm of criticism of Beijing's human rights abuses. The documents describe in detail serious human rights violations involving compulsory "reeducation camps" and hi-tech modes of surveillance.
In response to these shocking disclosures, the United States, the United Kingdom, France, Germany, and other countries have criticized China and called for the release of those confined, as well as for the Chinese government to allow United Nations inspection teams to visit the camps. Yet, Japan has remained largely silent on the issue.
Concerning the issue of the unrest in Hong Kong, the U.S. Congress recently passed by a nearly unanimous vote the Hong Kong Human Rights and Democracy Act, which President Donald Trump quickly signed. The new law represents a clear demonstration of support for the democracy movement in Hong Kong.
Beijing has denied the accusations of the international community, but evidence of its severe repression of human rights is incontrovertible. Human rights are for everyone, everywhere. No nation's government should be allowed to violate them with impunity.
Tokyo's Response Has Been Too Tepid
Although massive, severe repression is now taking place within the borders of its giant neighbor, the Japanese government and the Diet have been too restrained in their responses.
What have Prime Minister Shinzo Abe and Foreign Minister Toshimitsu Motegi been doing about the issue? They should be more forceful in their protests and offer assistance to the people who are victims of Chinese oppression.
Of particular concern is that next spring Chinese President Xi Jinping is scheduled to pay a state visit to Japan, as both governments have agreed. Is it proper, however, for the individual with ultimate responsibility for these extremely serious human rights violations to be welcomed to Japan as an official state guest?
The contents of the leaked internal Chinese government documents that came into the possession of U.S. newspapers and the International Consortium of Investigative Journalists make for shocking reading.
China has built a large-scale, hi-tech surveillance system in Xinjiang. It is using footage from surveillance cameras and the contents of captured cell phone conversations, along with cellphone apps and artificial intelligence technologies, for penetrating cyberspace surveillance. Through these intrusive methods, the Chinese government has identified large numbers of Uyghurs and labeled them as "suspicious persons."
Already, some one million of the estimated eight million Uyghurs living in Xinjiang have been taken into custody as "suspicious persons." These unfortunates have been shipped off to concentration camps the Chinese authorities euphemistically refer to as "Technical and Vocational Education and Training Centers." There they are forced to use only Chinese — use of their native Uyghur tongue is prohibited — as they undergo brainwashing designed to make them pledge fidelity to the Chinese Communist Party.
Nothing More Than Anti-Islamic 'Cultural Cleansing'
The fact is that concentration camps, akin to those used by Mao, Stalin, and Hitler, are very much in operation today in Xi Jinping's China. Former prisoners of these concentration camps have testified that they were subjected to torture and self-criticism sessions, and even forced to eat pork in violation of the rigid prohibition on pork consumption in their Islamic faith.
According to the internal documents, in 2014 when Xi conducted an onsite inspection tour in the Xinjiang-Uyghur Autonomous Region in the wake of rioting in the area, in a secret speech he called for a hardline response, declaring, "Mercy is useless."
The Chinese government has labeled the internal documents in question as "fabricated fake news." However, U.S. Secretary of State Mike Pompeo has pointed out, "These reports are consistent with an overwhelming and growing body of evidence."
Pompeo has also called on the Chinese government to release immediately all the Uyghurs it has taken into custody and stop the crackdown. His voice is part of the chorus of pressure on the Chinese government from a number of countries.
Likewise, French Foreign Minister Jean-Yves Le Drian has urged Beijing "to cease its arbitrary mass detentions" of Uyghurs, close the camps, and allow the U.N. High Commissioner for Human Rights to visit Xinjiang as soon as possible to report on the situation.
The British and German governments both have also been critical of China and have demanded U.N. fact-finding teams be allowed to visit the region.
Abe Must Speak Out
In October, the United States government announced that it was adding 28 Chinese entities, including the world's largest manufacturer of surveillance cameras and some Chinese government offices, onto an export blacklist due to their complicity in the violation of the human rights of Uyghurs and others.
The U.S. also demonstrated courage in passing the Hong Kong Human Rights Act in support of the citizens of Hong Kong, who are fighting for the preservation of a true "one country, two systems" arrangement and greater democracy.
However, whereas other countries in the free world are striving to protect the Uyghurs and people of Hong Kong, Japan regrettably has not joined them.
In October, Japan did join 22 other U.N. member countries in calling for an end to Uyghur detentions. But, since then, the Japanese government's only comments on the Uyghur and Hong Kong issues have been a steady refrain of "very troubled" and "we are paying attention."
What Japanese officials really are saying is, "It's no concern of ours."
Sino-Japanese Relations are Not on a Normal Track
Although not bending regarding the Senkaku Islands and related issues of vital national interest, the Abe administration has repeatedly claimed that "Sino-Japanese relations are back on a normal track."
However, concerning the Xinjiang and Hong Kong issues, the government has been solely focused on not upsetting China — to the extent that it has made light of these serious human rights issues.
If Japan truly wants to be considered as a nation that respects human rights, shouldn't it cooperate with the United States, the U.K., France, Germany, and other conscientious countries in making greater efforts to bring a stop to the oppression?
Prime Minister Abe is scheduled to visit China during the latter part of December. He is certain to hold talks with President Xi at that time. Abe should avail himself of the opportunity to straightforwardly demand the release of the Uyghur detainees, allowing in U.N. inspectors. And he should demand a stop to the suppression of the pro-democracy groups in Hong Kong.
If Xi refuses to listen to Abe's requests, then the Prime Minister should come right out and tell him that his stance makes it difficult for the Japanese government to welcome him on a state visit.
For Japan to lay out the red carpet for the individual ultimately responsible for this mass repression would be a regrettable spectacle in the eyes of the Uyghur people, the citizens of Hong Kong, and indeed people around the world.
Author: Editorial Board, The Sankei Shimbun