Rebellion by Democratic Hong Kong Challenges Xi Jinping's Communist Cult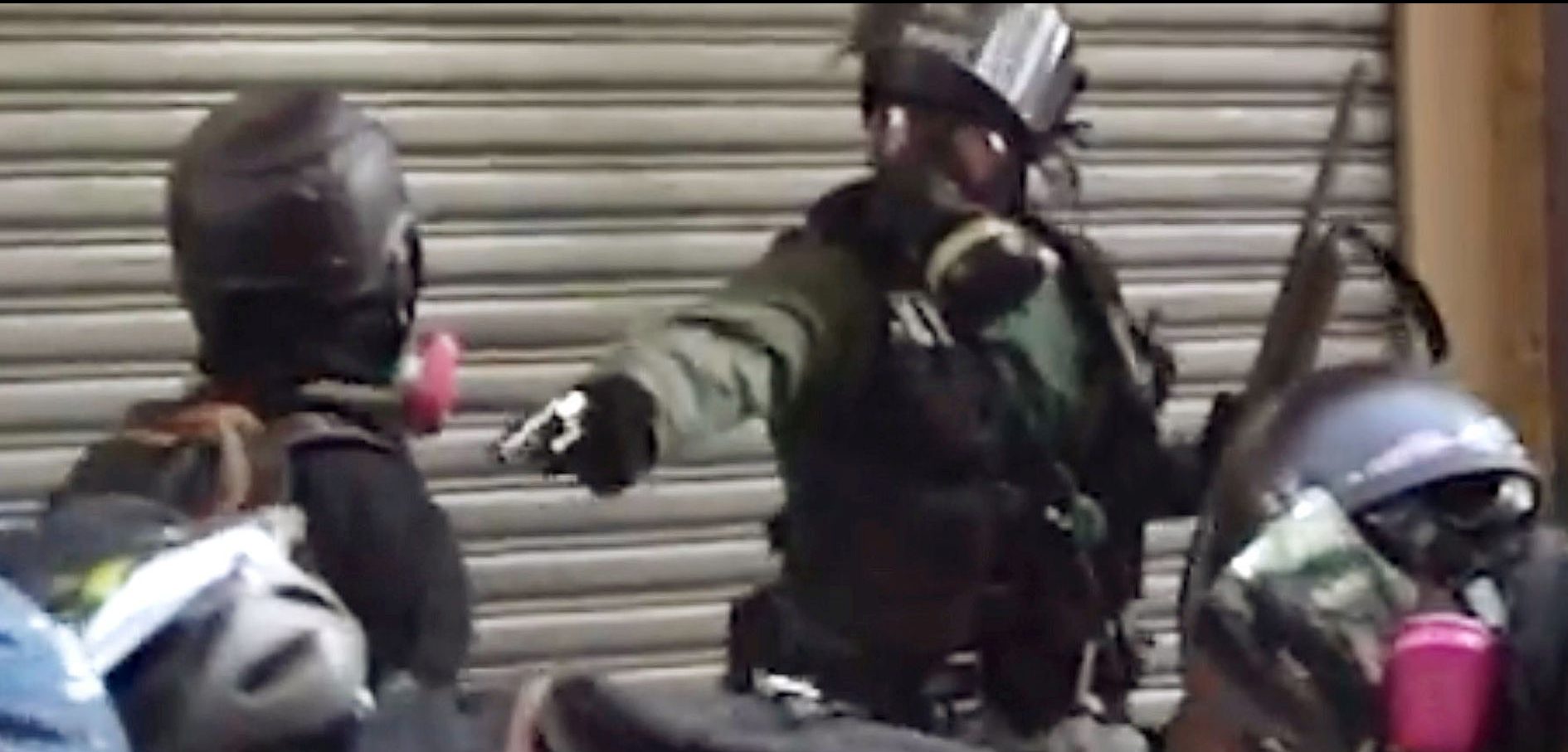 While previously firing warning shots in the air, the Hong Kong police shot a teenage protester at close range on Tuesday, October 1. The decision and date to open fire on protesters coincided with Communist China's leadership showcasing the Party's supremacy by celebrating 70 years in power in Beijing.
The ceaseless protests in Hong Kong against extradition to mainland China have become Xi Jinping's Achilles' heel, one that his administration supposedly did not anticipate. Worst still, the protests in Hong Kong could well have a cascading effect on other Chinese vulnerabilities, such as Xinjiang and Tibet.
Since June 2019, Hong Kong, a Special Administrative Region of China, has been rocked by protests that show no sign of weakening or dying down. The immediate trigger for the uprising was an extradition bill introduced into the Legislative Council of Hong Kong, quickly prompting demonstrations. The protests have now turned much wider in scope.
Preserving Hong Kong's Democracy
Being a former British colony that was handed over to China, Hong Kong has been running a "one country, two systems" arrangement, which guarantees it a level of autonomy, its own judiciary, and a separate legal system from the mainland.
Then, in April, Hong Kong's government introduced plans for changes in legislation allowing for criminal suspects to be extradited to mainland China. The proposal was nothing short of a direct challenge to Hong Kong's autonomy and legal freedom as a special administrative region.
The first big protest was witnessed in June, when an estimated one million people marched to the government headquarters and demonstrated against the proposed bill. The stand-off has since ballooned into the worst violence seen by Hong Kong in decades.
The decision of Carrie Lam, the Chief Executive of Hong Kong, to indefinitely delay the extradition bill was met with even stronger disapproval. An estimated two million people took to the streets. The protesters demanded that the bill be withdrawn completely and blockaded Hong Kong's police headquarters for nearly 15 hours.
The citizens of Hong Kong have not let go of any opportunity to show their angst against the Chinese government. This was visible when they sprayed graffiti on the walls of the Hong Kong Legislative Council building, displaying the colonial-era flag on the anniversary of Hong Kong's handover from the United Kingdom to China on July 1.
A week later, thousands marched in Kowloon, known as an area popular with mainland tourists. By August, the protests entered the 10th consecutive weekend with greater vigor. Demonstrators shut down the airport, leading to hundreds of flights being cancelled.
Adding to China's woes were civil servants who joined the demonstrations in thousands in early August.
Disappointment with the Hong Kong Police Response
Perhaps the most disconcerting aspect of the protests has been the use of force by the Hong Kong police. The manner in which the police handled the situation paved the way for immense anger towards it.
The first half of August witnessed police storming enclosed railway stations and firing tear gas, water cannons, rubber bullets, and bean bag rounds at protesters. Subsequently, for the first time, the police resorted to firing live ammunition.
Simultaneously, the police admitted to having placed officers who were disguised as anti-government protesters. There were multiple reports of Chinese police and military units assembling across the border in Shenzhen.
Carrie Lam and Beijing's Inadequate Response
Reiterating that the extradition bill was "dead," Lam initially refrained from fully withdrawing the bill. However, the intensity and resolve of the citizens of Hong Kong compelled her to completely withdraw the extradition bill in the first week of September.
Notwithstanding this, the public anguish appears to have gone far beyond mere protests against the bill itself.
To believers of Hong Kong's democratic history and system, mainland China's attempt to introduce such an ominous bill is an assault on the special freedoms enjoyed by Hong Kong. The protests are not about extradition anymore. They have evolved into something far more profound.
The protesters now demand a withdrawal of the "riot description" used to characterize the June 12 protest, amnesty for all arrested protesters, independent inquiry into police brutalities, and universal suffrage in elections for Hong Kong's Chief Executive and Legislative Council.
Even though mainland China's state-run and controlled media blocked information and news about the protests, Beijing issued repeated warnings to the protesters not to "play with fire" and not "underestimate the firm resolve of the central government." China branded the violent clashes between the activists and police as "behavior that is close to terrorism."
Xi Jinping's Powerplay
In a few weeks, it will be seven years since Xi Jinping (习近平) took over the reins of power in China and assumed the office of the Party Commission in November 2012. Back then, it was hard to fathom that Xi would go on to establish what perhaps has been China's most tight-fisted and repressive socio-political control since the era of Chairman Mao.
While leaders in democracies around the world have certain commonalities in terms of their approach and consequently connect with their electorate, the case of China is different for obvious reasons.
In this reference, Xi Jinping has made a deliberate attempt of spreading his demeanor far and wide. He endeavors to show himself as a leader who smiles and laughs in public, cuddles babies, enjoys sports, shuns the state limousine motorcade and opts for a mini-bus to travel with the masses, self-serves a bowl of dumplings at local restaurants, and shares a meager traditional meal in a farmer's hut in the countryside.
All this appears to be an effort towards refurbishing the image of the despotic Chinese Communist Party. In the past seven years, the CCP has come to being associated with the face of Xi Jinping, while local Chinese media often refers to him as Xi Dada ("Daddy Xi").
Trying to popularize his image among the Chinese masses, Xi has made an astute and deliberate attempt to strengthen his grip on political and military power and decision-making, especially by placing effective checks on the power elite. The most profound manifestation of this comes in the form of reducing membership of the most powerful political decision-making body of the CCP, the Politburo Standing Committee, from nine to seven members.
The People's Liberation Army, too, owes open allegiance to Xi Jinping. State-run and controlled newspapers carry full-page expressions of absolute loyalty by military commanders across regions. This can be interpreted as a sweeping attempt to quell any form of rift between the Party and the PLA.
Xi happens to be the youngest leader to take over command of China's 2.3 million-strong armed forces. Owing to his political capital, association with the PLA, and having witnessed military diplomacy up close, Xi's control over the PLA is far greater than Hu Jintao and Jiang Zemin, both of whom vividly struggled to consolidate authority during their respective tenures.
The winds in Chinese politics have taken a definitive, yet gradual shift, with Xi Jinping giving out a clear message as to who calls the shots in China, unlike his predecessor Hu Jintao. Moreover, Xi Jinping spares no political elites when it comes to charges of corruption. By doing so, in effect he neutralizes all potential political rivalry that could threaten his power and control.
Hong Kong's Impact on the Xi Legacy
The Hong Kong protests have added a twist to this near-perfect staged platform.
Xi's political standing and control at present make him China's most powerful ruler since Deng Xiaoping, and possibly even since Mao Zedong. It simultaneously brings to light the nation's turbulent political past when Chairman Mao's reign was reminiscent of a dictatorship.
Hong Kong appears to be on the cusp of a long-drawn struggle for preserving its democracy, rights, autonomy, and its long-admired uniqueness.
The violent protests in Hong Kong, together with the repression of Uighurs in "re-education and vocational training centers" in Xinjiang, tightening of control on online social networks, and a brute crackdown against domestic political dissent and activism have blemished Xi Jinping's idea of being Xi Dada (daddy Xi).
By: Monika Chansoria