Will Japan's Next Prime Minister Follow Abe's Lead and Continue Strengthening Ties with India?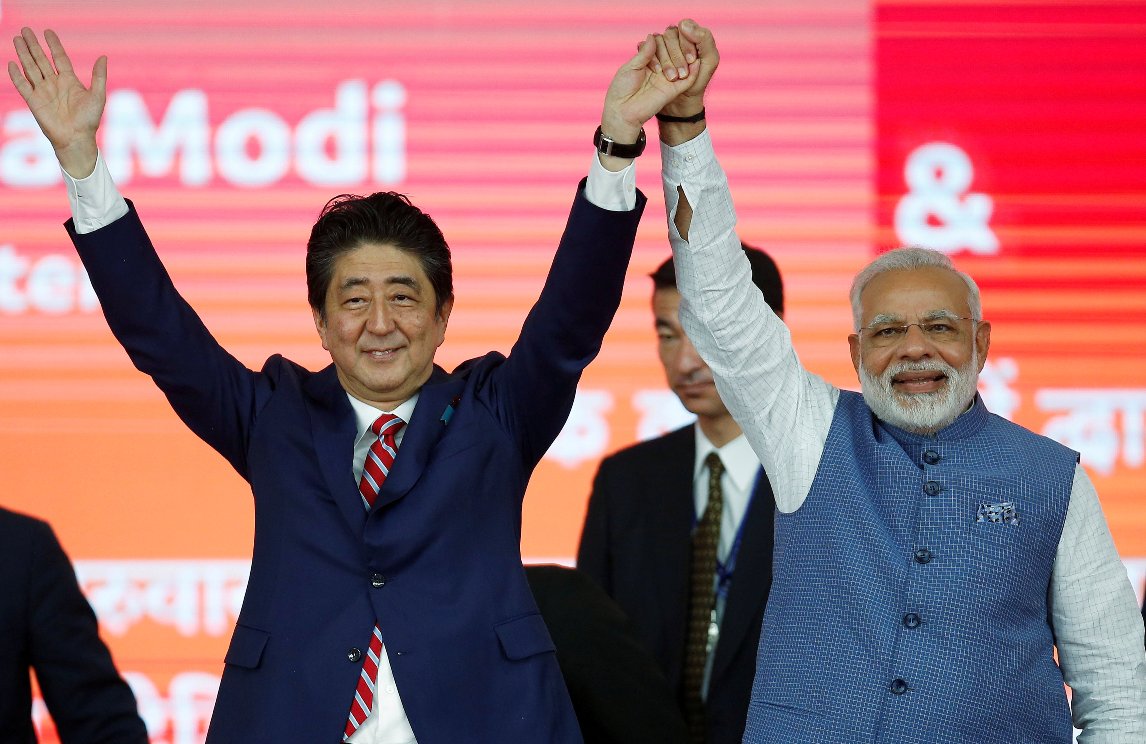 One of the lesser known facts about Japanese Prime Minister Shinzo Abe is that during a visit to India in 2007, he took time off to meet renowned judge Radha Binod Pal's son in Kolkata in Eastern India.  It is worth mentioning here that Justice Pal was the sole dissenting voice at the Tokyo Trials set up after World War II, for which he is remembered in Japan even today.
This was typical Shinzo Abeーwho had a strong affection for India. With his stepping down as Japan's prime minister, an era has ended in Japan-India ties.  This era formally began way back in September 2006 when Prime Minister Abe came to power for the first time. 
Prime Minister Abe has been instrumental in the forging of the Indo-Pacific concept. Much before the concept gained traction, he had given a landmark speech before the Indian Parliament in August 2007, titled "Confluence of the Two Seas,"  he had noted that "the Pacific and the Indian Oceans are now bringing about a dynamic coupling as seas of freedom and of prosperity."
It was under Prime Minister Abe's watch that India became a major foreign policy focus of the Japanese government. The two countries have also been able to forge a close relationship in third countries like Sri Lanka in the infrastructure sector.  This is significant since both India and Japan have not participated in the China-led Belt and Road Initiative (BRI).  They have also been cooperating in multilateral fora like the United Nations (UN), under the G4 umbrella, as Japan, India, Germany and Brazil push for permanent membership of the United Nations Security Council (UNSC).
What was Behind Abe's Push Toward India? 
There have been a host of factors at work.
First, Prime Minister Abe had a close affinity towards India which started during the times of his maternal grandfather, Nobusuke Kishi, who became the first Japanese Prime Minister to visit India, way back in 1957.     
Second, regional dynamics were also at work. Prime Minister Abe had proposed an "Asian Democratic Security Diamond" way back in 2012 in an article.  In this piece, he had written that "peace, stability, and freedom of navigation in the Pacific Ocean are inseparable from peace, stability, and freedom of navigation in the Indian Ocean."  
Third, the desire to see a "Free and Open Indo-Pacific" was his brainchild.  Now, of course, many other countries have jumped on to this bandwagon.  Given the rise of China and with the U.S. under Donald Trump being in no mood to cede ground to Beijing, the need for freedom of navigation in this region is now being felt more than ever. 
Abe was also the architect of Japan's push into Northeast India and on initiatives like the AAGC (Asia Africa Growth Corridor), which aims at roping together Indian and Japanese efforts in Africa.
Fourth, as a part of "Abenomics," he had been trying to strengthen Japan's economy.  In terms of population, India is the second most populous country in the world and represents a big opportunity for Japanese companies.  
What is also important is that India has started construction of the Japanese-style high-speed railways (Shinkansen) between the cities of Mumbai and Ahmedabad.  It is worth noting here that Japan has not had much success in exporting this technology outside the country, especially due to its prohibitive costs.
Fifth, Prime Minister Abe was also instrumental in getting the Japan-America-India(JAI) trilateral going on the sidelines of the G20 Summits, given his close relations with his "golf buddy" President Donald Trump in the U.S. and Prime Minister Modi in India. 
Another big push by Prime Minister Abe was for the India-Japan civilian nuclear deal, a big achievement since India has not signed neither the CTBT (Comprehensive Nuclear-Test-Ban Treaty) nor the NPT (Treaty on the Non-Proliferation of Nuclear Weapons). There is a huge anti-nuclear lobby in Japan, which is understandable, since Japan is the only country to have suffered under the impact of atomic weapons.
Sixth, under Abe, Japan and India moved closer in the realm of defense. In 2015, Japan became a permanent member of the Malabar naval exercises while now all the three wings of the Indian defense services and the Japan Self Defense forces now conduct bilateral exercises.
What Next for Japan-India Ties?
The institutional relations established should continue between the two countries. However, it will not be easy to replicate the warmth in Japan-India ties as had happened under Prime Minister Abe.  This requires a deep commitment and a long personal connection, which seems to be missing among the leading contenders in the fray for the post of the new Japanese prime minister.  
While Japan now ranks third among the major investors in India with total investments standing at around US$ 32.058 billion(as of September 2019), it will require a personal push to resolve some of the issues which have been plaguing the ties, like the dismal trade figures (which stood at a paltry $ 17.63 billion USD in FY 2018-19) and the inability to sign a contract for the sale of the Japanese ShinMaywa US2i amphibious aircraft to India.
Prime Minister Abe, a man far ahead of his times,  had a genuine fondness for India.  New Delhi will now have to work extra hard in order to ensure that the momentum in Japan-India ties is maintained.  The next Japanese prime minister will not have it easy, and will be beset by a host of pressing issues. New Delhi will have to vie for a slice of his attention. 
Will Japan-India relations get its mojo back in the post-Abe era? We will have to wait and watch.  
Author: Dr. Rupakjyoti Borah
Dr Rupakjyoti Borah is an Associate Professor at India's Sharda University. His forthcoming book is The Strategic Relations between India, the United States and Japan in the Indo-Pacific: When Three is Not a Crowd. He has also authored two other books. He has also been a Visiting Fellow at the University of Cambridge, the Japan Institute of International Affairs (JIIA), Japan and the Australian National University. The views expressed here are personal.  Twitter @rupakj