2019 in JAPAN Forward Stories: Welcome to the Era of Reiwa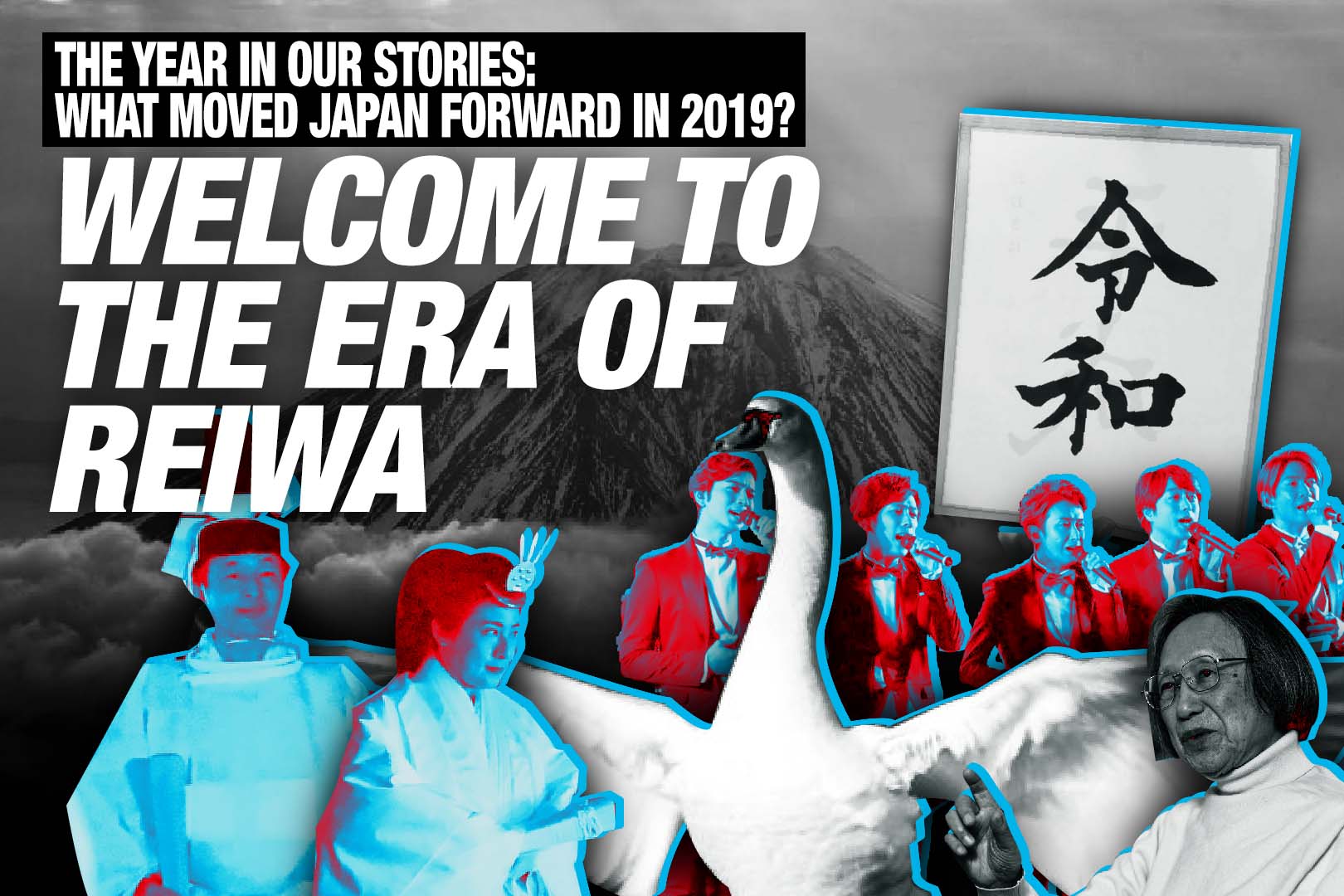 As 2019 comes to a close, we at JAPAN Forward are reflecting on the stories that moved Japan this year, and the stories our readers liked best.
For five days starting December 25, we have been sharing a few of the stories in the categories that dominated our coverage of the news in 2019, through the eyes of our editors. Please join us in reflecting on the year that was.
OTHER STORIES IN THE SERIES:
It's a tricky business, to pick which phenomenon was most significant during a whole year of news.
As 2019 comes to a close, many around the world will be waiting for media outlets to have "our picks of this year's *insert random category.*" Japan has its own particular end-of-year ritual.
Every year since 1995, the Chief Priest of Kiyomizu Temple in Kyoto, using a large calligraphy brush, has painted on a canvas the Japanese ideogram of the year. This year, the able strokes were done by Chief Priest Seihan Mori.
The choice isn't left to chance. The Japan Kanji Aptitude Testing Foundation collects thousands of kanji options from common people which reflect a social aspect of Japan during the past year. From the options, it selects the character which appears most frequently.
It's no surprise that the character sketched out for 2019 was none other than the first of the two characters which form Reiwa, the name of the new era in Japan — the wonderfully simple kanji, Rei (令).
In this same spirit, it seems fitting to share some of the most important events which marked this historic transition from Heisei to Reiwa.
Japan entered a new era of beautiful harmony and welcomed a new emperor. Find our stories through this link, here:
At JAPAN Forward, we wanted our readers to understand what is behind the new era's name and the ceremonies that accompanied the change. So we shared what we learned as we explored the historic Japanese texts, festivals, and traditions that guide Japan as an imperial nation. See our stories here:
Emperor Naruhito and Empress Masako represent a new generation of imperial leadership with communication skills to take Japan's international presence to a new level. Find our stories here:
We covered how warmly they were welcomed by the citizens of the country over which they preside, and the world. See our story here:
Thank you for taking this journey with JAPAN Forward through the transformations, traumas, and wonders of 2019. We look forward to continuing our conversation with you as we commit to present to you sensible voices on the issues and opportunities Japan encounters in 2020.
From the entire team at JAPAN Forward, we wish each and every one of you a Happy New Year!
Author: JAPAN Forward