Stories of 2022: Most Read Editorials and Opinion Pieces
Relive the stories of 2022 that our readers were most interested in through the year, especially our editorials and opinions from Japan.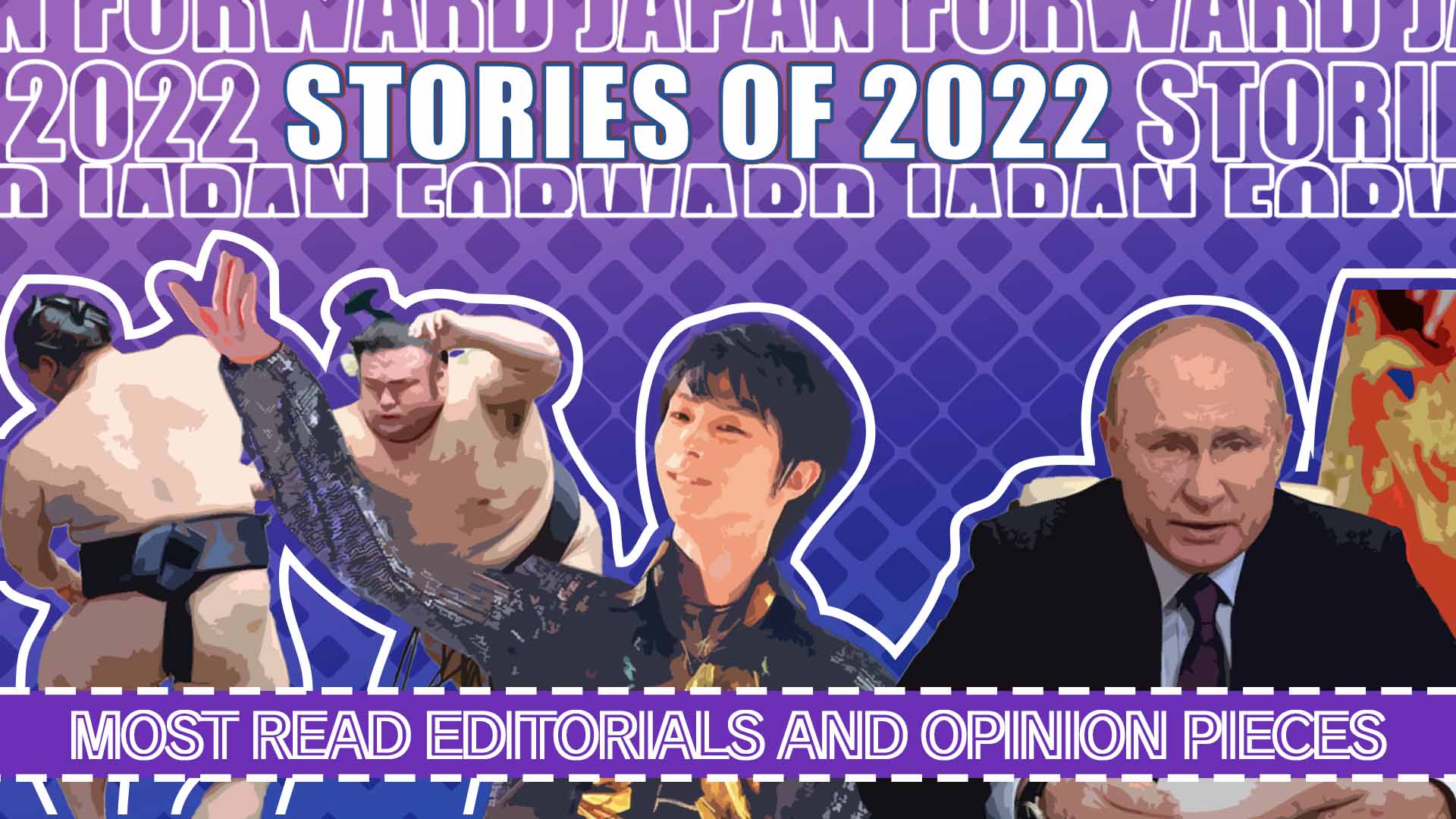 What were the stories of 2022 that many of you were following most closely on JAPAN Forward during the year?
Above all, your top choices of reading show the strengths of JAPAN Forward.
As a tribute to our readers and supporters, we are bringing back your choices in five installments. Over the past four days, we have taken a look at kimono, the war in Ukraine, the growing influence of Xi Jinping, and the continuing Comfort Women debate.
Today we present the top group of stories many of you read: our editorials and opinions from Japan.
Editorials and the Best of Our Opinion Pieces
Who doesn't like a good, thought-provoking article that makes you reflect on what is going on in the world? It's not surprising that more than anything else, many of you wanted to read our editorials and opinions.
At JAPAN Forward, we take special pride in sharing editorial and opinion voices from Japan, a feature difficult to find in other media. Sharing these views enhances the world's understanding of what's being discussed and why in Japan through strong, thorough journalism which moves policy makers and other readers.
This year, our editorials covered the full spectrum of themes reported in our pages. The subjects ranged from Vladimir Putin's war in Ukraine to technology, culture, sports, sustainability and even overfishing policies.
Let's look back at the year, with 10 editorials of 2022 that our readers found of most interest.
Russian President Vladimir Putin trampled on the UN Charter when he initiated this war. His military has committed unforgivable atrocities against the Ukrainians.
EDITORIAL | Inhumane Shanghai Lockdown Can Cost Residents' Lives (April 20, 2022)
Shanghai residents are practically under house arrest. China's central government disregards human rights in the name of its zero-COVID policy.
Despite the carnage, Russia insists it "is not attacking Ukraine," but only conducting a "special military operation." How do you trust Moscow?
EDITORIAL | Slump in Quality of Sumo Matches Cannot Go On for Long (September 28, 2022)
Raising the quality of the matches will benefit the commercial value of sumo. The sport's attractiveness in turn can lead to the revitalization of Japan.
Moscow obviously wants to throw Tokyo off balance for having joined the West in supporting Ukraine. We must not play into its strategy.
The high-temperature gas-cooled reactor would be the ultimate decarbonized power source. It would produce green hydrogen while generating electricity.
EDITORIAL | China's Shameful Intimidation of Lithuania and Taiwan (January 17, 2022)
China's Foreign Ministry spokesperson threatened that "Lithuania would be swept into the trash bin of history" just for recognizing Taiwan's office.
From now on, his schedule won't be tied to the Olympics or world championships. Instead, he will skate for the sake of achieving his vision.
These so-called eco-terrorists have a perverted sense of justice. Destroying artworks or otherwise, they cannot be committing crimes to advance their beliefs.
EDITORIAL | Japan Must Root Out Secret Chinese Police Stations (December 13, 2022)
Japan cannot overlook the secret Chinese police stations. They violate the sovereignty of Japan, and they violate the human rights of overseas Chinese.
Thank you for following JAPAN Forward in 2022, find other wrap-up series on our website.
RELATED:
Author: JAPAN Forward