Prime Minister Suga Boldly Took His Place Among the G7 Stars and Came Back with some Big Wins for Japan
Support for the Olympics, a global infrastructure push and millions more Covid vaccines all fit into the Prime Minister's agenda.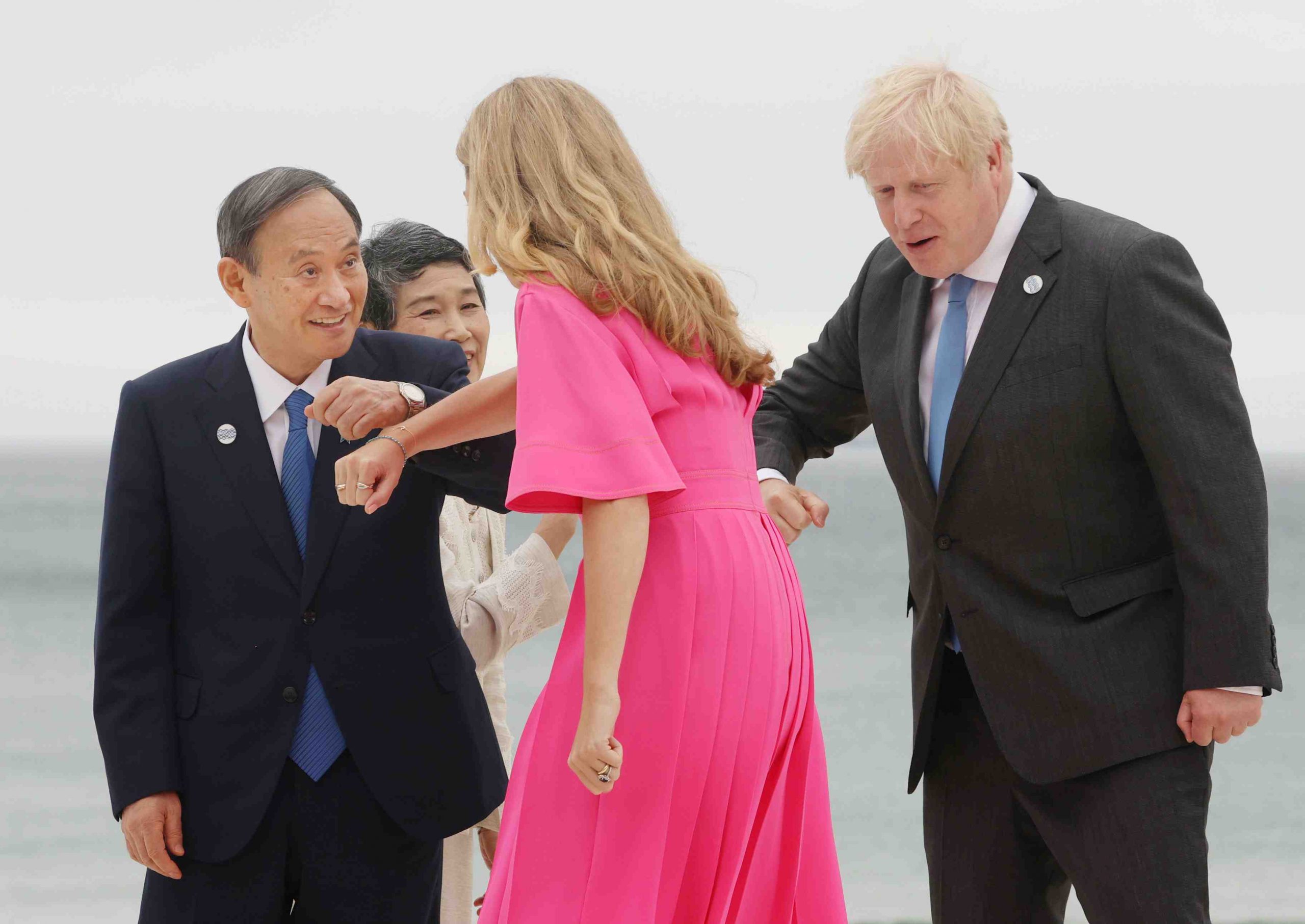 ~~
~
It is never easy to choose the perfect outfit for an evening out on the beach.
Japan's first lady, Mariko Suga, made a sensible choice when she arrived to watch an open air show at a theater by the sea in Cornwall.
She selected an elegant cream two-piece suit, which seemed to fit the balmy summer evening beside Carbis Bay.
Mrs Suga's outfit appeared rather modest against the shocking pink dress worn by Carrie Johnson, the new wife of the British Prime Minister, who elbow-bumped the leaders' spouses on their way into the show – a musical about the marine environment.
Afterwards, at a beach party, the G7 leaders enjoyed a mouth-watering menu of scallops, crab claws and mackerel with a main course of steak, lobster, chips and purple sprouting broccoli and salt-baked beetroot.
Yoshihide Suga, dressed in a formal suit, came across as a slightly awkward figure at the party. As he greeted fellow guests, he seemed unsure whether to shake their hands, bow in the Japanese manner or bring his palms together in an Indian-style Namaste greeting.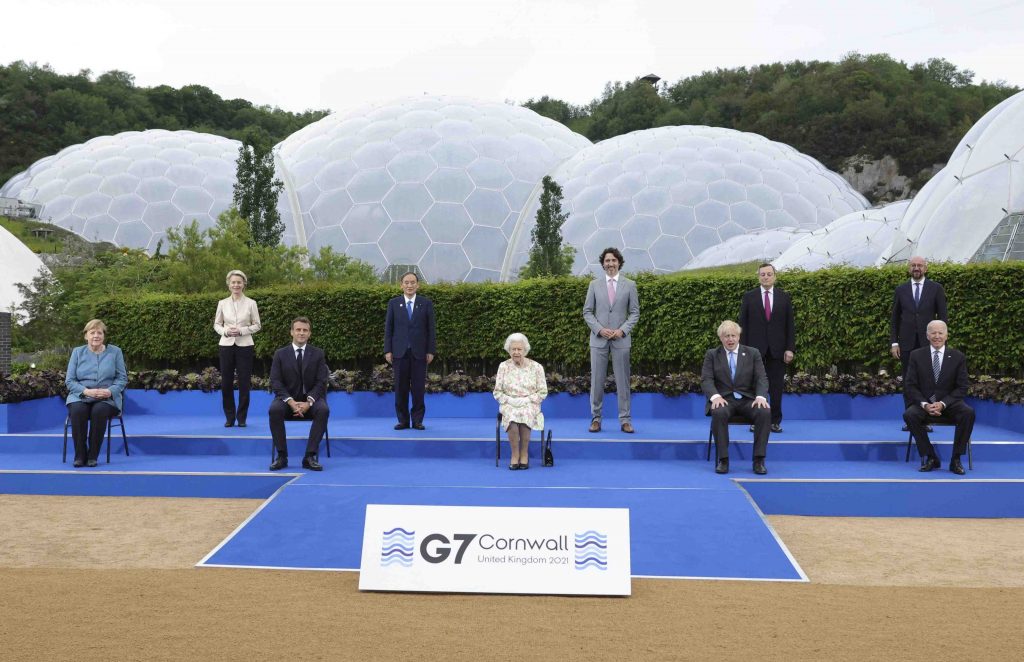 Party with the Stars
It was Mr Suga's second big overseas trip as Japan's leader, following a meeting with President Joe Biden at the White House in the spring, and it brought him into close contact with big stars, including Queen Elizabeth II, now 95.
On a photoshoot with the guests, she quipped: "Are you supposed to be looking as if you're enjoying yourself?"
The Queen's remark brought a peel of laughter from the other leaders but Mr Suga, who stood stiffly a few feet away from Her Majesty, seemed to miss the joke.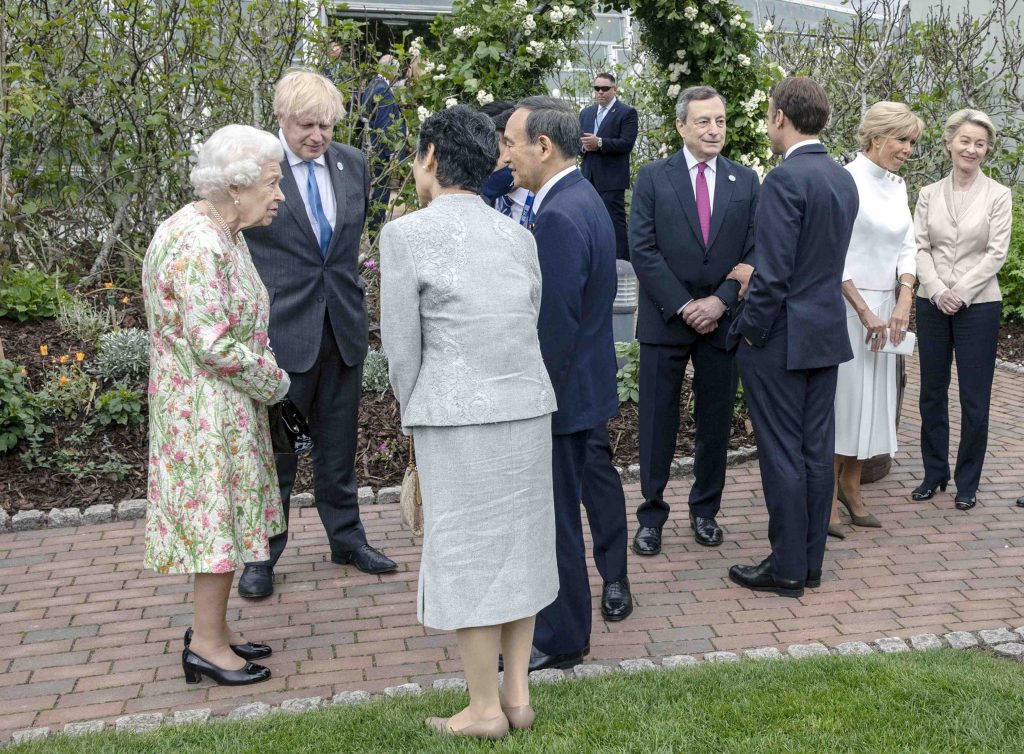 Many Gains
Although he is not by nature a person who looks relaxed at parties, Mr Suga can notch up an impressive list of achievements from the G-7 event.
For example, he came away with clear endorsements of the forthcoming Tokyo Olympics, including enthusiastic support from the French leader, Emmanuel Macron, who is set to host the 2024 Olympics in Paris.
Mr Suga and Mr Macron also agreed on closer cooperation in security, with France due to send its navy deeper into the Indo-Pacific region.
In a meeting with Prime Minister Johnson, the leaders discussed the deployment of the UK's Carrier Strike Group, which will visit Japan later this year. They agreed this would be a pivotal moment for UK-Japan defense cooperation.
Mr Johnson thanked Prime Minister Suga for his support of the UK's application to join the Comprehensive and Progressive Agreement for Trans-Pacific Partnership, which he said will further enhance trade links between the UK and Japan.


RELATED: [Bookmark] A New Type of Britain-Japan Alliance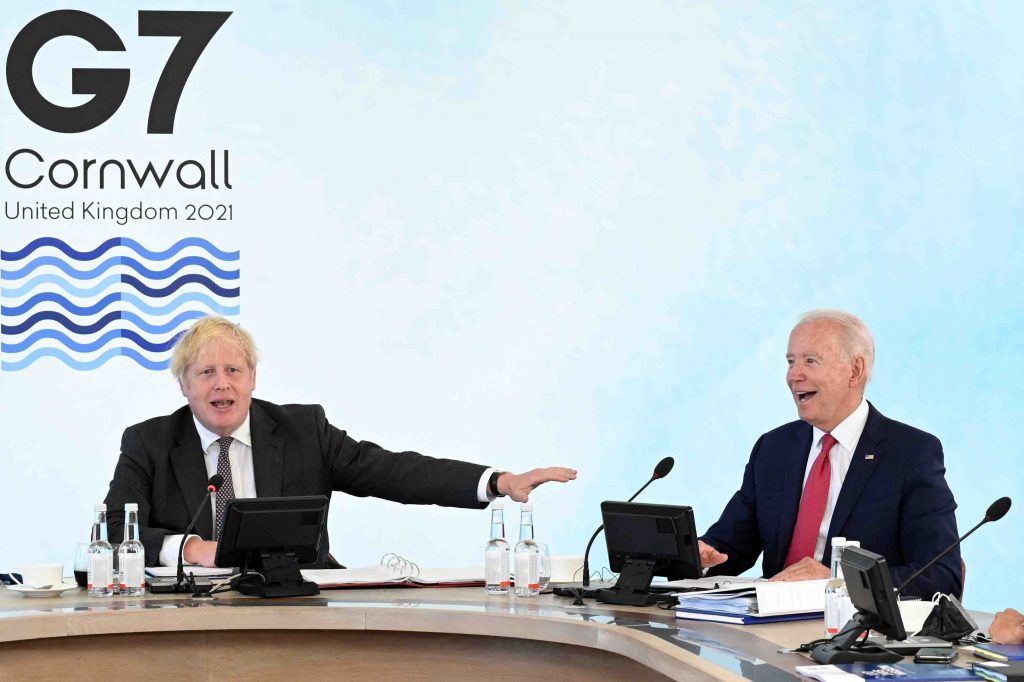 America's Role
There was also a short but fruitful face-to-face meeting between Mr Suga and President Biden, as well as opportunities for dialogue with the representatives of the countries which were invited to Cornall, including South Korea, which had observer status.
Despite the problems in the relationship between Japan and South Korea, Prime Minister Suga and President Moon Jae-In managed a one minute exchange of words in which they said they were glad to see each other.
There was no trilateral meeting between the U.S., South Korea and Japan.
However, patient diplomats from the U.S. state department persuaded the Korean side to agree to a statement which "reaffirmed commitment to close cooperation between and among the United States, the Republic of Korea and Japan on a broad range of issues, including working towards the denuclearization of the Korean Peninsula."
South Korea, as an observer country, was not invited to contribute to the G7's final communique. Its foreign ministry is still committed to developing closer relations with China, and President Xi Jinping will be invited to visit Seoul as soon as the Covid situation stabilizes.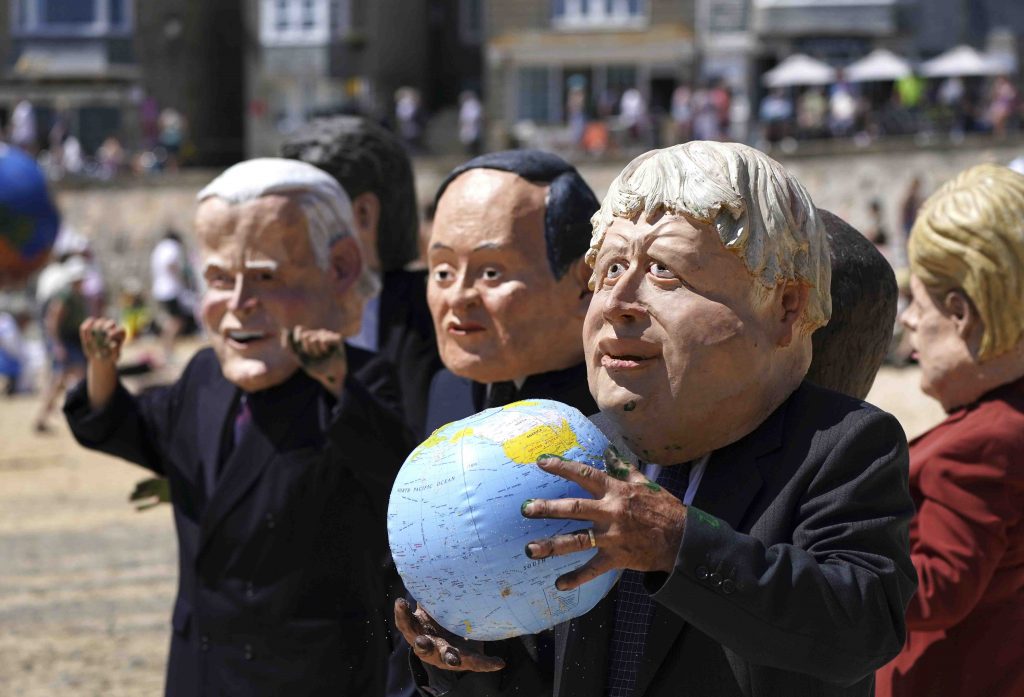 Green Growth
One of the other major wins for Japan was the announcement of a global infrastructure plan, to offer countries an alternative to doing business with China.
Environmentalists warn that China often pushes schemes which contribute to global warming, such as coal-fired power plants or dams which cause deforestation.
Under the plans to "turbocharge green growth'' G7 members will offer financing for infrastructure from railways to wind farms. Japan is especially well-placed to identify viable projects for the scheme. Its sogo shosha trading companies have decades of experience in infrastructure work.
Mr Suga hopes that Japan's multinational corporations will benefit from a surge in green investment. It could also spur a move towards more digitization within Japan itself, which is lagging behind in some areas of IT.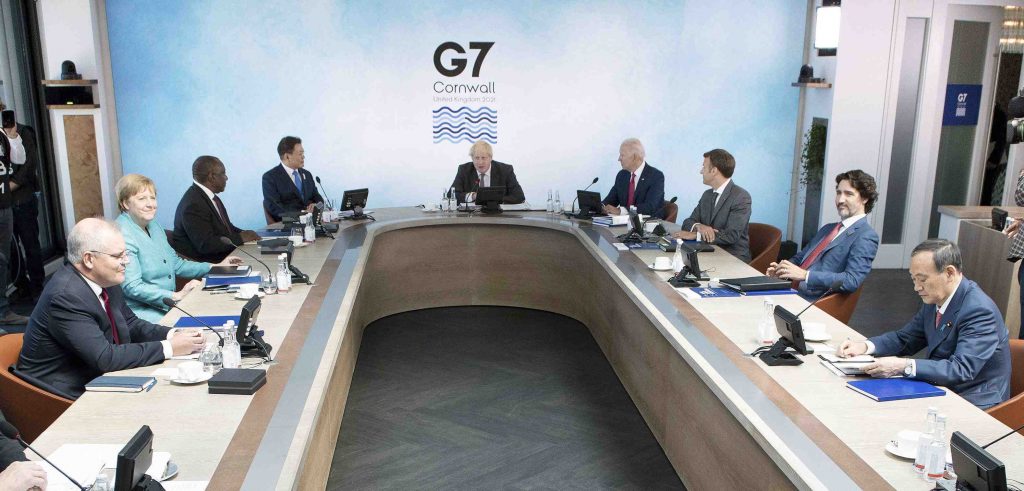 Vaccine Drive
Prime Minister Suga also received unanimous support from the G7 for the scheme he has been promoting to persuade rich countries to make more financial contributions to the global vaccine program called COVAX, run by the World Health Organization.
A recent fundraising drive hosted by Mr Suga raised two and half billion dollars and the G7 has agreed to donate a billion vaccine doses to poorer countries.
The WHO's director general, Dr Tedros Adhanom Ghebreyesus, urged the leaders to ensure that 70% of the global population is vaccinated by the time of the next G7 summit in Germany next year.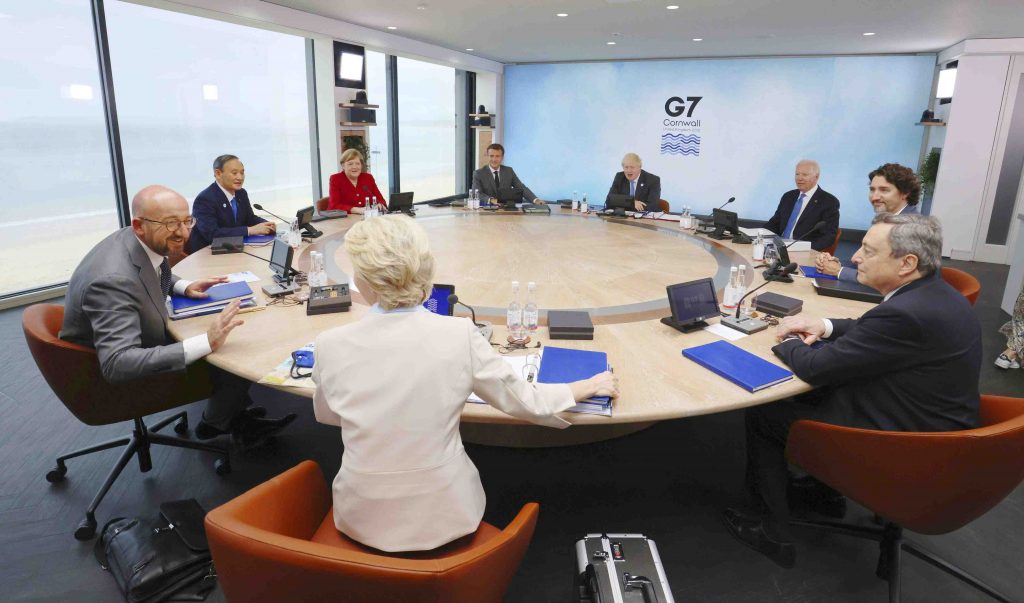 Wuhan Origin
Dr Tedros also seemed to endorse U.S. and Australian demands for further investigation into claims that the G7 virus may have emerged from a laboratory in Wuhan.
Referring to the millions around the world who have died due to COVID, Dr Tedros said: "This is very tragic and I think the respect these people deserve is knowing what the origin of this virus is, so we can prevent it from happening again."
U.S. Secretary of State Antony Blinken has described the WHO's initial study of the COVID-19 origin as "highly deficient" and President Biden has ordered U.S. Intelligence to determine the source.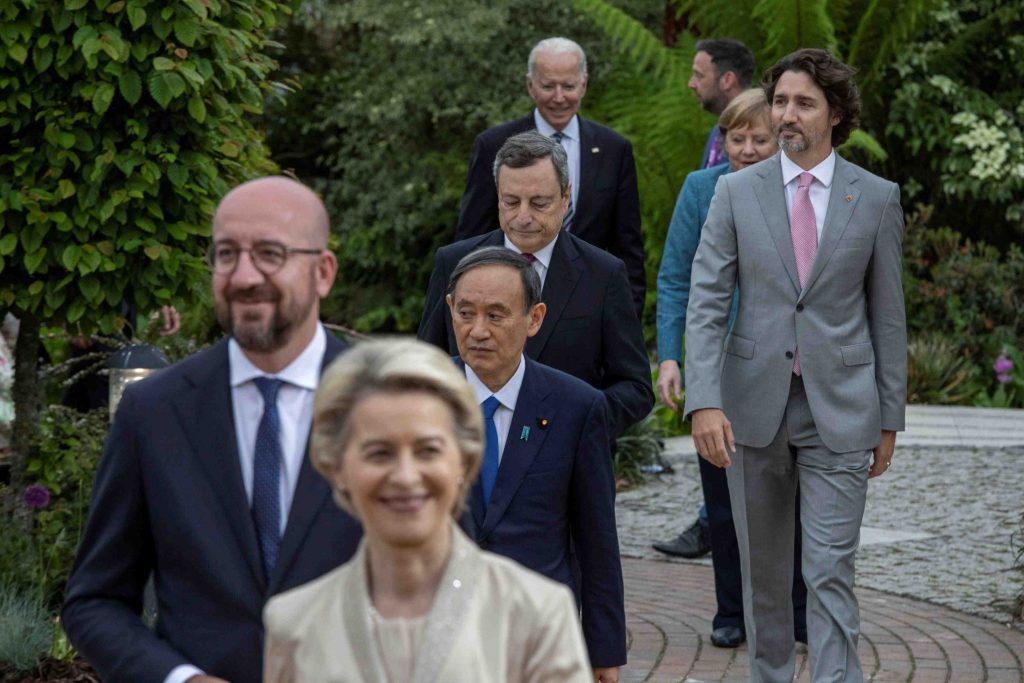 Challenging China
German Chancellor Angela Merkel said the discussions in Cornwall over what the event's final communique should say about China had been "very enthralling and interesting" and stressed her view that the G7 should seek to strike a balance.
In the end, the closing document emphasised the "shared agenda and democratic values" of the G7 nations and their commitment to upholding the rules-based international system and international law.
With regard to China, they said "we will continue to consult on collective approaches to challenging non-market policies and practices which undermines the fair and transparent operation of the global economy."
The communique also called on "China to respect human rights and fundamental freedoms, especially in relation to Xinjiang" and pressed for a high degree of autonomy for Hong Kong.
The Americans may have wished the wording on China to be even more robust but as Secretary of State Blinken told Fox News Sunday, last time the G7 met in 2018, there was no mention of China in its summing up.
Mr Blinken said the Cornall meeting has demonstrated that democracies "can come together and deliver for people in real ways" and emphasised the G7's commitment to "build back better for the world."


Author: Duncan Bartlett
Duncan Bartlett is a regular contributor to Japan Forward. He is the Editor of Asian Affairs magazine and a Research Associate at the SOAS China Institute, University of London. He is currently teaching diplomacy and international relations on the Economist Executive Education course, the New Global Order. Find his articles about Japan and East Asia on JAPAN Forward, at this link.