Carlos Ghosn: Davos Man on the Run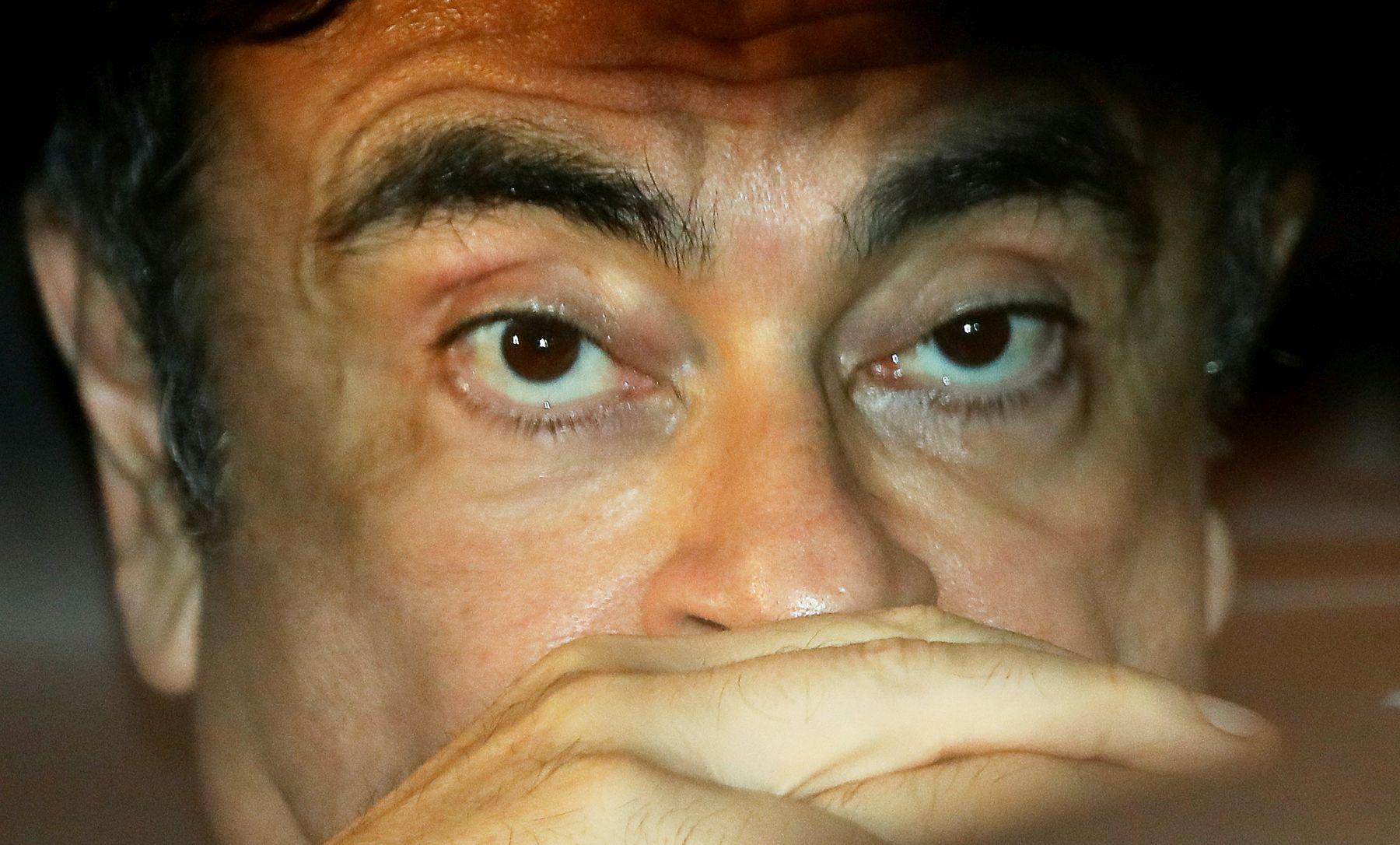 Former Nissan chairman Carlos Ghosn gestures during a news conference at the Lebanese Press Syndicate in Beirut, Lebanon January 8, 2020. REUTERS/Mohamed Azakir
Japan's Justice Minister Masako Mori Reacts to "intolerable" comments about Japan's justice system made by criminal fugitive Carlos Ghosn
Carlos Ghosn's Flight from Justice will Fuel the Backlash against High-flying Elites
Carlos the Bail-jumper may have damaged the cause of global capitalism more than Carlos the Jackal ever did. In the 1970s and 1980s, the notorious Venezuelan terrorist blew up buildings and killed dozens of people, but had little success in rallying the masses to revolutionary communism.
Carlos Ghosn's New Year escape from Tokyo, where he was under strict bail conditions, to Lebanon via private jet, may have a more insidious — and enduring — effect. It validates the idea that top business leaders are little different from criminals, that there is one law for the elite and another law for the little people, that money can buy you anything, including impunity.
Populists railing against "globalists" have so far lacked specific businessmen toward whom they can direct their ire. Now France's "yellow jacket" protestors and their equivalents elsewhere have a perfect target.
From Davos to Interpol's Red List
"If Davos was a person, it would be Carlos Ghosn." That was how Bloomberg-Business Week headed a sympathetic portrait of Nissan's ex-CEO in 2017. Indeed, for many years, Ghosn was a fixture at the World Economic Forum's annual gathering of the global elite in the Swiss Alps. He seemed to symbolize globalization itself: constantly crisscrossing the world by private jet, multilingual, the holder of French, Brazilian, and Lebanese passports, but a tax resident of Holland.
For much of this time, Ghosn helmed two large, highly-complex manufacturing enterprises: Renault and Nissan. He was widely credited with rescuing Nissan from near-collapse in the late 1990s, and had become a legend in Japan on the back of it.
It is because Ghosn is a real businessman with real achievements to his name that recent events are so devastating to the cause of globalization. Being placed on Interpol's "red list" of wanted fugitives is something you might expect from a dodgy operator like Jho Low, who stands accused of looting Malaysia's sovereign wealth fund. It is not what you expect from a titan of the global auto industry.
The Japanese investigation into Ghosn revealed him to be an extraordinarily greedy and duplicitous character. The charges against him may now never be tested in court, but his defense against them seemed to be not that they were factually wrong, but that other people at Nissan had signed off on his actions.
There was the concealment of his true remuneration from shareholders, the underwriting of a risky financial bet by a Middle Eastern acquaintance, the long catalogue of company-funded financial excesses, including opulent residences in five world capitals, his luxury yacht Shacho ("Company President"), his "Sun King" wedding in the palace of Versailles, the non-existent job his sister in Brazil was paid for. . .
How much of this was technically illegal is ultimately beside the point. As both CEO and chairman of the two auto companies, Ghosn was a Napoleonic figure who made his own rules and tolerated no dissent.
It was Ghosn's extraordinary wealth and power that enabled his flight from justice. Not everyone can leave behind $13.5 million in bail money as if it were chump change. Not everyone can hire a team of ex-special forces security professionals or finance a sophisticated public relations campaign to convince the world of their victimhood.
More Mr. Bean Than Jason Bourne
Particularly salient was Ghosn's exit by private jet, that symbol of "Davos-ness." One of the attractions of flying private is the cursory nature of the security procedures and passport control in many countries.
To put it in populist terms, the wealthiest "one percent" do not suffer full body searches, nor do they have their toothpaste confiscated or undergo close scrutiny by beady-eyed immigration officers. That privilege of the super-rich appears to have been the key to Ghosn's successful escape.
Ghosn's membership of the global elite must also have influenced the judge's decision to grant bail last April, despite the well-founded insistence of the prosecutors that he was a flight risk. Ghosn and his sympathizers have blasted Japan's "medieval justice" — and indeed there are some obvious flaws that need to be fixed — but he had it easy compared to unrepentant Japanese accused of white collar crimes.
Indeed, one of the better features of the Japanese justice system is that, uniquely among developed countries, the rich and powerful get to experience the same harsh justice as the poor and marginalized. In 2002, Muneo Suzuki, a parliamentarian of the ruling Liberal Democratic Party, spent 437 days in jail awaiting trial for bribery. He would have eaten the same plain meals as small time criminals in nearby cells.
The theme of 2020's Davos conclave, to take place later in January, is "Stakeholders for a Sustainable and Cohesive World." It is a sign of the times that British Prime Minister Boris Johnson has forbidden any members of his government to attend. In a world in which giant corporations often seem more powerful than nation-states, and the remuneration gap between "rock star" CEOs and ordinary workers is at record highs, even political moderates will be looking at the global technocratic elite with new-found skepticism.
Meanwhile, over in Beirut, Carlos Ghosn has been cracking open the bubbly and, reportedly, planning a film version of his exploits.
In which case, who should have the lead role? The man himself might choose an action hero like Matt Damon ("Jason Ghosn"?), but on Japanese Twitter he has been dubbed "Mr. Bean" on grounds of physical resemblance. So Rowan Atkinson, who plays the hapless Bean, might be the best fit, particularly if the part involves being stuffed into a crate, as some accounts of Ghosn's escape suggest.
As for the director of such an opus, one candidate stands out: fellow fugitive Roman Polanski.
Author: Peter Tasker