Sports Replay 2020: Athletes Displayed Mettle, Overcame Obstacles
In a year defined by unexpected interruptions to our lives and normal routines due to the COVID-19 pandemic, resilience and determination were character traits that helped define 2020.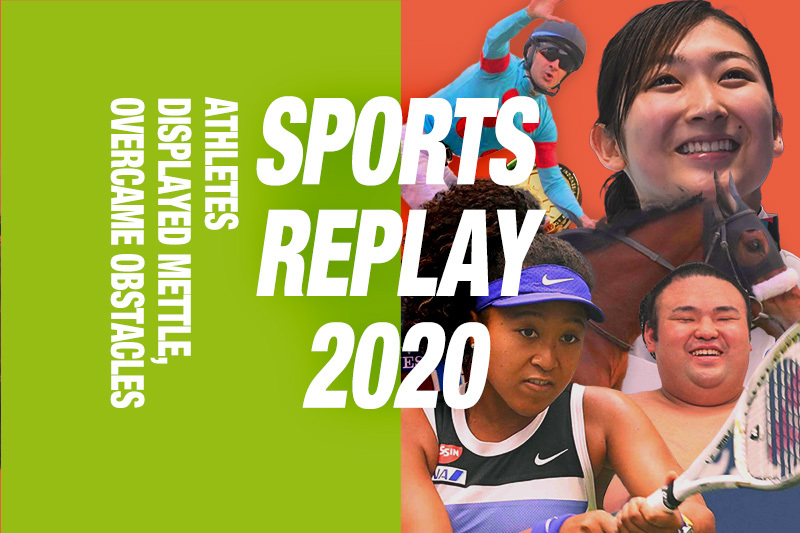 ~~
As 2020 comes to a close, JAPAN Forward is highlighting notable sports team accomplishments and individual feats by Japanese teams and athletes, both here and abroad. Join us for a look at the year.
NEXT:

How COVID-19 Impacted Athletes, Teams and Events

Most Read Sports Stories
ALREADY PUBLISHED:
Banner Year for Top Japanese Teams
Japanese Athletes Enjoyed Lots of Success Overseas

In a year defined by unexpected interruptions to our lives and normal routines due to the COVID-19 pandemic, resilience and determination were character traits that helped define 2020.
A fitting symbol for this year, then, was swimmer Rikako Ikee.
Ikee, the 2018 Asian Games MVP, inspired a nation with her courageous return to competitive swimming on August 29.
Even better yet, Ikee triumphed in her 50-meter freestyle heat in a meet at Tokyo Tatsumi International Swimming Center, providing a glimpse of her ability and competitive spirit.
It was her first competition in 19 months.
"I never expected to finish first in the group," Ikee said later. "I am moved by the fact that I could swim again in a competition. This is the first chapter of my second swimming career. I made a good restart."


A few days later, longtime Japan national team coach Norimasa Hirai told JAPAN Forward, "I think her swim not only gives everyone courage, but also shows us many things, such as the significance of continuing to compete and the courage of human beings."
Motivation is indeed an important mental characteristic for athletes, and the four-year Olympic cycle has a certain rhythm that most of us have never experienced in our daily lives. So when the Tokyo Olympics were postponed in March, Olympians and aspiring Olympians suddenly faced something that pushed their lives in unexpected directions.
And how did the 20-year-old Ikee handle it?
Very well, Hirai insisted, even though Ikee had stated that she had set her sights on the 2024 Paris Games
"Some athletes have lost sight of their goals because the Tokyo Olympics have been postponed," Hirai declared. "But for Rikako, overcoming illness and making a comeback indicates that she truly loves swimming."
What's next for the Nihon University student?
She'll return to the same Tokyo pool where her comeback began for a 100-meter freestyle race on January 10.
Indeed, Ikee's story combined success and perseverance in 2020.
Other top individual stories from this past year highlight athletes who exhibited tremendous fortitude and often overcame obstacles of their own to achieve success or reach the pinnacle of their sport.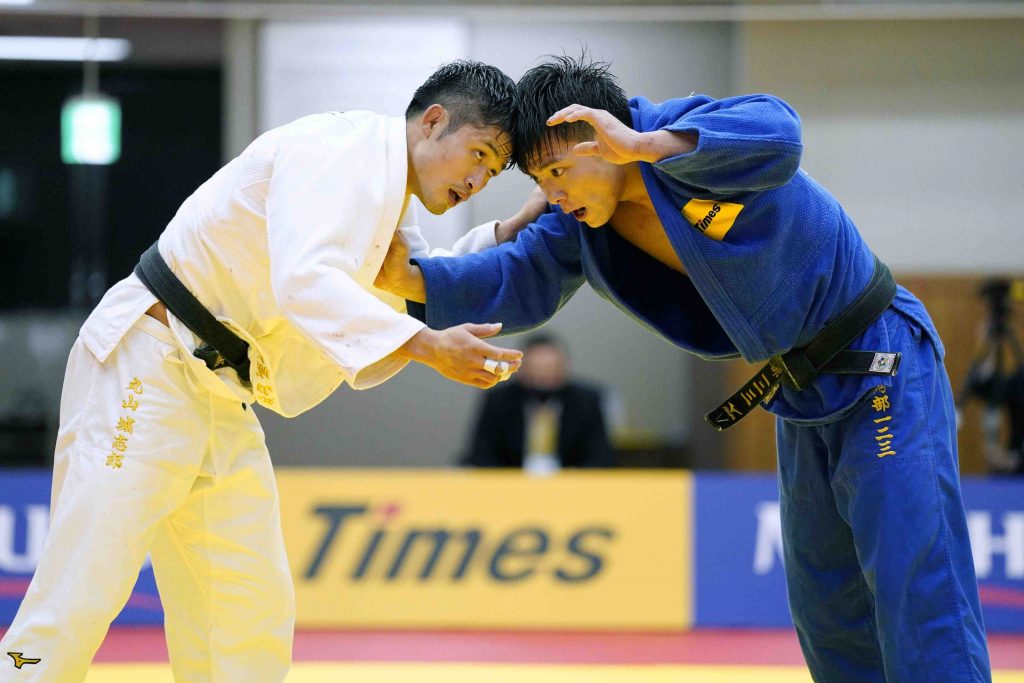 Judo Victory for the Ages
When Hifumi Abe squared off against Joshiro Maruyama on December 13, nobody predicted that it would last an additional 20 minutes in overtime in order to determine the final spot on Japan's Olympic judo squad.
But the two fearless judoka, competing in the under-66 kg division, gave it their all and refused to give an inch.
This match was also symbolic of 2020's overall narrative. Humans vowed to fight through the pandemic and keep doing what they are familiar with.
For Abe, it was a quest to reach the Olympics.
For Maruyama, it was a goal of beating Abe for the fifth time in eight matches.
In the end, Abe somehow found a way to survive and end Maruyama's dream.
"My spirit and his spirit clashed," Abe told The Yomiuri Shimbun. "I thought I should win at any cost and would never step back, whatever happened."
Special Judo Coverage
This year's JAPAN Forward sports coverage also highlighted Japan men's national team judo coach Kosei Inoue's journey in the sport from his youth to the present day, sharing his insights and memories, including his parents' influence on his life and sports career, Olympic reflections and thoughts on being a head coach during the pandemic. We published a 14-part series in August and September.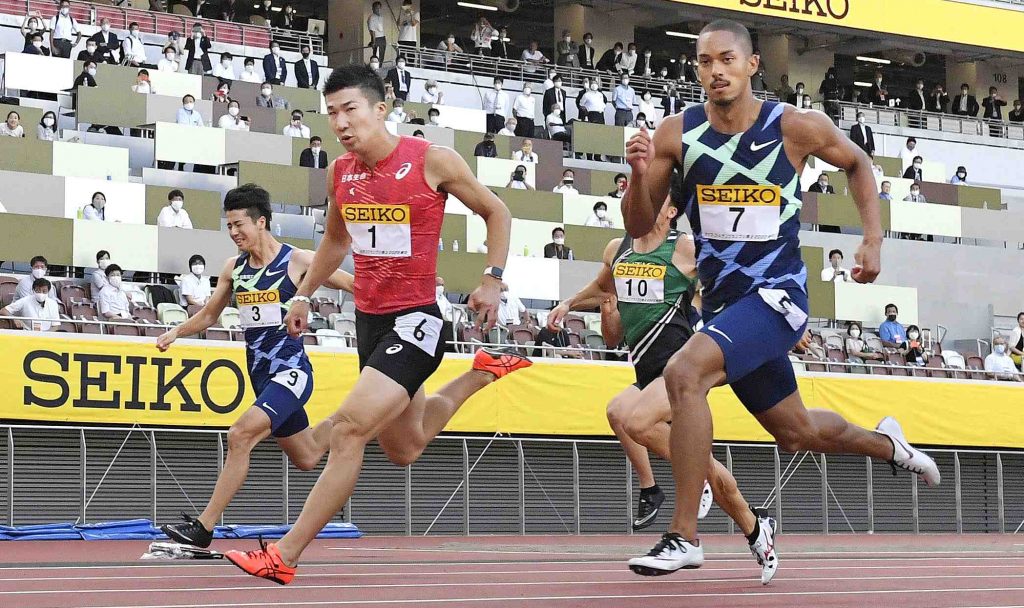 Runners Get First Taste of New National Stadium
On August 23, a month after the Tokyo Olympics had been set to begin before the pandemic altered those plans until 2021, the Seiko Golden Grand Prix provided a test for sprinters Yoshihide Kiryu and fellow Olympian Aska Cambridge in the high-profile 100-meter dash. It was the first track meet at the new National Stadium, which was constructed for the Tokyo Games. Kiryu rose to the occasion, winning in 10.14 seconds.
In another noteworthy effort on the same day, Nozomi Tanaka won the women's 1,500 and set a national record with a time of 4 minutes, 5.27 seconds.
Months later, ex-Aoyama Gakuin University ekiden runner Yuya Yoshida won the Fukuoka International Marathon, becoming the fifth Japanese to do so in the 21st century. The December 6 event was limited to 70 runners due to the pandemic. Months before the race, Yoshida had contemplated quitting the sport after graduating from the university in the spring.
By sticking with it, Yoshida demonstrated that he has the skills and running acumen to be successful.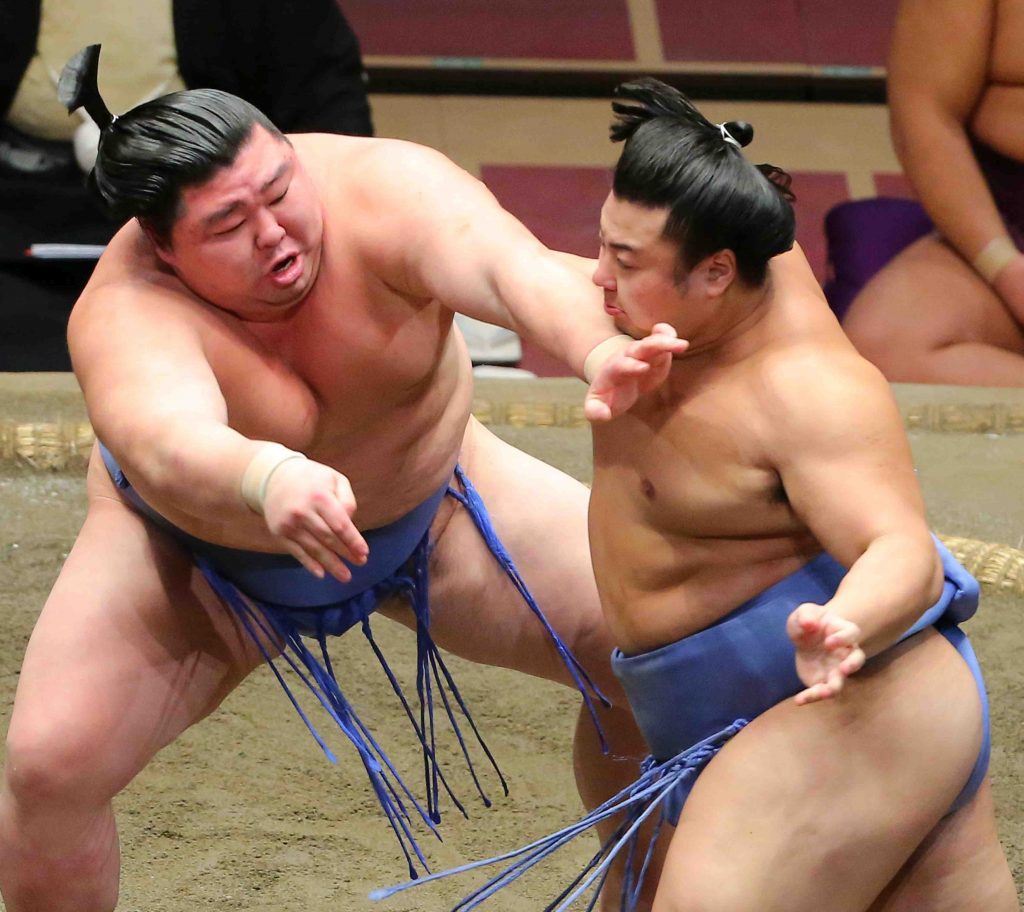 Five Sumo Wrestlers Collect Titles
The Japan Sumo Association was forced to encounter an unexpected problem this year: the COVID-19 pandemic.
The sport's leaders canceled the May Grand Sumo Tournament, and the year's three final tournaments were all held at Ryogoku Kokugikan in Tokyo.
Before the schedule was altered, the sumo year began in surprising fashion in the New Year Grand Sumo Tournament. The 15-day event ended on January 26 in stunning fashion as maegashira No. 17 Tokushoryu, the lowest-ranked wrestler, captured the Emperor's Cup with a 14-1 record.
The only other time the lowest-ranked maegashira hauled in the winning trophy was in the 2000 Spring Grand Sumo Tournament, with No. 14 Takatoriki finishing on top.
What else was quite notable about Tokushoryu's victory was this: He became the first Nara Prefecture native to win the Emperor's Cup since Tsurugahama in 1922.
All-time great Hakuho extended his record haul to 44 Emperor's Cups by winning the Spring Basho in March.
Four months later, Mongolian Terunofuji claimed the July title. Before this tournament, Terunofuji hadn't competed in the makuuchi (elite) division since January 2018 as injuries derailed his career.
In September, fans witnessed Kumamoto Prefecture native Shodai grabbing his first career title. Injured yokozuna Hakuho and Kakuryu missed the Autumn Basho. Shodai is the first wrestler from Kumamoto to win a top-division title. In an appealing finale, the tourney also featured the first duel between sekiwake Shodai and rising star Tobizaru, of whom Shodai said: "It was actually very difficult for me. I think I may have been the most nervous I've ever been in my sumo career."
Shodai finished with a 13-2 record; Tobizaru went 12-3.
Ozeki Takakeisho overpowered Terunofuji in a playoff and collected the Emperor's Cup at the November Basho.
Moments earlier, Terunofuji defeated his foe in the final scheduled match on November 22, forcing a playoff.
Entering the final, Takakeisho's only loss occurred on the ninth day against Tobizaru, aka "The Flying Monkey."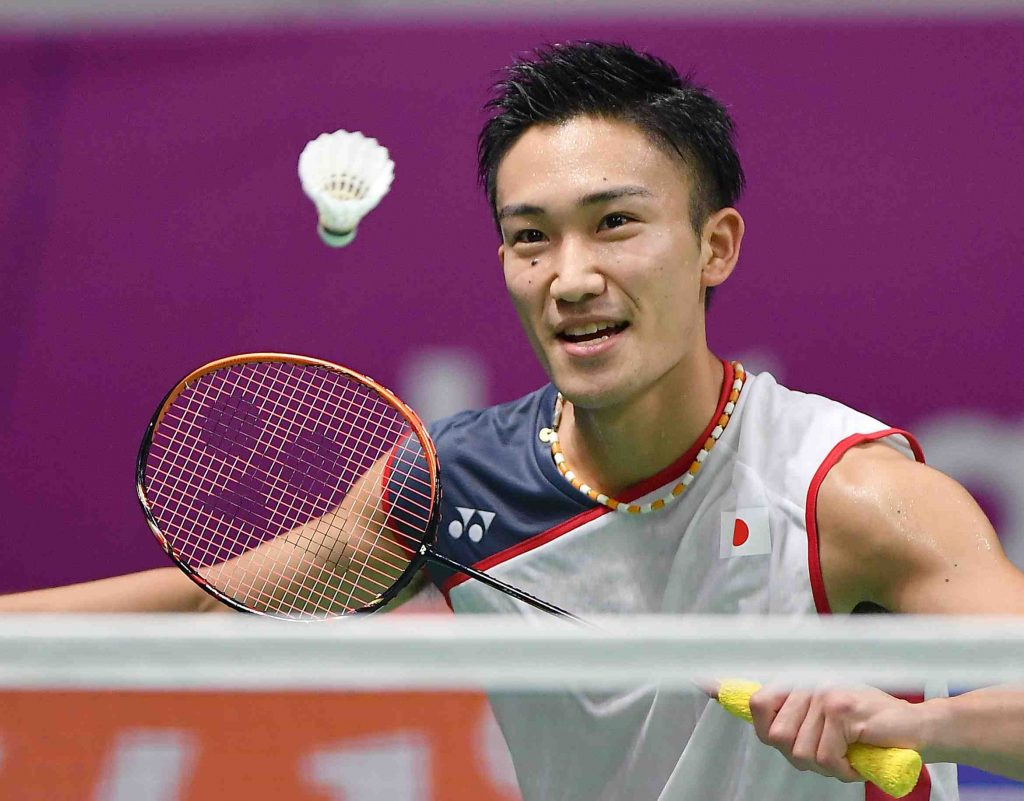 Badminton star Momota Returns Nearly a Year after Auto Accident

World No. 1 men's player Kento Momota survived an automobile crash in January, then returned to competition in December for the first time.

Momota prevailed 21-12, 21-14 over Koshiro Moriguchi in the opening round of the All-Japan Championship in Tokyo on December 23.

Four days later, Momota defeated world No. 11 Kanta Tsuneyama 18-21, 21-12, 21-17 in the men's final to capture his third straight national title.
"I had the initiative in the first game but then I started to lose my cool once I had the lead," Momota was quoted as saying by Agence France-Presse. "I think that's because I'm still not used to playing matches. In the second and third games, I wanted to put all my feeling into it regardless of technique or tactics, and I think I willed myself to the win.
"The Thailand Open starts in the new year and I'll be able to play against players from overseas. I want to go there and show what I can do as the top Japanese player."
Osaka overcomes hamstring injury
There are no guarantees in sports, even if certain things always seem likely to happen.
Which is why the odds of tennis player Naoi Osaka winning the U.S. Open women's singles title didn't seem particularly great entering the tournament.

After all, Osaka had pulled out of the previous tournament, the Western & Southern Open, due to a hamstring injury in late August.

Osaka's determination to compete and desire to win were themes that tied to this year's overall sports narrative. Her title in September provided a bold reminder of the power of positive thinking and mental strength.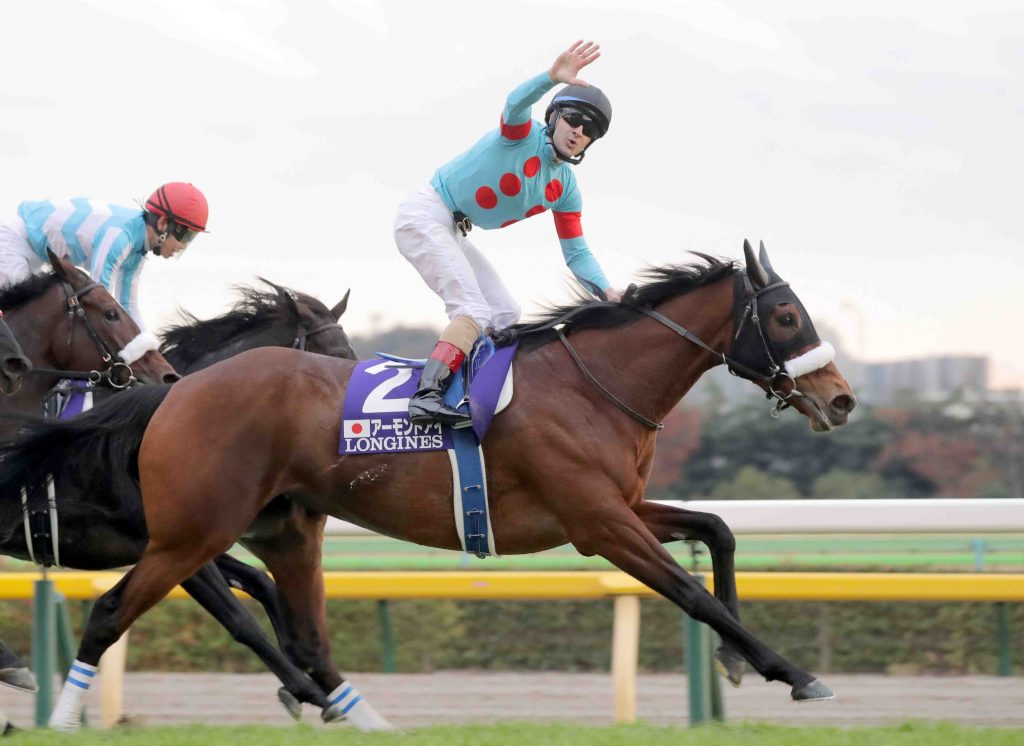 Banner Year for Jockeys, Horses
A confluence of events produced a memorable stretch in the latter half of the year in which horse racing grabbed the spotlight for all the right reasons ー that is, for great results by talented horses and jockeys.
For instance, Daring Tact became the sixth equine to win the filly Triple Crown on October 18 at Kyoto Racecourse.
Daring Tact's glorious feat held a special distinction, though. She became the first unbeaten horse to win the filly Triple Crown, completing the task with a 1¼-length victory in the Shuka Sho. Kohei Matsuyama steered Daring Tact to the finish line ー and a place in the history books.
Afterward, Matsuyama summed it up this way: "Winning is a relief. We were able to go with the flow and run a good horse race."
Then, he added: "I approached this race believing my horse was the strongest. Being with this horse has been a blessing."
Before the calendar flipped to November, horse racing had another big reason to celebrate. And it was an achievement that connected the offspring to his beloved, famous late father.
And JAPAN Forward's headline proclaimed: "Contrail Wins Kikuka Sho, Joins Father Deep Impact as Triple Crown Champions".
This, too, took place at Kyoto Racecourse, much to the delight of venue officials.
Here's how we summed up the race: "Contrail, ridden by Yuichi Fukunaga, won the Kikuka Sho (Japanese St. Leger) by a neck on Sunday, October 25, edging jockey Christophe Lemaire and Aristoteles, while Satono Flag, also a son of Deep Impact, placed third, 3 1/2 lengths behind Aristoteles..."
And how did Fukunaga view Contrail's triumphant effort?
"This race may not have been his best performance, but I kept my faith in Contrail and he certainly showed how strong he is to have maintained his position up to the end of the 3,000-meter trip," the jockey said.
Fittingly, in a year of exceptional horse racing in Japan, there were two more spectacular victories to close out the year. Five-year-old Almond Eye owned the spotlight in both of them.
On November 1, French jockey Christophe Lemaire and Almond Eye, established a Japan Racing Association record with an eighth Grade win.
Almond Eye repeated as Tenno Sho (Autumn) champion at Tokyo Racecourse, bringing her impressive results to 10 wins in 14 career races.
It was a pulse-rising win for Almond Eye and Lemaire, the finish decided by a half-length over the fifth favorite, Firement.
"It's hard to express, it was an unbelievable performance,"Lemaire confessed.
The dynamic duo's success that day paved the way for a Hollywood script's final chapter on November 29.
The occasion: the 40th Japan Cup, which was also held at Tokyo Racecourse.
Fourteen other horses, including Contrail and Daring Tact, and their jockeys had their sights on spoiling the final race of Almond Eye's amazing career.
But they couldn't keep the Frenchman and Almond Eye from doing what they do best together.
For the dynamic duo, it didn't require an overwhelming display of speed from start to finish.
Instead, Lemaire adeptly navigated the field and excelled in the pivotal sequences that produce a 1¼ length win over Contrail.
Almond Eye overtook Contrail in the final stretch. It was a far cry from what happened in the first 1,000 meters of the 2,400-meter extravaganza: Kiseki led by 12 length lengths.
"Almond Eye is a perfect mare and doesn't have any weak points," Lemaire concluded. "Her career as a race horse ended today but I look forward to riding her children."
And that's a story for another year.


Author: Ed Odeven
Follow Ed on JAPAN Forward's [Japan Sports Notebook] here on Sundays, in [Odds and Evens] here during the week, and Twitter @itsjapanforward.