Sports Replay 2020: Japanese Athletes Enjoyed Lots of Success Overseas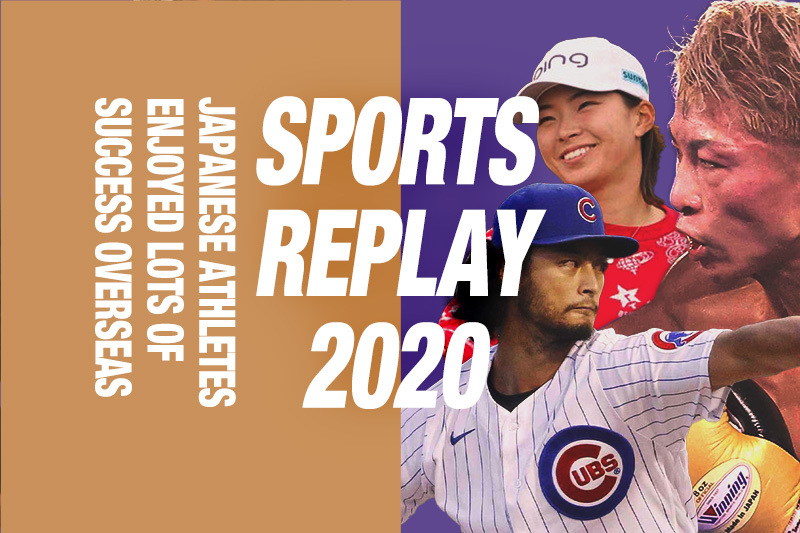 ~~
As 2020 comes to a close, JAPAN Forward is highlighting notable sports team accomplishments and individual feats by Japanese teams and athletes, both here and abroad. Join us for a look at the year.
NEXT:
Athletes Displayed Mettle, Overcame Obstacles
How COVID-19 Impacted Athletes, Teams and Events
ALREADY PUBLISHED:
Banner Year for Top Japanese Teams
For Japanese athletes competing overseas in 2020, the two biggest feats were repeat performances of success at major events.
Takuma Sato collected his second Indy 500 victory on August 23 in a race normally held Memorial Day weekend in May. He became the 20th driver to win North America's most prestigious auto race on multiple occasions.
The 43-year-old Tokyo native won his first Indy title in 2017.
Three years later, the sweet taste of success, which includes the Indy tradition of gulping milk on Victory Lane, thrilled Sato once again. After the race, he said: "This is unbelievable. Thank you so much. I can't find the words, can't find the words. Scott [Dixon] was coming right around out of [Turn] 4, just screaming, coming, and I held him off. This is unbelievable."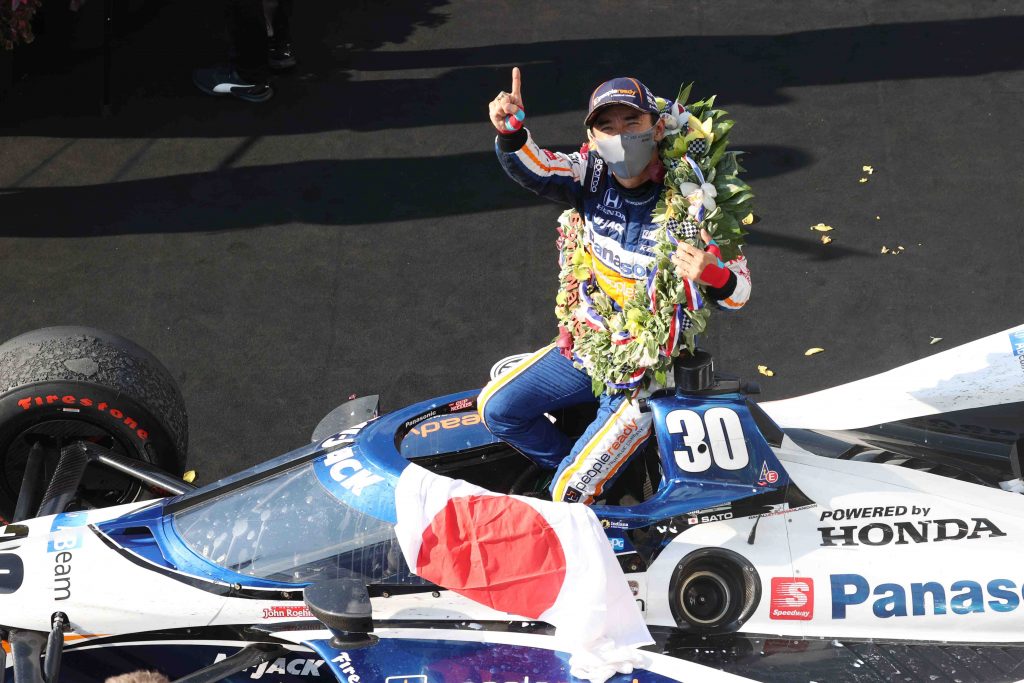 Tennis star Naomi Osaka returned to strong form in the U.S. Open women's final on September 12, which was staged with only a few hundred spectators in the stands in New York City due to the COVID-19 pandemic.
Osaka defeated Victoria Azarenka 1-6, 6-3, 6-3 to win her third career Grand Slam title) after consecutive triumphs at the 2018 U.S. Open and the 2019 Australian Open. She hauled in a $3 million USD winner's check for her title-winning effort.
Indeed, Osaka recovered from a disastrous start.
"In the first set I just was so nervous," she admitted. "I was too much in my own head. I just didn't want to lose 6-1, 6-0."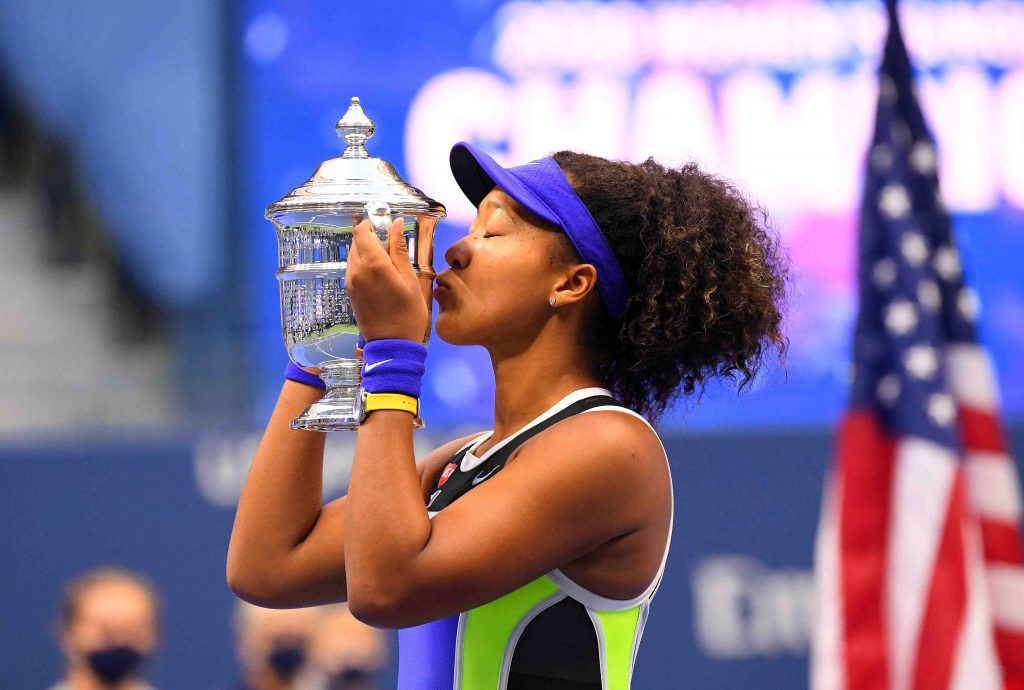 Throughout the tournament, Osaka walked onto the court wearing a different face mask each day with a different name printed on it. In using her platform to raise awareness about police brutality and the Black Lives Matter movement, which was galvanized by George Floyd's death in Minneapolis, Osaka received massive media attention worldwide throughout the tournament and its aftermath. Those masks highlighted the following victims: Philando Castile, Trayvon Martin, Ahmaud Arbery, Floyd, Breonna Taylor, Elijah McClain and Tamir Rice.
"The point is to make people start talking," Osaka said.
Osaka's second U.S. Open crown and social activism inspired the author to pen this haiku-style column days after the victory.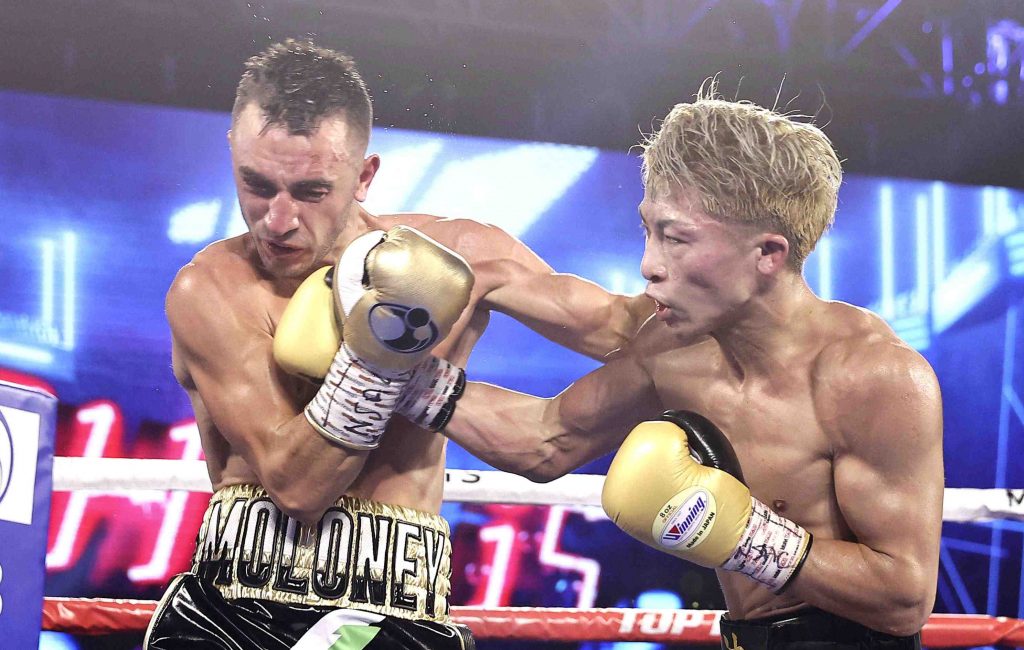 Potent Performance in the Ring
Bantamweight boxer Naoya "The Monster" Inoue enhanced his reputation and extended his reign as world champion with a seven-round knockout of Jason Moloney on October 31 in Las Vegas.
With the win, Inoue improved to 20-0 as a pro. He retained his World Boxing Association and International Boxing Federation title belts.
It was Inoue's second career fight in the United States, the first since 2017. Inoue's punching power produced his 17th knockout win.
"The final punch that I had, the finishing punch, I'm very happy and satisfied with that punch," the native of Zama, Kanagawa Prefecture, said ending Moloney's title hopes. "Moloney has a great defense and it was very difficult to get through. The two punches are something I really practiced in Japan a lot."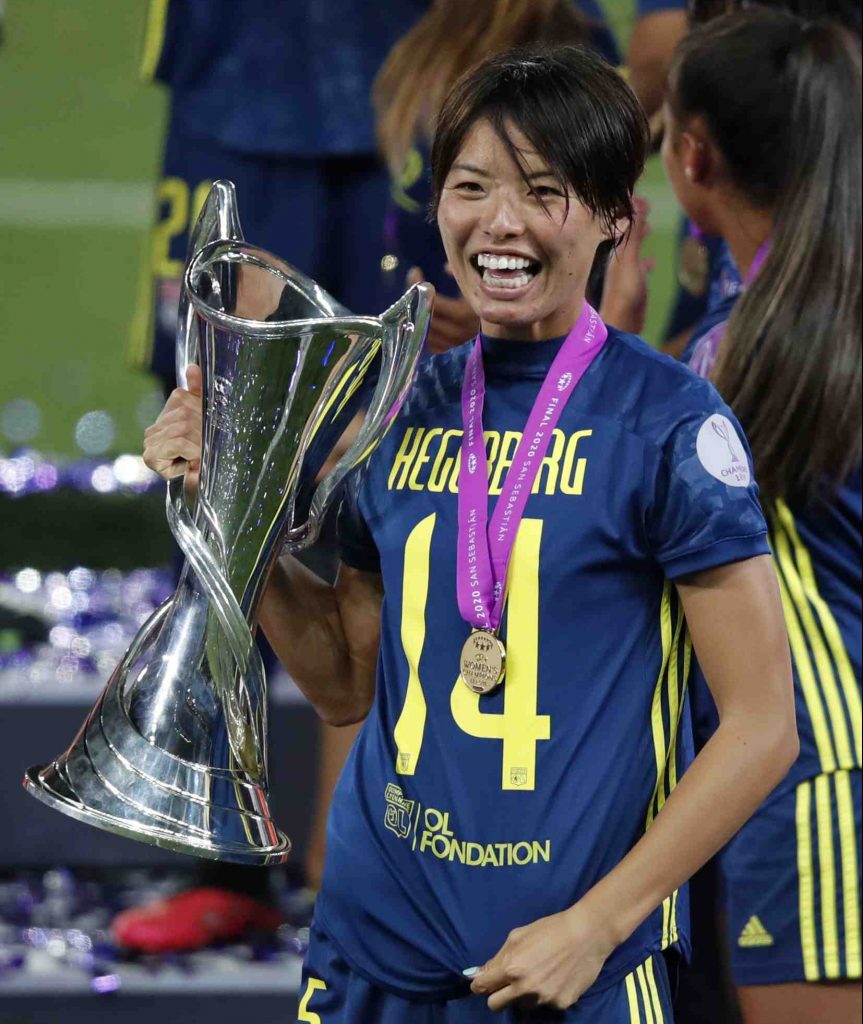 Kumagai Scores in UEFA Women's Champions League final
Saki Kumagai shined in Olympique Lyon's 3-1 triumph over VfL Wolfsburg in the UEFA Women's Champions League final on August 31, in San Sebastian, Spain.
Kumagai's splendid left-foot strike in the waning moments of the first half gave Lyon a 2-0 lead. She became the first Asian to score in UEFA's top women's club competition.
The French soccer dynasty club won its fifth consecutive Champions League crown. (See more details in this notebook.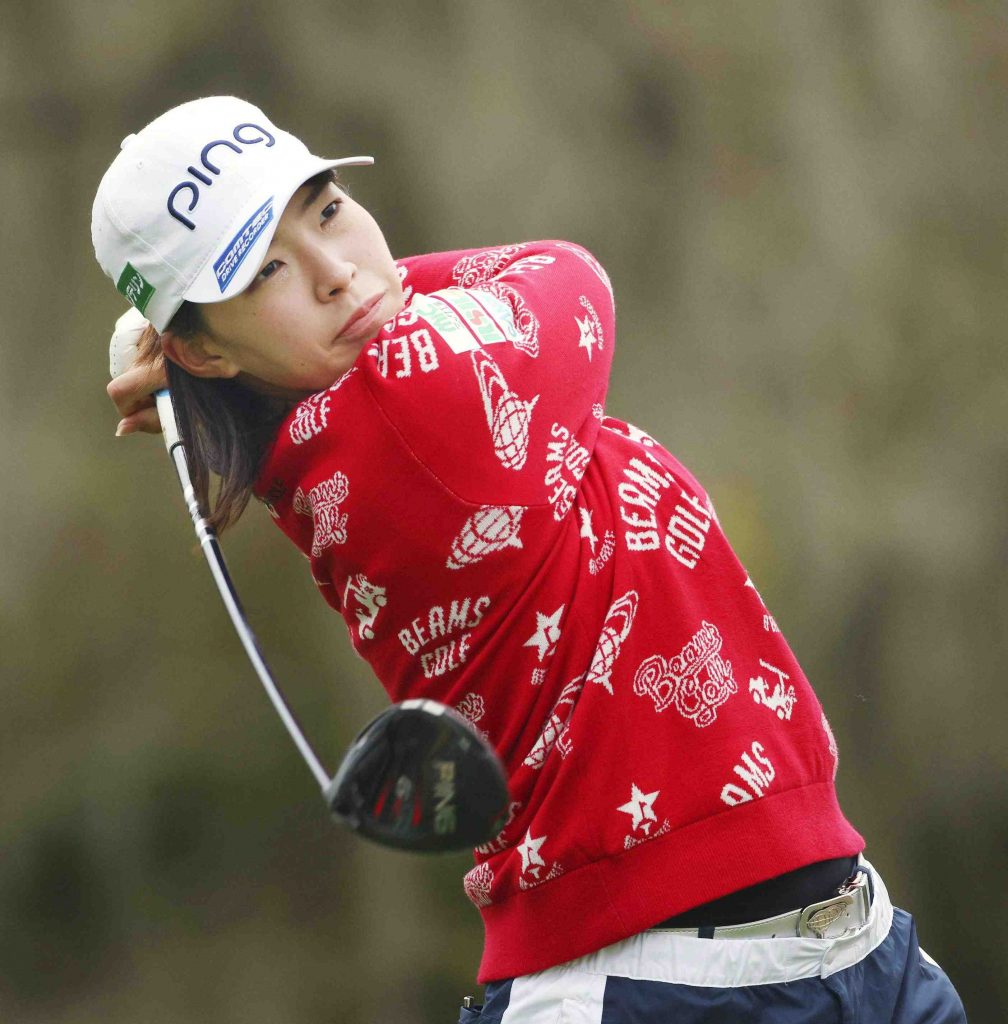 All Eyes on Shibuno at U.S. Women's Open
A year after emerging as a media darling and an emerging star on the LPGA by winning the Women's British Open, Hinako Shibuno held the lead after the second and third rounds of the U.S. Women's Open earlier this month.
The fourth round was delayed a day due to inclement weather, and Shibuno struggled in the final round, finishing with five bogeys and carding a 3-over 74. She placed fourth overall, two shots off the pace.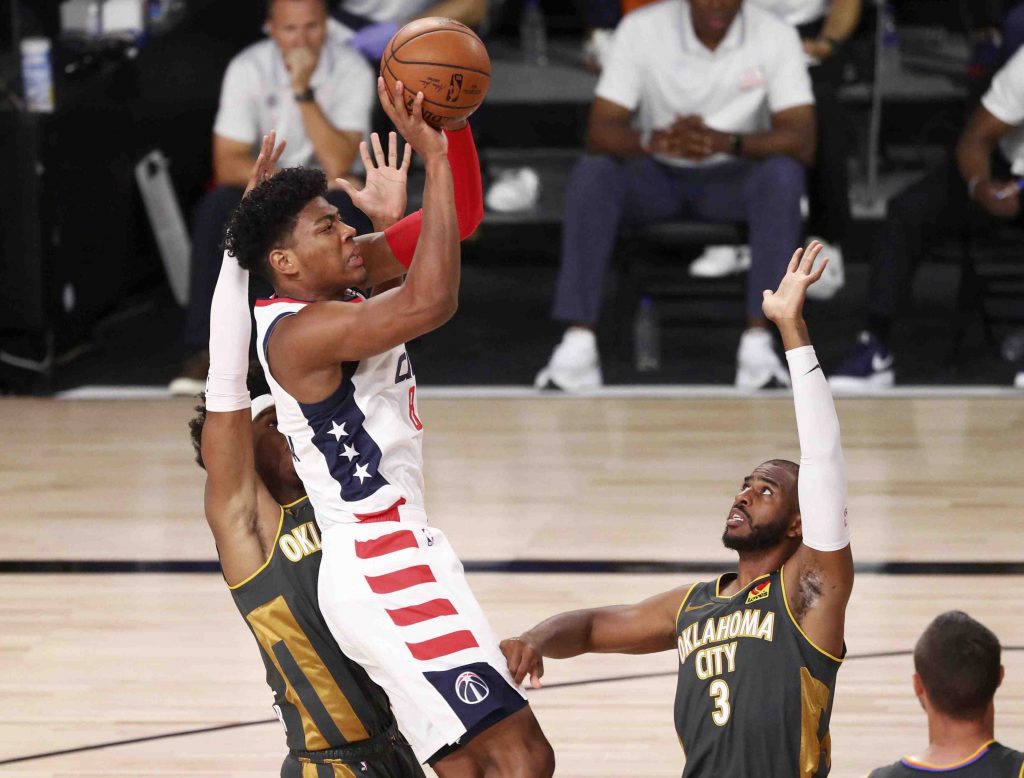 Hachimura Shines in Rookie Season
Forward Rui Hachimura, the most high-profile Japanese basketball player in history, experienced the ups and downs of a season punctuated by long absences. He missed 23 games from mid-December to early February after accidentally being kicked in the groin by teammate Isaac Bonga in a game against the Detroit Pistons. The groin injury interrupted his development and learning curve. Before the mishap, Hachimura was averaging 13.9 points and 5.8 rebounds.
The Gonzaga University product wound up playing in 48 overall games in the 2019-20 season, finishing it with 21 other teams in the NBA bubble at the Walt Disney World Campus in Florida. He averaged 13.5 points, 6.1 rebounds (No. 1 among rookies) and 1.8 assists in 48 games. He scored a season-high 30 points on December 1 against the Los Angeles Clippers.
Hachimura was named to the NBA All-Rookie Second Team.
In addition, the NBA and the Wizards creatively tapped into a growing audience in Japan eager to find out and any morsel of news about Hachimura, using social media and traditional news outlets to distribute information on him.
While Hachimura established himself as a major part of the rebuilding Wizards rotation, second-year pro Yuta Watanabe split his time between the Memphis Grizzlies and the NBA G League's Memphis Hustle. With the Hustle, Watanabe's offensive game flourished, including a career-high 40-point outburst against the Delaware Blue Coats in January. The 2018 Atlantic-10 Conference Defensive Player of the Year played in 22 games for the Hustle, contributing averages of 17.2 points and 5.7 rebounds last season. He also appeared in 18 Grizzlies games.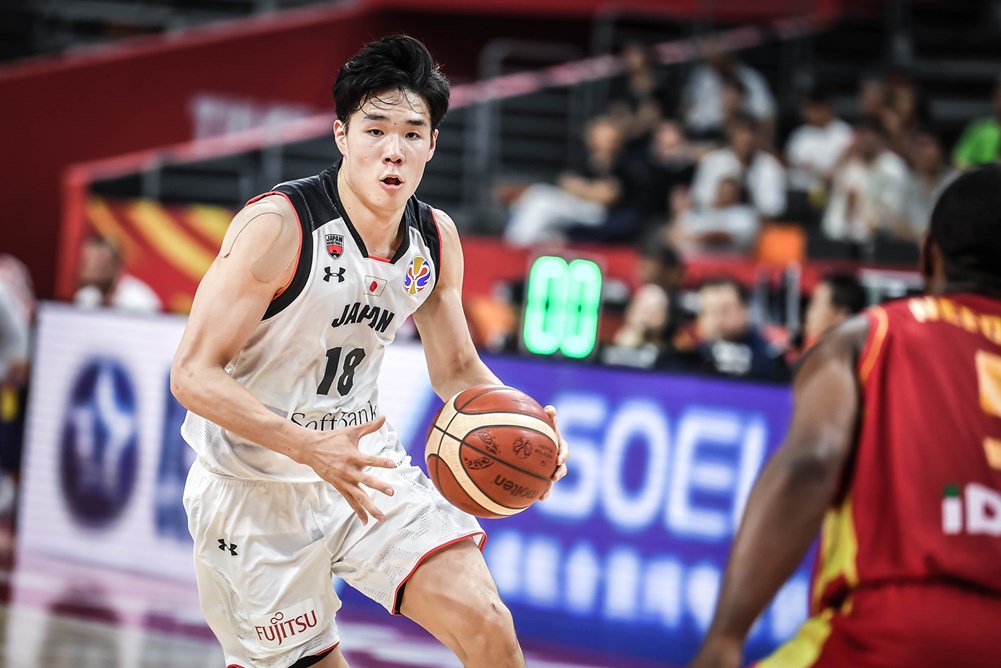 Baba Takes Hoop Talents Down Under
Yudai Baba, who won a pair of titles with the B. League's Alvark Tokyo, made big strides in the NBA G League, too. As the season progressed, the Texas Legends newcomer's confidence level increased and his performance at both ends of the floor was noticeably better. It was a valuable experience for the Toyama native. In 41 games, he averaged 6.3 points and 2.6 rebounds
Though the global pandemic cut short Baba's first season in an overseas pro circuit, he grew as a player and channeled that positive energy and focus into his new gig: playing for Melbourne United in Australia's National Basketball League. Baba signed a one-year deal with the club in July (read it here). Melbourne United opens its new season on January 10.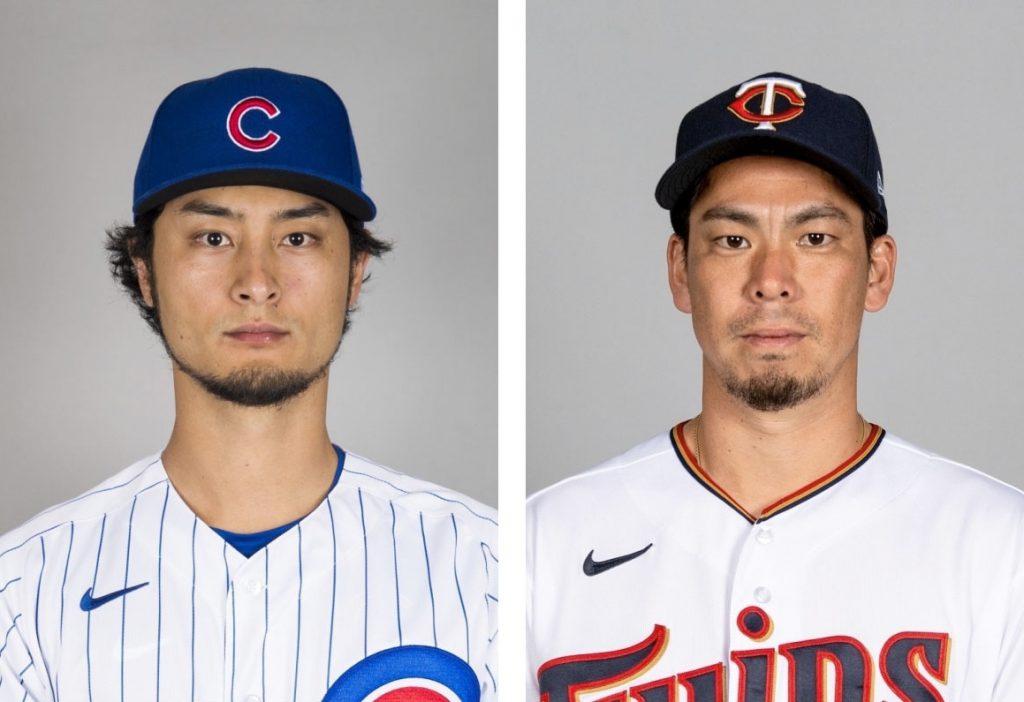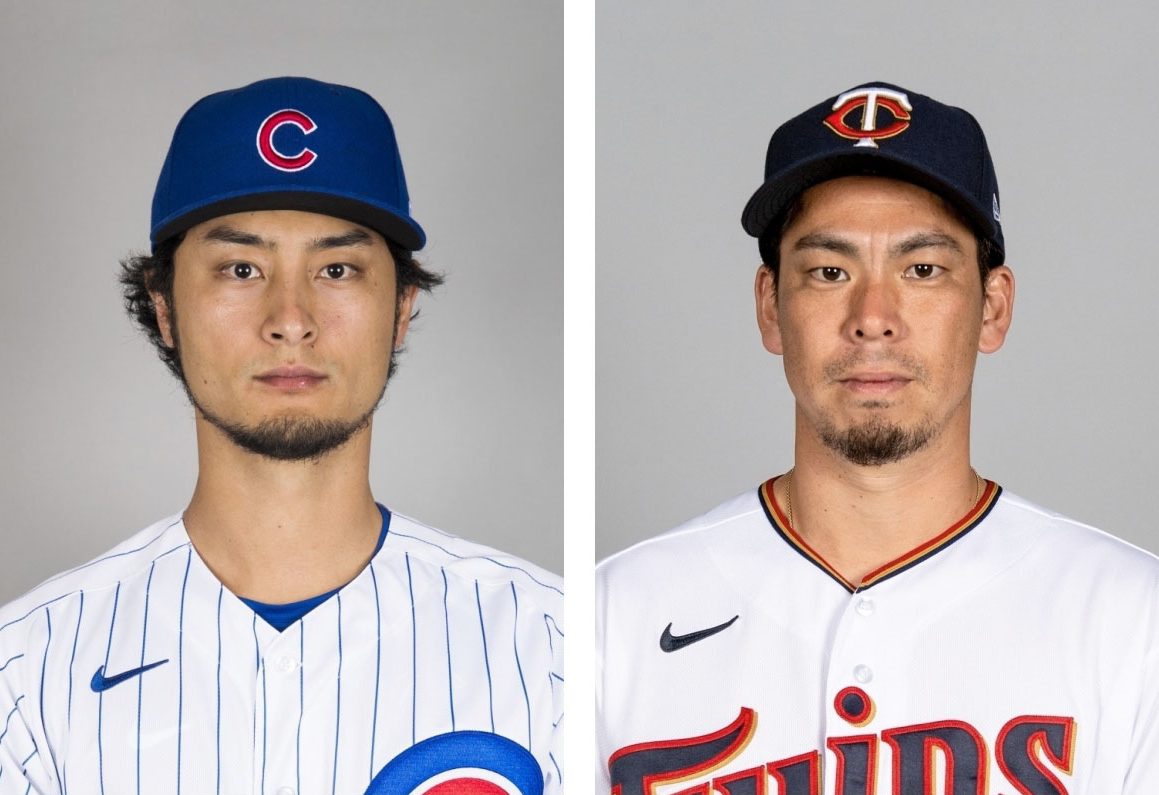 Top Pitchers Shine, Ohtani Struggles
In MLB, Chicago Cubs hurler Yu Darvish finished second in the National League Cy Young Award voting, while Minnesota Twins starter Kenta Maeda, in his first season with the club, was the runner-up for the top pitching accolade in the American League. It was a banner year for top Japanese pitchers.
Darvish went 8-3 with a 2.01 ERA in 12 starts with 93 strikeouts in 76 innings.
Maeda posted a 6-1 record in 11 starts for his new team. He fanned 80 batters in 66 2/3 innings.
Elsewhere, in his third season in the majors, Shohei Ohtani endured a shaky campaign as a designated hitter, batting .190 in 153 at-bats after hitting .286 in the previous season and only appeared in two games as a pitcher due to an arm injury in the shortened 60-game campaign.
After the global pandemic forced MLB to shut down its spring training camps in March, Cincinnati Reds outfielder Shogo Akiyama spoke to JAPAN Forward about his outlook for the season and the unique challenges of preparing to play before knowing when and if the season would actually begin. Akiyama joined the Reds after nine seasons with NPB's Seibu Lions. Entering September, the season's final month, he had a .196 batting average, but closed out the season with a flourish and finished with a .245 average.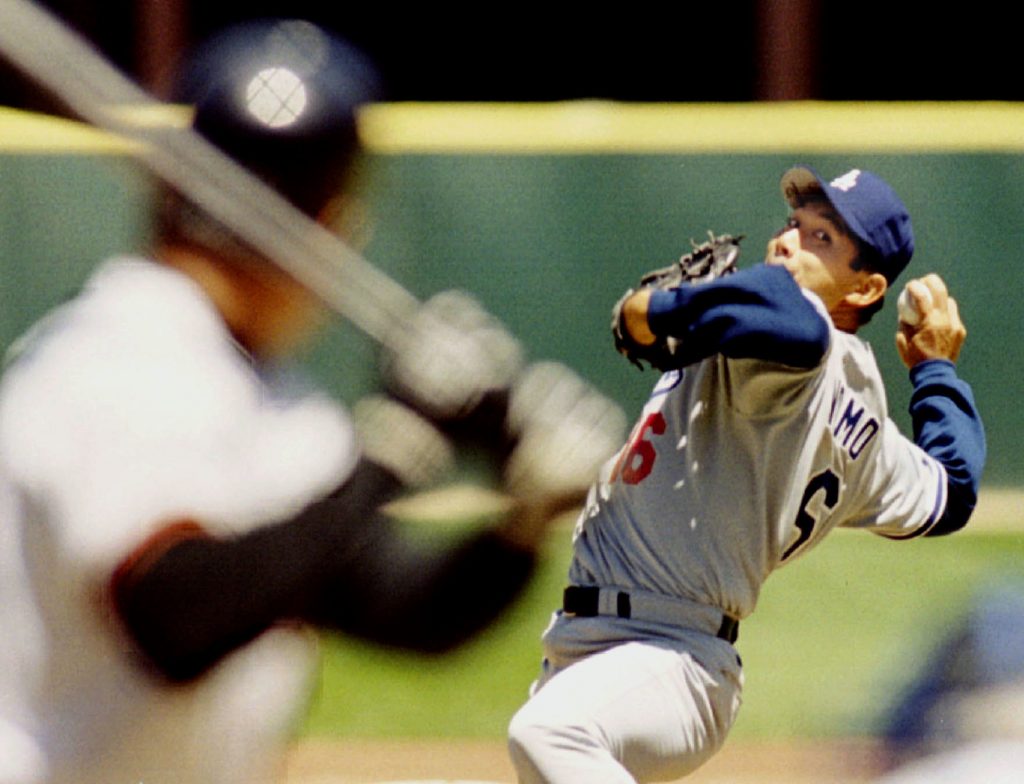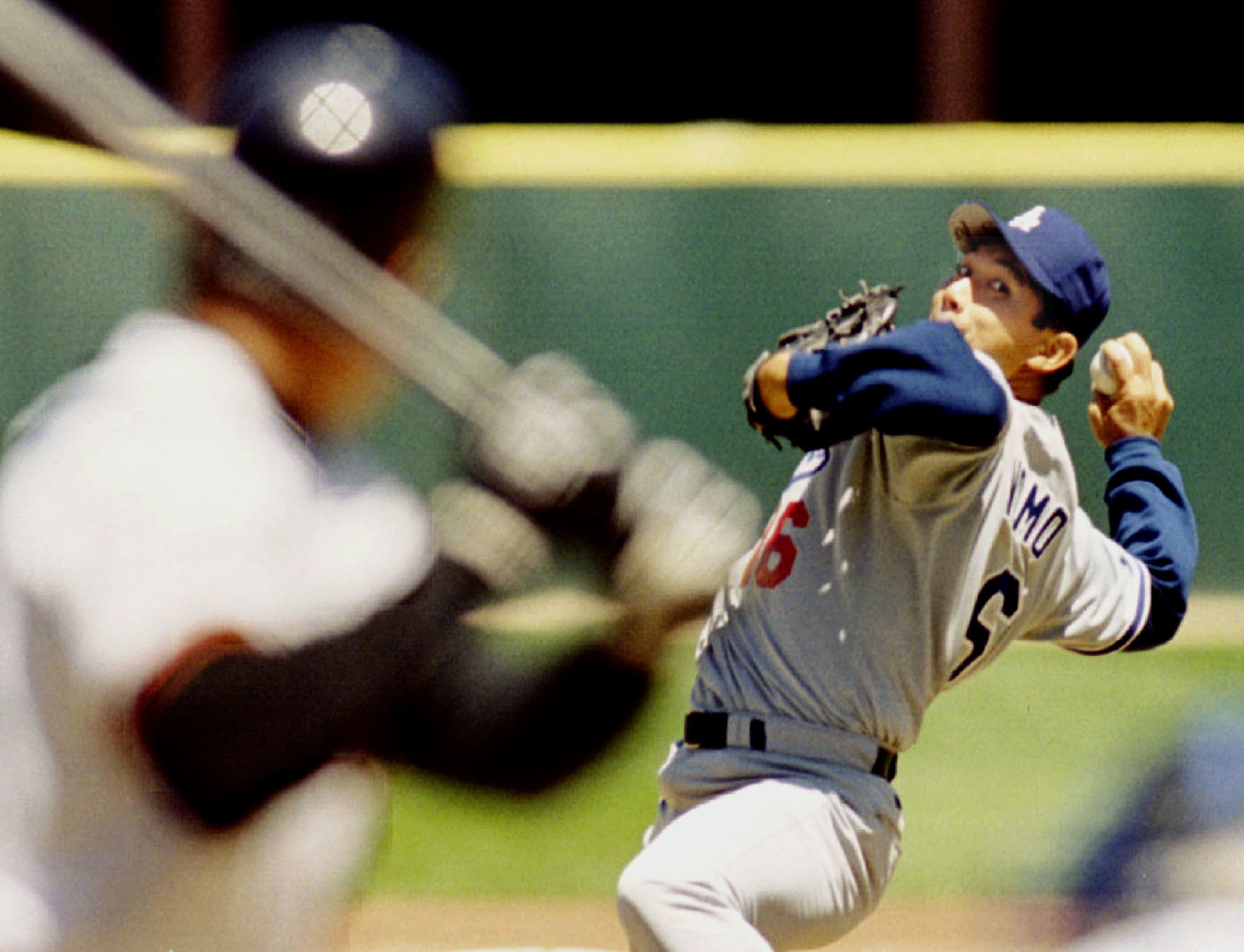 Chronicling the Impact of Nomomania
Although trailblazing pitcher Hideo Nomo retired in 2008, the impact of his move to the Los Angeles Dodgers in 1995 ー when he became the first Japanese player with an MLB team since Masanori Murakami of the San Francisco Giants in 1965 ー is still felt in a big way. There has been a steady flow of Japanese players to the majors ever since Nomo completed his first season with the Dodgers ー and was the National League starting pitcher in the All-Star Game, the NL leader in strikeouts (246) and the Senior Circuit's Rookie of the Year.
JAPAN Forward published an eight-part series looking back at Nomomania, revisiting memories and favorite stories from people with various jobs in the Dodgers organization in 1995. An exclusive interview with Nomo is featured in Part 8).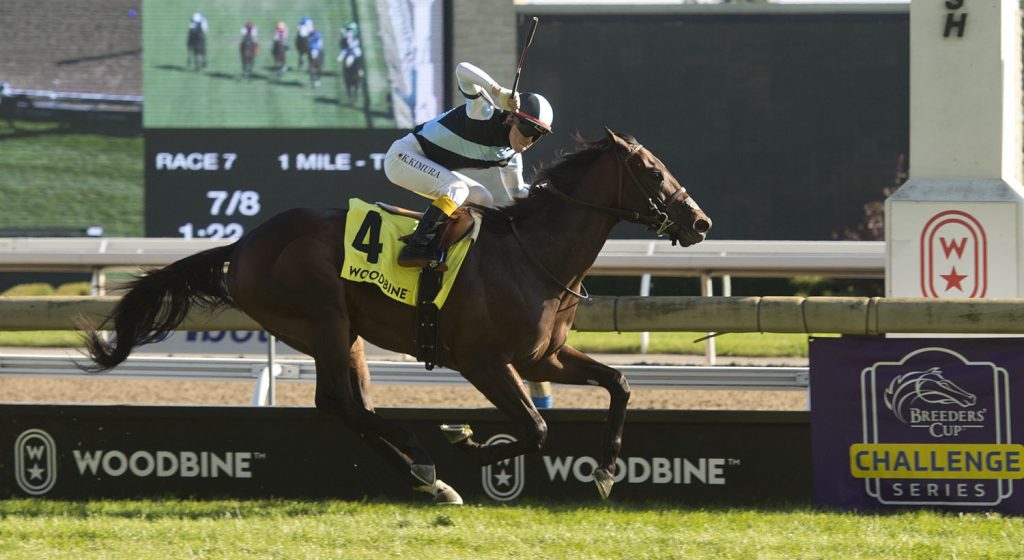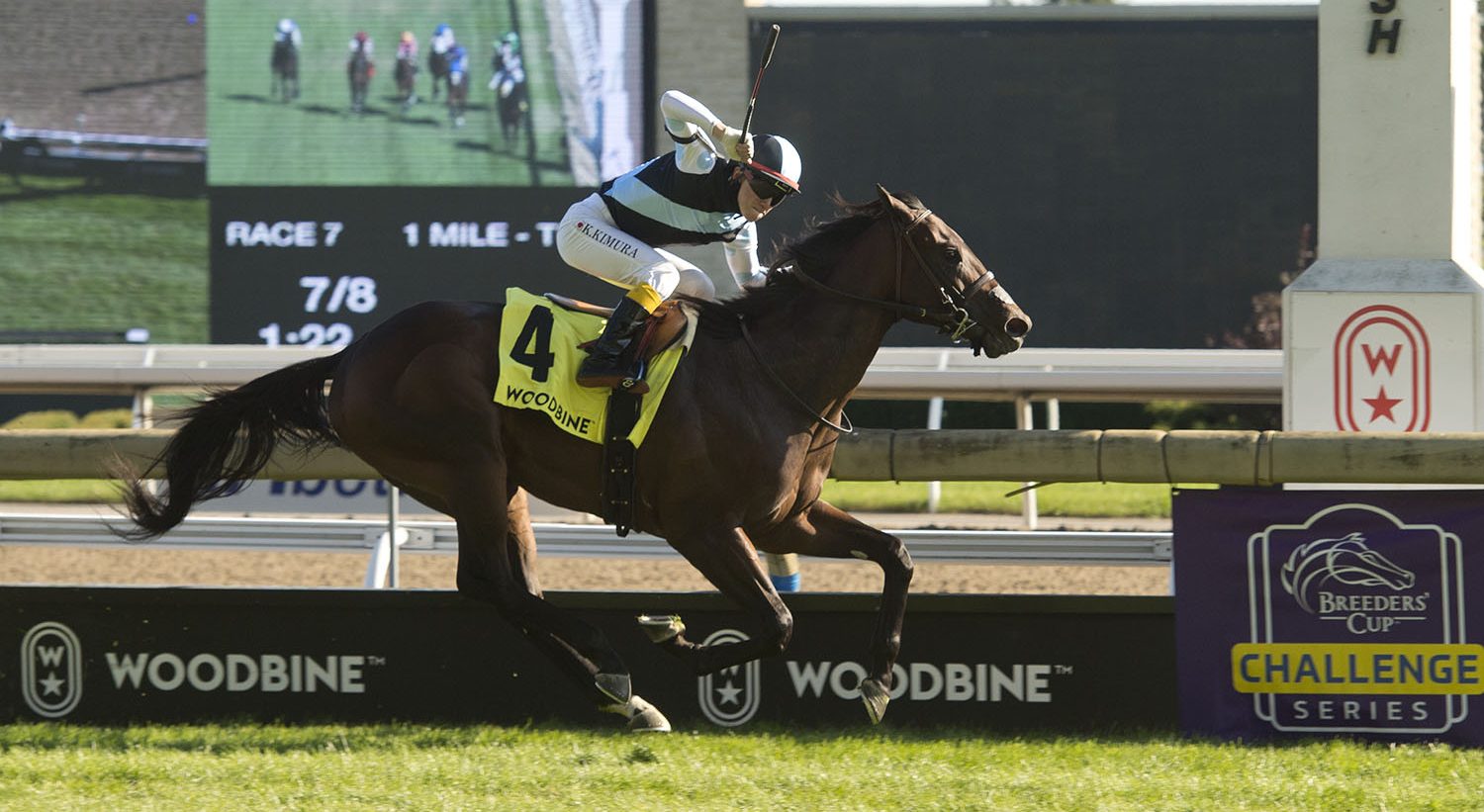 Jockeys Continue Path to Stardom in Canada
There are well-known hotbeds of thoroughbred racing in the United States, the United Kingdom and Hong Kong, among other locales. Toronto, Canada, isn't always recognized for its quality competition, but up-and-coming jockeys Kazushi Kimura and Daisuke Fukumoto have raised their profiles in recent months.
Among the biggest thrills of Hokkaido native Kimura's young career was steering 2-year-old bay colt Gretzky the Great on a winning streak at the start of the horse's career at Woodbine Racetrack. Kimura earned the 2019 Eclipse Award as North America's top apprentice jockey. He placed third in Woodbine's jockey standings with 83 wins in 2020.
Fukumoto steered Mighty Heart to victory in the 161st Queen's Plate on September 12. More details were reported in this notebook.


Author: Ed Odeven

Follow Ed on JAPAN Forward's [Japan Sports Notebook] here on Sundays, in [Odds and Evens] here during the week, and Twitter @itsjapanforward.