International Women's Day: A JAPAN Forward Reading List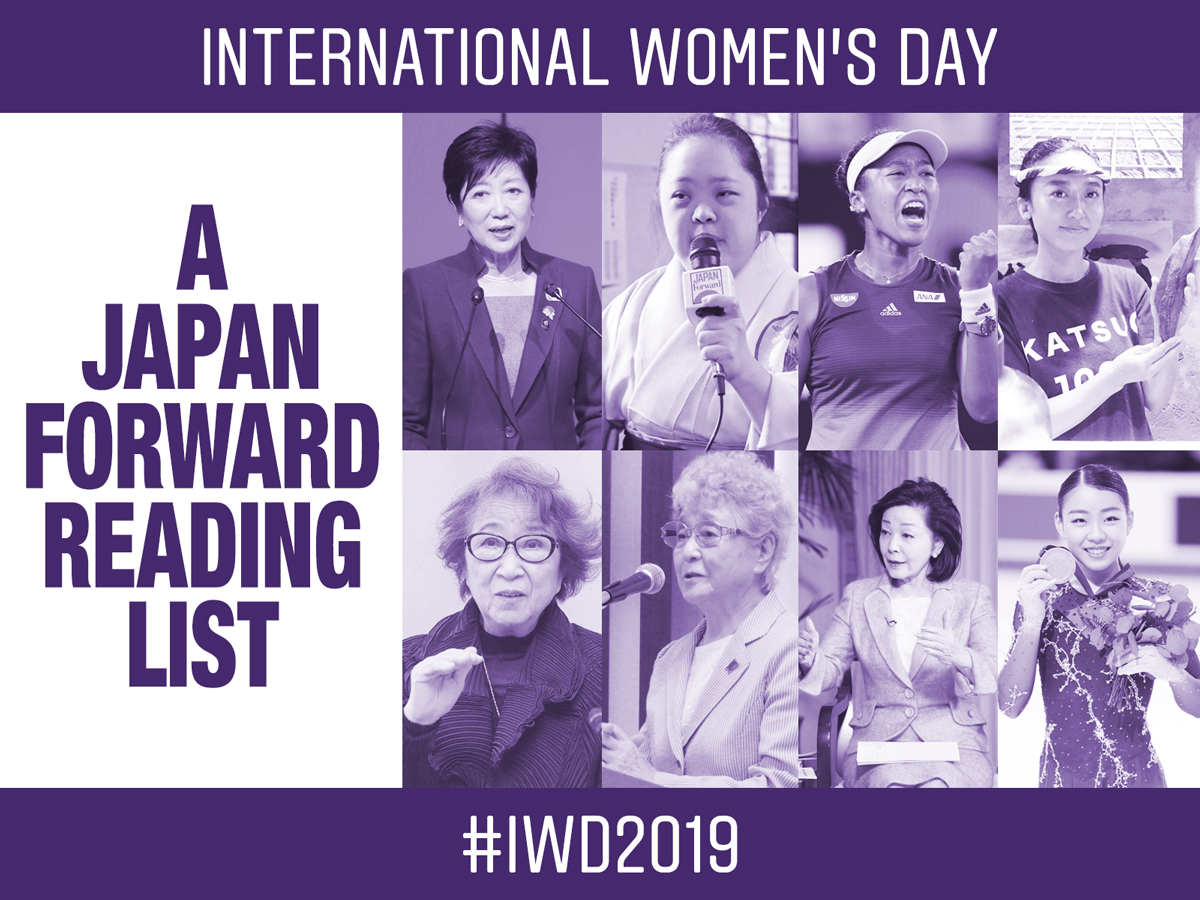 International Women's Day (IWD) celebrates the social, economic, cultural and political achievements of women. Annually recognized on March 8, the day also marks a call to action for accelerating gender parity.
According to the International Women's Day website, the theme for 2019 is #BalanceForBetter — "A balanced world is a better world." JAPAN Forward would like to reintroduce you to women and girls who are champions in their field, and have inspired us with their stories.
SHOKO KANAZAWA, Calligraphy Artist and Philanthropist
Shoko Kanazawa has done more than 1,000 exhibitions and other public appearances in the past decade. Her work has hung in virtually every major temple and shrine in Ise, Nara, Kyoto, Kamakura, Tokyo, and beyond. The Emperor and Empress of Japan hold Shoko's work in their private collection. She has won the praise of the most discerning critics in the country, and the hearts of the Japanese people.
Not only is Shoko Kanazawa the most famous calligrapher in Japan, she may even be the most famous calligrapher in the world. She is regularly featured in major media outlets worldwide. She has spoken at the United Nations headquarters in New York.
And yet Kanazawa herself, when asked about her remarkable career, is unaware that she is a world-famous artist.
Shoko Kanazawa: A Down Syndrome Child's Long Road to the 'Light'
'Prayer' is Shoko Kanazawa's 2019 New Year Kanji for JAPAN Forward Readers
'Shine Brightly': Calligrapher Shoko Kanazawa Writes New Year Kanji for JAPAN Forward Readers
SAKIE YOKOTA, Mother of Megumi Yokota, who was abducted by North Korea
Sakie Yokota has been writing letters to her abducted daughter, Megumi, for over 40 years. Her longing and desire for her daughter to return to her and her husband's side has captured the attention of the nation, and raised much-needed attention to the abduction issue.
In her own words: "Thank you for everything you do to support us. We and the other family members of the abductees are getting older, and our bodies are growing weak. It is becoming difficult for us to stand on the front lines of the rescue efforts. We cannot make as many public appeals as we once could. But we will go on using every means available to us to appeal for the rescue of the abductees.
"We put down in writing here our thoughts and feelings for our daughter. We will fight until the end, believing that every abductee will come home again. We beg of you: join us in the fight."
A Letter to Megumi: "Forty years have gone by without you… Don't ever give up, you are going to come home"
Dear Megumi, Your Father is Struggling for His Health So He Can See You Again
Dear Megumi: President Trump Listened to Your Story, and That Gives Us Hope
Letter to Megumi: Younger Generations Are Waiting for You to Come Home
Dear Megumi: 'Be Brave and Hopeful. I Will Find You'
FUJIKO NAKAYA, Sculptor, Fog Artist and Praemium Imperiale Laureate
World-renowned as the "Fog Artist," Fujiko Nakaya graduated from the Art Department of Northwestern University in Evanston, Illinois, USA. In 1966, after creating her early paintings, she joined E.A.T., an experimental group to promote the collaboration between art and technology. The cluster of Nakaya's fog works installed in more than 80 locations around the world in various forms — environmental sculpture using pure water fog, installations, performances, and parks. All function as media to connect humans and nature.
In 2018, Nakaya was recognized as the Praemium Imperiale Laureate for Sculpture, winning a prestigious award coveted by artists around the world.
The Fujiko Nakaya Art Exhibition: The Power of Soft Resistance
Powerful Voices in the Arts: Meet the 2018 Præmium Imperiale Laureates
Arts Laureates in Japan to Celebrate 2018 Praemium Imperiale and Its 'Message of Peace'
MAI NAGAMATSU, Chef and Business Owner
Mai Nagamatsu, who proclaimed herself as a "katsuobushi evangelist," manages the restaurant Katsuo Shokudo by herself and limits her service to 50 dishes per day, which are usually sold out in a few hours.
Nagamatsu was insipired by her grandmother to start the business. "'Let's make a dish using fresh bonito flakes,' and abruptly took out a wood plane from the shelf and started shaving a chunk of katsuobushi," she remembered.
After this encounter, Nagamatsu fell in love with katsuobushi. She realized what she truly wanted was to spread the deliciousness of fresh katsuobushi to people and bring them happiness.
At Katsuo Shokudo, Nagamatsu serves the best type of katsuobushi, which differs from month to month. She imports it directly from katsuobushi professionals around the country whom she met during her exploration.
Nagamatsu's motto is to serve the best katsuobushi in the best possible way, as well as to convey the story behind its production.
Experience A Different Bonito Flakes Rice at Katsuo Shokudo
YOSHIKO SAKURAI, Journalist and President of the Japan Institute for National Fundamentals
Yoshiko Sakurai is a strong voice in Japan regarding policy proposals. She established the think tank Japan Institute for National Fundamentals in 2007 with a view to re-addressing fundamental issues that Japan faces.
Earlier in 2019, Sakurai moderated a discussion with Prime Minister Shinzo Abe and international violinist Ryu Goto on their hopes and expectations regarding the rescue of Japanese citizens abducted by North Korea and other issues.
Prime Minister Shinzo Abe, Violinist Ryu Goto Find Common Resolve to End Abduction Issue
Japan's Nuclear Power Industry Will Collapse If Government Doesn't Step In
Japan's Biggest Challenge: Urgently Amending the Constitution
Why Do We Let Japanese Textbooks Carry Debunked Propaganda From China, South Korea?
NAOMI OSAKA, No.1-Ranked Women's Tennis Player
Born in Japan to a Haitian father and a Japanese mother, Naomi Osaka is a professional tennis player who represents Japan. She is the current US Open and Australian Open women's singles champion.
Osaka made her initial breakthrough in 2018, after winning against her idol, Serena Williams, in the US Open to become the first Japanese player to win a Grand Slam singles tournament.
Recently, Osaka won her second major Grand Slam singles tournament at the Australian Open, becoming the first Asian player to be the world's number one.
Naomi Osaka Becomes First Japanese Woman to Make U.S. Grand Slam
Naomi Osaka: High Hopes for the New Queen of Women's Tennis
[SOCIAL WIRE] Pros react to Naomi Osaka's Australian Open Win
YURIKO KOIKE, Governor of Tokyo
Yuriko Koike supports economic liberalism, promotes administrative and budgetary reform, and insists on further advancement of the status of women in the working world. In promising the pursuit of women-friendly policies, she has stated, "I believe that pushing policies for women will be good for Tokyo and bring happiness to the capital."
Her stated basic principles and stance regarding political reform are encompassed by "The 5 Cs: Check, Challenge, Change, Creative and Communication."
Koike was an interpreter of Arabic and later became a journalist early in her career. She became well known as a news anchor, and received the Female Broadcaster of Japan award in 1990, before turning her career toward politics.
Koike Challenges Tokyo's LDP, Creating a New Kind of Opposition Politics
Koike's Art of War: Working Together to Make 2020 an 'Olympian' Recovery Year!
INTERVIEW | Governor Yuriko Koike Promotes Prosperous Metropolis Beyond Tokyo Olympics and Paralympics
RIKA KIHIRA, Figure Skater, High School Student
Sixteen-year-old prodigy Rika Kihira is currently the 2019 Four Continents champion, has won all four of her events this season and, with two major events left in the year, is likely to be the favorite heading into this month's World Figure Skating Championships in Saitama, Japan.
On social media, she is seen being friendly with her fellow figure skaters and takes every opportunity to pose with other sports athletes. Kihira joins Zahra Lari as the only female figure skaters sponsored by Red Bull.
Rika Kihira, Shoma Uno Win 'Four Continents' Figure Skating Championships
Rika Kihira: Japanese Prodigy Wins Figure Skating Grand Prix Final in Debut Season