The Year in Our Stories: Pop Culture Brings Fun Relief to Japan and the World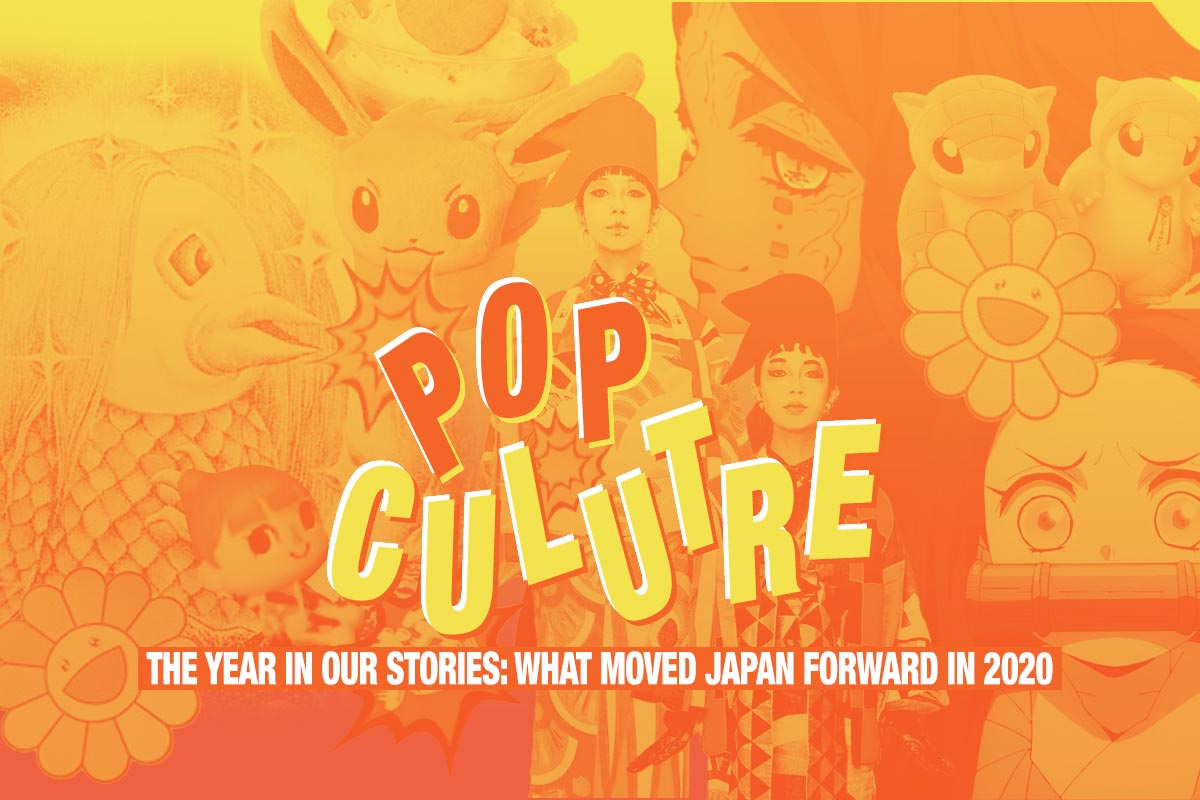 ~ It's impossible to think about 2020 without remembering how increasingly video game culture came to the fore in pop culture conversation. ~



As 2020 comes to a close, we at JAPAN Forward are reflecting on the stories that moved Japan forward this year. While SARS-Cov-2 the virus that causes COVID-19 dominated every facet of our news and daily lives from the end of January and is recounted here and here, there were some very good news stories.
Each day for five days, we are sharing a few of the stories that dominated our coverage of the news in 2020. We began with a look at the international friction that clung to the coattails of COVID-19, but in the end it was Japan's creations that will be the lasting legacy of the year. We found offerings of more creative advances than ever, spreading Japanese pop culture far and wide in a world hungry for good news.
Please join us.


READ
International Friction that Focused Our Attention in 2020
International Cooperation Shores Up 'Free and Open Indo-Pacific'
Japan's Democracy in Action (Domestic Politics)
Economy and Technology Battle Covid, Bring Inspiration



Anime, Manga Grab People's Imagination During The Pandemic
It's funny how sometimes fantasies and imagination can be an antidote when the apocalypse seems to be raging outside.
This year more than ever it seemed to be the case, and we talked about it with pop-culture guru Matt Alt in an exclusive interview after the publication of his book Pure Invention: How Japan's Pop Culture Conquered the World (Random House, 2020).
This was true in the acts of individuals, as for example the creator of Captain Harlock when he raised money to thank an Italian hospital that was struggling with COVID-19 in the spring.
But even in the content of anime and manga itself, the appetite of fans seemed not to waver during this period.
For example, many welcomed the announcement that Aya the Witch, the new 3D computer graphic film by Studio Ghibli, was set for release this winter.
Then the word came that the immensely popular franchise, Doraemon, would be releasing special goods in December in view of its 50th anniversary this year.
Although the influx of visitors was much less than it would have been in a year with the Olympic Games, in September an exhibition showing how pop-culture scenes related to the metropolis premiered in Tokyo.
There were even those who turned to pop culture mediums to raise awareness about historical buildings, like when an Edo Castle tower replica was unveiled in September.
However, perhaps the most successful anime of all needs barely an introduction: Kimetsu no Yaiba, Demon Slayer.
Released only in 2016 as a manga, then turned anime in 2019, the story has gathered an immense following, especially during 2020 and the pandemic. So much so, that when the latest installment in the series, the movie Mugen Ressha, was released in October, box office sales skyrocketed, exceeding everyone's expectations.
The film and the anime created a craze: there were related goods in convenience stores, traditional swordmaking saw some renewed popularity, and tourist locations appealed to their similarities to scenes and figures in the stories. It became such a buzzword that it even made it into the top trending words of the year.


Video Games Gear Into Mainstream
It's impossible to think about 2020 without remembering how increasingly video game culture came to the fore in pop culture conversation.
In the background, video game companies in Japan didn't have such a rosy period, with many of them having to adapt to shop closures, working from home and cybersecurity challenges. Game centers, an already struggling sector, suffered an ulterior hit with the pandemic.
Activities which involve in-person, large group gatherings, all suffered a hit during this period. Nintendo was set to open a Super Mario-themed park inside Universal Studios Japan in the spring, but the opening was delayed due to the virus. Finally in December it was announced that the attraction would open in February 2021.
Tokyo Game Show, which normally brings thousands of video game lovers to Japan from all over the world, was also forced online in late September.
Game-related hardware producing companies Sony Interactive Entertainment and Microsoft faced the hurdle of releasing new generation consoles in November with severe supply chain problems due to production disruptions from the pandemic.
The excitement was no less heightened for game lovers however, and we covered how fans were gearing up for the release ahead of time. IGN Japan Chief Editor Daniel Robson also gave us his take before the release:
But there was one sector which was far from hindered, but rather flourished as everyone was stuck at homeーof course, the video games.
And what better example than Nintendo-produced Animal Crossing: New Horizons. Blissfully soothing in the concept of creating one's おwんcute island retreat, it became a medium for people from all walks of life to express themselves.
Perhaps to show how far video games have come this year, we covered the 2020 Game Awards, which were streamed in early December.
In the end, The Last of Us: Part II, produced by company Naughty Dog under the umbrella of Sony, stole the show, and other Japanese related games received several accolades.
It seemed as though author Matt Alt was right, the world was looking to Japan as it sought new ways to spend time.
Film and Music Show Resilience
It was a year in which various other aspects of pop culture were forced to change and adapt with the times.
The film industry was particularly hard hit during 2020. With crews often unable to meet in person to carry out filming, many large scale productions and releases came to a halt. In the first part of the year, many film festivals were cancelled. However, others sought to persevere and went online.
The Praemium Imperiale, a prestigious Japanese prize celebrating global culture and the arts, including the category of film and theater, announced in June that the annual ceremony would be sadly postponed for 2020.
As the summer came and went, and it appeared that we had in some ways learned to live with the virus, a few shreds of hope also shone on the film industry. In September, Kiyoshi Kurosawa won Best Director for Wife of a Spy at the considerably downsized but successfully carried out Venice Film Festival.
In the fall, Japan also showed resilience in holding the Short Shorts Film Festival completely online. The format was modified for the Tokyo International Film Festival at the end of October which, in a hybrid, held part of the festival online and part in person.
In the field of music, it was also a year where large events and concerts were canceled, notably Japan's beloved summertime Fuji Rock Music Festival, which was due to happen in August. Fortunately though, die-hard fans were not completely disappointed as the organizers set up a special online streaming event, where past concerts as well as original content was available August 21 to 23.
Yet, individual artists also found ways to explode online. For example, during the state of emergency, singer songwriter Gen Hoshino single handedly created a social phenomenon by asking netizens to cover his original song composed for the pandemic.
In another example, the globally active a capella group, The King's Singers did an exclusive interview with JAPAN Forward during the pandemic, in which they gave us a glimpse of how their activities had changed during this period. To send a special message to Japanese fans, they even hosted a special online concert, streamed in collaboration with JAPAN Forward.
What a year it's been! Thanks for staying with us for the Year in Our Stories.
Next week we'll share with you our Sports Replay 2020 and other special features. From the first day of the New Year we will be looking forward to the expectations and visions for the year 2021, so make sure to stay tuned.



Author: JAPAN Forward