The Word of the Year is COVID-19: The Road to Recovery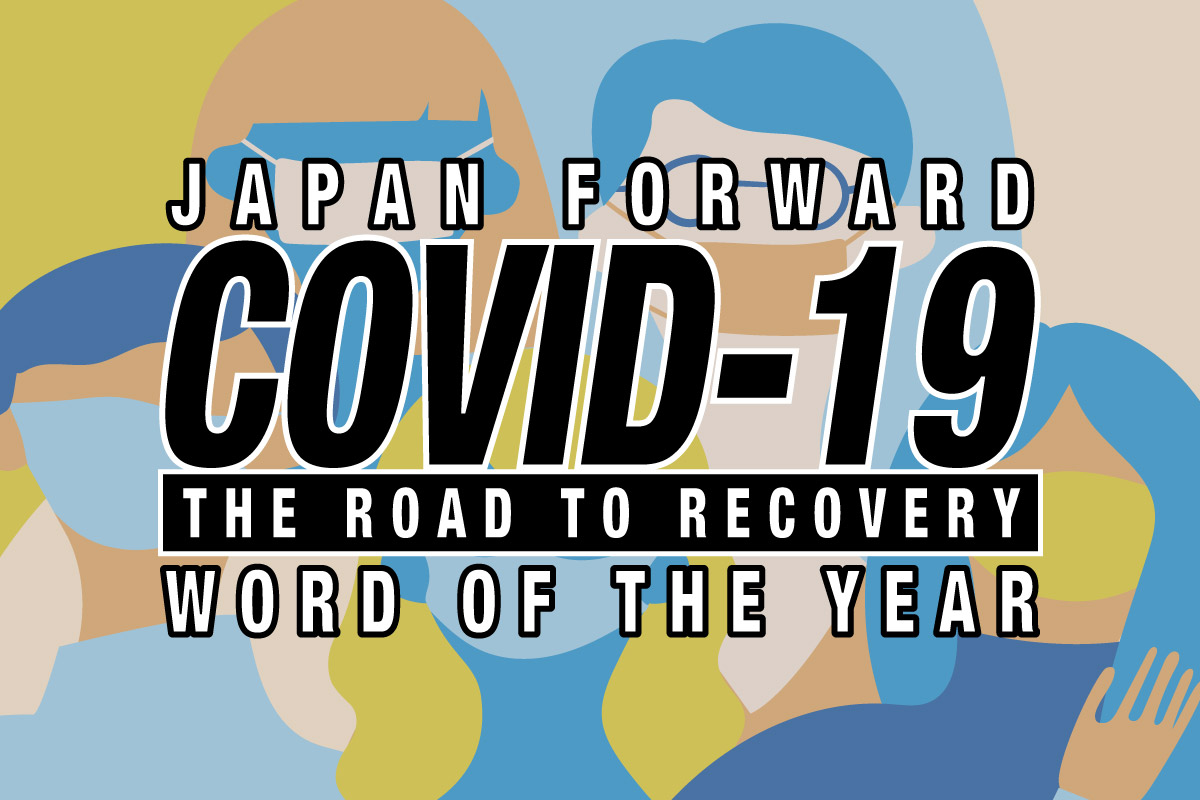 Yesterday, we looked at the timeline of how COVID-19 took over the lives of people in Japan. Yet, one might realize that not everything was doom and gloom this year.
In today's installment we look at how people fought back against the death and isolation spread by the virus in resilient, creative and sometimes unexpected ways.
Part 2: Overcome Corona!
This sentiment took on a life of its own, and we recognized it by featuring the ingenuity and resourcefulness of people in Japan in a column called "Corona ni Makeruna," which roughly translates as "Don't let yourself be beaten by Corona!"
Of course, we also had help. Japan's mythical creature Amabie was rediscovered by the masses and rose from the sea to remind us we are not helpless.
Can Ward Off Pestilence? Supernatural Monster 'Amabie' Goes Viral in the Face of Pandemic
With such positive thoughts in mind, Japan went on to tackle the year in many new ways.
Finding Ways to Stay Healthy
In April and May, when most were staying at home during the state of emergency, not only offices but also gyms were closed, as were most restaurants and entertainment venues. This led many to experiment with new activities.
Some tried Yoga challenges and living room gym routines, but others found a new way to keep fit at home ー"Japan style": by doing sumo!
Recognizing the toll on people's mental health, Buddhist priests tried to do their part by setting up online counseling for people to talk through their concerns and insecurities from the safety of home. A bakery found a way to stay afloat by making two-meter long "social distance baguettes."
[Corona ni Makeruna] Buddhist Counseling on Zoom, Ainu Face Masks, Social Distance Baguettes
Artists and entertainers, unable to work as usual, also did their part to cheer people up during this trying time.
In the third week of May, the world renowned author Haruki Murakami hosted a radio show. The theme was rain, sunshine, birthday wishes, and a push to accept the situation since, just like raindrops on our head, the pandemic was out of our control.
In the meantime, Tribeca Enterprises organized "We Are One: A Global Film Festival," an unprecedented 10-day online film festival featuring programs from 21 festivals all around the world, including Tribeca Film Festival, Berlin International Film Festival, Cannes Film Festival, Venice Film Festival, and more.
Others, such as The King's Singers globally popular a capella group could not travel for their scheduled autumn concert tour, so - they went online, bringing welcome cheer and harmony to their fans.
When the state of emergency was finally lifted at the end of May, we took the time to reflect on the labor of those who had continued to work through the risk and exhaustion of that time, including medical workers, but also delivery and sanitation employees.
[Corona ni Makeruna] The Workers Who Made Our Lives Easier During Japan's Emergency
The Shared Experience of Arts and Events
In June, it felt like life was going back to normal. Sports resumed, cafes reopened, theaters held performances and some exhibitions finally took place. Tutoring courses resumed as well, all with the relevant virus prevention measures.
In the world of the arts, artists shared ways the pandemic had become an opportunity for international exchange. Photographer Nobuyoshi Araki shared his thoughts on what could be gained out of the pandemic.
And even amateur student artists dared to dream again, at the Super Cup Dance Stadium Competition, which took place at the end of August.
Traditional Japanese arts such as kabuki and rakugo also found new ways to reach their audiences through our pages.
Food was an ever-popular topic throughout the pandemic. New food artists were born, and we looked at how restaurants did their part both to boost morale, and to keep local economies afloat.
We published an interview with the Italian cuisine chef who made bento boxes for medical workers during the state of emergency. And we shared how takeaway gyoza was finding ways to beat COVID-19 by becoming a staple take-home food.
It was perhaps the combination of all this creativity and positivity that made people hope that gatherings were possible, as long as done safely.
A turning point in the autumn was when a four country international gymnastics competition was carried out successfully in Tokyo, using new COVID-19 testing and mitigation measures.
[Corona ni Makeruna] King Kohei Joyful, Organizers Relieved as Meet Passes Important Test
The event's success gave the International Olympic Committee and Japanese organizers hope that the 2020 Tokyo Olympics and Paralympics could indeed take place in 2021.
Another small win was when in November Kyoto Kabuki Theater announced it was going to start the season for the first time in ten months.
And in all the stress, the hardship, there were also those who found it in themselves to care for others elsewhere.
An NPO organized between August and October a call out to design posters for raising awareness about the virus in other countries.
The winners of the competition were announced in late November, and can be viewed here.
Top Minds Tackle New Challenges
This year was also a time for science and innovation to come to the fore. On June 23, the supercomputer Fugaku, developed by Fujitsu Ltd in Kobe and RIKEN Center for Computational Science, topped the list of Top 500 fastest supercomputers.
This would be an achievement in itself. But the computer also became a major gateway to researching the spread and prevention of COVID-19.
[Corona ni Makeruna] Why Has the Fugaku Supercomputer Been Successful Despite COVID-19?
Some cafes and eateries even started employing robots to reduce the chances of human contact and potential for spreading the virus! In other places, robots took on jobs for society ー including delivery and restocking chores, reducing the risks for humans. We even discovered how AI and robots can help us learn.
In a bid to show the world the ability of human beings to overcome any challenge, Japanese astronaut Soichi Noguchi joined three Americans in mastering the handicap of training in a socially distanced COVID-19 world to take off on an historic manned space flight to the International Space Lab. The crew's name for their journey said it all: "The spacecraft is called Resilience, symbolizing the power to recover from adversity. "
The World Waits for a Cure
In all of this, especially in the latter part of the year, one concept which came progressively at the center of the conversation in Japan and globally was that of a vaccine against the virus.
In the beginning, it was the tiny light at the end of the tunnel. In the end, the world witnessed the fastest race in scientific medical development in history, yielding several vaccines and the promise of others soon to come that, collectively, might just get us out of the pandemic.
One of the first rays of hope came right in the middle of the year, when in late May Japanese Prime Minister Shinzo Abe pledged to dedicate funds to vaccine development, and to share the vaccine with the world.
As various types of vaccines were developed around the world, we spoke with a top vaccine researcher in Japan: Dr. Ryuichi Morishita. He is a professor in the Department of Clinical Gene Therapy at the Graduate School of Medicine of Osaka University.
[Corona ni Makeruna] Lead Vaccine Researcher Ryuichi Morishita Shows Optimism for Japan's DNA Plasmid Vaccine
In November, finally came the positive news of vaccines such as those developed by Pfizer and Moderna that have over 90 percent effectiveness. With it a debate came to Japan as to what preparations should be taken to plan for distribution when the vaccine is finally approved nationwide.
On December 2, the very same day that Pfizer was approved for use in the UK, Japan's House of Councillors approved an amendment to the vaccine law providing for emergency use and ensuring free vaccinations for all.
A byproduct of the announcement: Japanese companies developing vaccines were prompted to speed up their development. You can read about it here:
As Western Pharma Supplies Come In, Japan Speeds Up Local COVID-19 Vaccine Development
Looking Forward to 2021
The battle is far from over, and there are many hurdles still to overcome before the vaccine is approved for use in Japan.
But we wish everyone to pass a quiet Christmas, and hope for a better start to the new year!
Author: JAPAN Forward